Meditation
Meditation is a very effective stress management technique. Meditation sounds exotic, but it is really just a way to learn to relax and settle the mind. A relaxed, settled mind is less anxious and copes better with stress. One type of widely-used meditation is called "mindfulness meditation." It teaches the meditator to rest his or her mind steadily in the present moment even during stressful experiences. This creates a deep sense of relaxation and mental clarity. Anxious fears about the past or the future become less troubling.
A recent report to the National Institute of Health concluded that, "More than 30 years of research, as well as the experiences of a large and growing number of individuals and healthcare providers, suggest that meditation and similar forms of relaxation can lead to better health, higher quality of life and lowered healthcare costs." The report went on to say, "Most important, meditation techniques offer the potential of learning how to live in an increasingly complex and stressful society while helping to preserve health in the process."
ELEVEN RULES FOR COPING WITH PANIC

The feelings are normal bodily reactions - exaggerated.
They are not harmful - just unpleasant.
Do not add frightening thoughts - negative, unpleasant consequences
Describe what is happening - notice what IS not what you fear MIGHT.
Wait for fear to pass - Do not fight or run away - accept it.
Notice when it fades - when you stop adding frightening thoughts, it fades by itself.
It is an opportunity for progress - use it to learn coping - learn to grow!
Think about progress to date despite the difficulties - think how pleased you'll be when you succeed this time.
When you begin to feel better, look around you, and start to plan what to do next.
When you are ready to go on, start off in an easy, relaxed way. There is no need for effort or hurry
Use your alpha-theta stim in relax mode...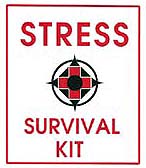 ACTION SECTION

Using mind Technology for relaxation, stress reduction and boosting immune function
Among the ways mind technology can be effective in boosting immune function is by: (1) producing deep and lasting relaxation to reduce stress and the damaging effects it can have on the body and immune system, and permit the body's homeostatic, self-regulating powers to maintain the immune system at optimal strength; (2) altering brain body chemistry to produce optimal levels of the various components of the immune system and to produce feelings of well-being and to increase self-confidence; and (3) helping change stressful or immune impairing behavior patterns and attitudes through eliminating negative scripts and atitudes and using positive suggestions, visualizations, and rescripting, during deeply relaxed or trancelike states. What follows are some suggestions for ways you can use mind tools for these purposes.
Some brain tools can be extremely helpful when used during a medical treatment session - for enhancing guided imagery; producing states of heightened receptivity to healing suggestions and affirmation; opening up the unconscious to permit the emergence of beliefs, traumas, or attitudes that may be harming your health or immune function. Hundreds of medical professionals and therapists around the world are using mind tools as an integral part of their treatment of various types of illness or immune dysfunction.

/barry/newsletter203/index.htm
Michael Dullnig, M.D., of Sacramento, California, for example, has used various dual-induction and binaural-beat audio tapes in conjunction with his counseling of HIV-positive patients. In a 1990 study he noted that all patients in the study showed improvement in psych9ological target symptoms, and some showed significant increases in T4 cell counts, important components of the immune system. William Harris, M.D., director of the Penwell Foundation, an organization for the investigation, research, and application of different modalities for the treatment of those with AIDS/HIV, has used light/sound (LS) devices with HIV-positive patients and found them extremely effective. He speculates that the devices may boost immune function by producing states of deep relaxation, by enhancing the patients' receptivity to suggestions for healing, by improving their ability to visualize and the clarity of their visualizations. Says Harris, "I think that this type of machine may actually be stimulating…. The body to produce its own chemical substances," and that these natural substances may enhance immune function and healing
.
RELAXATON TOOLS ARE WITHIN YOUR REACH !!!
Click on the links below
/barry/newsletter203/index.htm
/mind/np10098.htm
/mind/innerpulse.htm
/synetic/proteus.htm
These Mind tools should be effective for people to use in conjunction with treatment, for people who feel that they are not as healthy as they would like to be, and for those who feel healthy enough but would like to protect themselves from the possibly damaging effects of stress and environmental toxins and attain a state of peak or optimal health and well-being.
Relax, Review, Release, Rescript
The human body has an inherent "wisdom" or tendency to move toward balance, equilibrium, and stability. The optimal state, in which all parts and systems are functioning and interacting properly, is called homeostasis. Evidence suggests that our bodies homeostatic or self healing mechanisms work most effectively when we are relaxed. Stress disrupts homeostasis.