As the saying goes, things are not always as they appear to be.
The eye is made up of some of the most amazing tissue in the body. The lens, for example, is perfectly clear, perfectly curved and is capable of focusing on an incredible amount of data. But vision has only partly to do with the retina, lens, and cornea. Understanding what we see mostly happens in the brain, which is why a person with perfect vision is still susceptible to optical illusions. Do we know what the world looks like? We know approximately what it looks like, which is enough to get by, but our perception of the world is not without a certain amount of 'misreading.' Our visual nervous system approximates color, shape, and dimension.
So you think your in charge huh

YOUR MIND WONT LET YOU SEE THE TRUTH
One's perceptions can be fooled because the brain has certain expectations of what it will see, and in our unbalanced state it holds rigidly to those's expectations...
When looking at the ames room, there are two illusions that are being experienced. The first illusion is a result of looking through a special viewing point with one eye and a stationary head. Looking through this peephole removes any cues from stereopsis and makes the room appear normal and cubic although it's shape is actually trapezoidal, the floor is actually on an incline and the walls are slanted outward. The true shape of the room can be seen when not viewing the room through the peephole or when looking at it from a top view. The second illusion is that objects in the room appear to shrink or grow depending on where they move in the room. This special shape of the room removes all distance cues and does not allow for proper scaling of object size. A consequence of this is that we see people or objects as the same size as their retinal image. This room makes the transformation of objects that appear in it to seem impossible. The angle that at which an object appears impossible is called the Ames Transformation and in this example the Ames transformation point would be the peephole.
for another explanation look here
If you can find the man's head within 1 minute, your right brain is developed normally.
If you can find the man's head within 1-3 minutes, your right brain is slow in reacting, you should eat more meat protein.
If you can find the man's head in 3 minutes or more, your right brain is a disaster… extremely slow in reacting.

If you can not find the man's head, we suggest you see a doctor!

and Yes, there really is a man in there.

According to Medical Examinations:

If you can find the man's head within 3 seconds, your right brain is more developed than normal people.


A general thesis by Frith is that all these questions can be answered by understanding how the brain works, and he begins by pointing out that normal brains do all kinds of things without us being aware of it. Toss a ball up into the air and catch it, for example, and your brain will perform multiple differential equations that you will never be aware of. The calculations and assumptions that our brains make can cause us to make mistakes such as in the Muller-Lyer illusion illustrated below.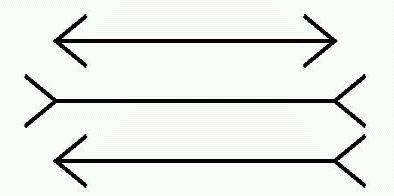 In this illusion the lines appear to be different lengths, but, in fact, the lines are all identical in length (get out a ruler if you don't believe me). Even when you know that the lines are the same length your brain will continue to tell you that they are different. This is an everyday hallucination created by the hidden assumptions your brain makes about how the world is organised. The illusion occurs because the visual-system processes that judge depth and distance assume that the 'angles in' configuration corresponds to an object that is closer, and the 'angles out' configuration corresponds to an object that is far away. Because the lines are actually the same size, the one that is perceived as being farther away is experienced as being larger than the one perceived as being closer.
An obvious question is, 'why do our brains do that?' Frith explains that our brains make assumptions because sensation is simply too ambiguous and if we were always processing sensation we would have no time for anything more interesting: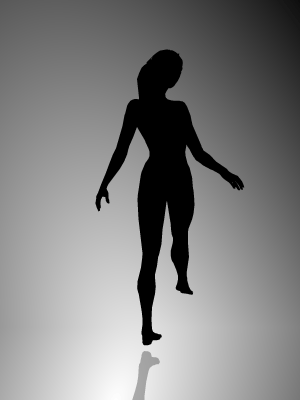 Right Brain vs. Left Brain
Definition
This theory of the structure and functions of the mind suggests that the two different sides of the brain control two different "modes" of thinking. It also suggests that each of us prefers one mode over the other.

Experimentation has shown that the two different sides, or hemispheres, of the brain are responsible for different manners of thinking. The following table illustrates the differences between left-brain and right-brain thinking:

LEFT BRAIN FUNCTIONS
uses logic
detail oriented
facts rule
words and language
present and past
math and science
can comprehend
knowing
acknowledges
order/pattern perception
knows object name
reality based
forms strategies
practical
safe
RIGHT BRAIN FUNCTIONS
uses feeling
" big picture" oriented
imagination rules
symbols and images
present and future
philosophy & religion
can "get it" (i.e. meaning)
believes
appreciates
spatial perception
knows object function
fantasy based
presents possibilities
impetuous
risk taking
Most individuals have a distinct preference for one of these styles of thinking. Some, however, are more whole-brained and equally adept at both modes. In general, schools tend to favor left-brain modes of thinking, while downplaying the right-brain ones. Left-brain scholastic subjects focus on logical thinking, analysis, and accuracy. Right-brained subjects, on the other hand, focus on aesthetics, feeling, and creativity.
Left Vs. Right
Which Side Are You On?

The left side of the brain processes information in a linear manner. It processes from part to whole. It takes pieces, lines them up, and arranges them in a logical order; then it draws conclusions. The right brain however, processes from whole to parts, holistically. It starts with the answer. It sees the big picture first, not the details. If you are right-brained, you may have difficulty following a lecture unless you are given the big picture first. If you are predominantly right-brained, you may also have trouble outlining (You've probably written many papers first and outlined them latter because an outline was required). You're the person who needs to know why you are doing something. Left-brained people would do well to exercise their right-brain in such a manner.
Another anti-male myth, related to the right-brain myth above, is that "women are more creative" than men. Creativity works on both sides of the brain, and has no relation to sexual differences. In fact, based on the idea that women have more language development at the expense of visual spatial sense, as described above, then, on the average, women are probably more creative in language topics, and men are more creative in visual topics such as art, architecture and engineering.
Left brain people have little trouble expressing themselves in words. Right brain people may know what they mean, but often have trouble finding the right words.
A commonly voiced myth is that "women are more right-brained than men." This is wrong. The evidence from strokes and injuries shows that women have more language development over more areas of the brain. Because language is a left-brain specialty, women are actually more "left-brained" than men, on the average.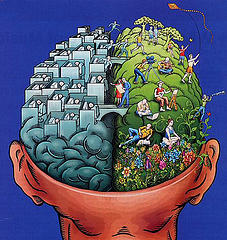 Hemispheric Synchronization
The ultimate goal is hemispheric synchronization and peak brain performance. Generally speaking, peak brain performance is reflective of a calmer, clearer and less stressful life.
Dr. Lester Fehmi, director of the Princeton Biofeedback Research Institute, has said that hemispheric synchronization represents "the maximum efficiency of information transport through the whole brain" and "[it] is correlated experientially with a union with experience, and 'into-it-ness.' Instead of feeling separate and narrow-focused, you tend to feel more into it—that is, unified with the experience, you are the experience—and the scope of your awareness is widened a great deal, so that you're including many more experiences at the same time. There's a whole-brain sensory integration going on, and it's as if you become less self-conscious and you function more intuitively."
THE ULTIMATE PEAK PERFORMANCE BRAIN STATE
| | |
| --- | --- |
| DELTA = 1-2 Hertz (cycles per second) | Deep physical relaxation, pain control & stress release. |
| THETA = 3-5 Hertz (cycles per second) | Memory, both memorization and recall and IQ growth. |
| ALPHA = 7-9 Hertz (cycles per second) | Learning, reading and listening. |
| BETA = 12-14 Hertz (cycles per second) | Decision making, logic and problem solving. |
The effect, known as hemispheric synchronization, is the optimal state for peak performance. When the electrical activity in your brain is synchronized you are able to focus attention and concentrate for long periods of time. Your thoughts are organized and flow in orderly sequence. Above all, you actually have more brain power available to you. This translates into having greater clarity of thought, increased powers of concentration, creativity and perception. Hemispheric synchronization increases the overall electro-magnetic energy level in the brain exponentially. Consequently, the thoughts and images you hold within this amplified state have the greatest power to manifest in your life..
Brain wave technology balances and amplifies the electrical activity in
your brain into organized and coherent patterns.
The "Normal" brain
Who has a "balanced brain" where all talents are equal? Almost no one!
Normal people have many variations in talents. You might have strong music rhythm sense and want to dance, but with lower coordination talent you may stumble often when dancing. Your language skills may be good in grammar but weak in spelling.

The "Genius" brain
The genius brain tends to have one or more talents that are exceptionally large. These are usually real differences -- the people will actually be born with genetic instructions to develop some areas of the brain an extra amount. (Whether the genius talent is recognized and developed is another matter, as mentioned about Leonardo da Vinci in today's school system on the home page!)
The "absent-minded professor." There is often a price to pay for being a genius. There is only so much room inside the skull for cortex, even with it folded a lot. There is a tendency for geniuses to be very strong in some talents yet noticeably weak in others. If one pie slice is extra big, then other pie slices may get sacrificed, as shown in the diagram above.
Stories about Albert Einstein being absent-minded make the rest of us normal people feel a little less intimidated. Ironically, he was a genius in math talents, but was famous for his forgetfullness about time and schedules. Appropriately, he invented the theory of relativity where time was no longer very important.
Where the "absent-mindedness" will show up depends upon which other talents were sacrificed to make room for the super talent. Many times it may not be anything noticeable, such as a great musician who might be weak in navigating his way around a supermarket (because most of the spatial area was devoted to musical perception rather than visual perception). However, the "Yes" creative area of the brain is often large at the expense of the lower "No" or inhibition center, producing a genius who acts "funny" or uninhibited.
Leonardo da Vinci is an ideal symbol of the Hidden Talents theme. He is considered one of the world's greatest artists and inventors, yet he had such severe dyslexia that his writing was mirror-image backwards.
Ironically, in modern North American schools, he would likely be taken out of art classes and put into remedial reading classes for the learning disabled, possibly put on drugs for an attention deficit disorder, told to stop messing up his notebooks with sketches and doodling of inventions, yelled at for day-dreaming in class, and would be considered a dummy because his reading problems made him get low grades in academic university-prep classes.
The goal of religious, martial arts and healers for at least the past 5,400 years has been to balance the brain. The belief was that the brain, body, mind and emotion were all interconnected and by balancing any one all the others would also become more balanced.

The "Balanced" brain
Imagine a pie sliced into sections, with each section representing a talent in the brain. A person with a perfectly balanced brain, with all talents equally strong, would look like a pie with equally sized slices.
The size of the pie could represent amount of talent. A super person with high levels of all talents would have a bigger total pie.
The concept of a balanced brain and a balanced body influencing each other is at least over 5,000 years old. Over the centuries thousands of "new ideas" have been tried – with highly variable levels of success. One Indian book lists 108 ways. The Wisconsin Nuns used 10 – 15 variations. With such a variety from which to choose anyone can select the technique(s) of preference. From the strenuous (and highly efficient) Aikido or Tai Chi to the passive mantra meditations, they all work.

All will guide the brain/body connection towards balance and stability. Therefore, for thousands of years, the benefits of brain balancing exercises have been evident.
Would you like to be able to draw on the strengths of both the right and left hemispheres depending on context. Typically, people with balanced right and left hemispheres are very comfortable with switching between local and global perspectives — that is, paying attention to both small details and larger issues when the circumstance indicates. That means they can identify elements that make up an image or situation and also attend to the larger, more holistic pattern or unified whole that those details comprise.
Would you like to be able to capitalize on the left hemisphere's skills in verbal communication as well on the right hemisphere's focus on patterns and association making. This rare combination would make you a very creative and flexible thinker.
Now the question to ask,,would i like a hemispherically balanced brain,of course you will receives as a fringe benefits, Alpha and Theta wave control, increased reading and memory skills, etc., however, the objective is brain balance. That is now possible in days rather than years. No difference in the result, only in the time required to achieve the result.
BRAIN BALANCING TOOLS
Don't be fooled by illusions or ever feel unbalanced again...
David Pal36 with CES Avery powerfull mind balancing tool
Nova Pro 100 Forget about tapes and cds
Procyon A new kind of MIND BALANCING experience
Inner Pulse Great starter system