New Study Released: MindFit -
Windows Software Systematically Trains Your Brain for Increased Mental Vitality

You're serious about exercising and keeping your body in top shape. You owe it to yourself to keep your brain healthy and vital as well. MindFit brain training software has been scientifically designed for the mature population, as well as for people of all ages, to help strengthen brain function and slow cognitive loss. Our software uses individually designed fun exercises that will help improve your short-term memory, reaction times, memory recall, eye-hand coordination and much more!
Thousands of users are using MindFit program to improve their brain health and their lives. You should too
Are You

Forgetting things much more often than you used to


Forgetting how to do things you've done many times before


Trouble learning new things


Repeating phrases or stories in the same conversation


Trouble making choices or handling money


Not being able to keep track of what happens each day


forgetting where you left things you use regularly, such as glasses or keys


forgetting names of acquaintances or figures in the news


occasionally forgetting an appointment


having trouble remembering what you just read


walking into a room and forgetting why you entered


forgetting the details of conversations


becoming easily distracted


not quite being able to retrieve information you have "on the tip of your tongue"


Blocking one memory with a similar one, such as calling a grandson by your son's name
memory lapses are normal among older adults,,,
But you can improve your memory...

A great new brain-fitness program has just been released! MindFit software turns your PC into a "fitness room" for your brain. With just 20 minutes a day 3 times a week, you will experience increased mental vitality and enhanced abilities in many areas of thinking.
Mindfit begins by measuring your mental abilities on a wide range of important cognitive skills. Using the results as a baseline, the program creates a personalized training program designed to increase your brain power
The programming behind these personalized training programs was developed by an eminent psychologist and uses an innovative patented technology. Because no two people are alike, each training sessions is uniquely your own.

I was very apprehensive about the program. I was afraid it would be something of an IQ test and that I might feel really stupid. But the program is nothing like that at all. The exercises are fun. I've only completed the first one, and I'm anxious to start the second one. I'm confident that my memory and attention will improve. My mother has Alzheimer's. I'm hoping MindFit will prevent or, at the very least, delay a decline in my cognitive skills.


Peggy, 67
The results of the training program are increased mental vitality. Your brain gets enhanced in areas of mental ability which include visual search, time estimation, naming, categorization, visual short term memory, auditory short term memory, location memory, spatial orientation, planning, ability to inhibit planned action, speed of reaction and hand-eye coordination and many more.
Our impressions while using this software is that it is a system that "learns" about you through your performance, customizes your training schedule, and responds to your performance both during and at the end of your training.
Here is an excerpt from a report of the a new experimental study done with Mindfit:
NEW YORK and YOQNEAM, Israel, March 16- For the first time, a double-blind clinical trial has shown that computer-based training improves the cognitive functions of the 50-plus crowd. Against conventional wisdom, the computer training in MindFit cognitive skill assessment and training software, created by CogniFit, Ltd. was found to improve short-term memory, spatial relations and attention focus--all skills used in driving and other daily activities that maintain our independence as we age.

These research findings show unequivocally that MindFit, which requires no previous computer experience of users, keeps minds sharper than other computer games and software can," said Prof. Shlomo Breznitz, Ph.D., founder and president of CogniFit. "In fact, the same cognitive domains that MindFit keeps sharp are also central in most daily activities-including driving-that enable aging independently.
Breznitz continued, "These findings support CogniFit's belief that if you exercise your brain just as you do your muscles, you can build the speed and accuracy of your mental functions, significantly. 'Working out' with MindFit three times a week from the comfort of your home will yield similar results for your brain as exercising at the gym with that same frequency does for your muscles.

I'm not sure I have the words to express my appreciation for this program.
I am 45 years old and have dementia. I know what I was capable of doing almost 3 years ago and know that I cannot do a fraction of the same tasks now.
After doing the program's evaluation, I was shocked with the tasks that I was finding difficult to do. As I am doing my daily lessons, I can see how I did compared to the last time I did it.
To me, this program is invaluable! I am so grateful to have it. I can now do the lessons to keep my brain functioning, measure how I am doing and measure the rate at which my condition is worsening.
I would recommend this program to anyone to keep their mind more fit as well as to anyone and everyone with any type of dementia or brain injury.



Sarah
Idaho
Here are some three demos that feature a few of MindFits training programs>
The "Inside and Outside"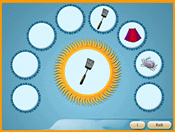 Task trains your ability to divide your attention between two or more visual stimuli. In daily life we normally manage several attention channels simultaneously. As we drive, for example, aside from handling the car, we pay attention to the road and traffic conditions, we usually also listen to the radio and talk with our companions (or on the mobile phone). When watching TV, we listen and watch, converse, think and react. The "Inside and Outside" task focuses on improving an individual's divided attention skills Visit this link for the demo
| | |
| --- | --- |
| | "The "Two in One" Task trains your ability to perform two tasks simultaneously. In daily life we are often required to carry out more than one assignment at a time. A typist reads and types simultaneously and tries to do both tasks as accurately as possible. A driver needs to look in the mirror while driving backwards. We often answer the phone while we continue doing our ongoing duties. The 'Two In One' task exercises the ability to perform such tasks quickly and accurately. |
The software is designed by a eminent psychologist to create individualized training programs covering a wide range of the most important cognitive skills. It is easy-to-use, mentally stimulating, and very effective. MindFit could turn out to be the key to your mental vitality-
| | |
| --- | --- |
| | The "Picasso" Task trains visual short term memory as well as synthesis ability- the ability to rebuild a pattern from given parts. In daily life, we often have separate elements that we need to combine into a pattern. For example, when we assemble a new device, cook something by following a recipe, or build something from a kit, we need to join different bits of information in a logical way. The "Picasso" task focuses on improving an individual's ability to synthesize information. |

I have now installed it and I really enjoy doing these exercises. They seem simple and yet difficult at the same time, but really keep you alert. I do enjoy them greatly.


Sincerely,
Kris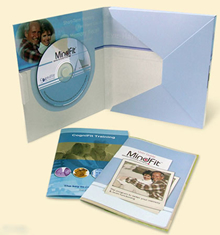 MindFit's patented technology is based on the latest research into brain function.
Our software is enjoyable and fun!


MIndFit is easy to learn.


Your computer becomes your brain's fitness room - use it 20 minutes a day, 3 times a week.


Advanced software follows your learning curve. As you get better, the software evolves with more challenging brain exercises.


The only software in the world designed specifically for seniors - we use large fonts and make it easy for inexperienced computer users.


No two training sessions are alike.


Exercise your brain and you'll see it improve dramatically!


For less than the price of a gym membership, you can keep your mind fit and healthy for life!

Windows


1000 MHz Intel Pentium III processor or higher


Windows 2000 SP4, Windows XP SP2


RAM Memory: 256 MB RAM


Minimum screen resolution 800x600


CD Rom Drive


Sound Card: PCI 128 bit; speakers or headphones


Graphic Card: 16 MB (support 3D graphics)


Internet Connection: Recommended with Internet Explorer Ver. 5.5 and up


Free hard disk space: 500 MB for typical installation; 100 MB for compact installation

Mac


Currently unsupported at this time. Click here to give us your email so we can notify you when it's available,,mindfit for mac

MindFit

Special introductory price
$NZ169.95 aprox $US129.95
plus shipping (Courier shipping details in shopping cart check out) normal post $20.00