RIFE
By Newell Jones
The following are articles published at the time that Royal Rife was working.
Discovery that disease organisms, including one occurring in dread cancer, can be killed by bombarding them with radio waves tuned to a particular length for each kind of organism, was claimed today by a San Diego scientist, Royal Raymond Rife, Pt. Loma. He added that he had isolated this cancer organism but is not positive yet that it is the direct cause of the disease.
The discovery promised fulfillment of man's age-old hope for a specific destroyer of all his infectious diseases, although Rife avoided any claim that he had established this yet. He announced his work in the conservative manner of scientists, but his reports indicated the great promise in their telling of successful bombardment of thousands of cultures of organisms, including almost all kinds known to mankind.
Organisms from tuberculosis, cancer, sarcoma, the tumor resembling cancer but not so mortal as it; streptococcus infection, typhoid fever, staphylococcus infection and two forms of leprosy were among many which the scientist reported are killed by the waves. He said that his laboratory experiments indicated that the method could be used successfully and safely, in organisms at work in living tissues.
" We do not wish at this time," Rife commented," to claim that we have 'cured' cancer, or any other disease, for that matter. But we can say that these waves, or this 'ray,' as the frequencies might be called, have been shown to possess the power of de-vitalizing disease organisms, of 'killing' them, when tuned to an exact, particular wave length, or frequency, for each different organism. This applies to the organisms both in their free state and with certain exceptions, when they are in living tissues."
In 1920 Royal Rife identified the human cancer virus using the worlds most powerful microscope (which he created), cultured the virus (on salted pork, the best growing medium), and injected it into rats. These injections caused cancer in every one of the rats (all 400 of them). Later he was able to find a frequency of electro-magnetic energy that would cause the cancer virus to self destruct when within that energy field. He created a device that emitted that energy field and was successful at destroying cancer viruses inside patients who were within 10 feet of the device.
In 1934, the University of Southern California appointed a Special Medical Research Committee to bring 16 terminal cancer patients from Pasadena County Hospital to Rife's San Diego Laboratory and clinic for treatment. The team included doctors and pathologists assigned to examine the patients, if still alive, in 90 days. After the 3 months of treatment, the Committee concluded that 14 of the patients had been completely cured. The treatment was then adjusted and the remaining 2 also were cured within the next 4 weeks. On November 20, 1931, forty-four of the nation's most respected medical authorities honored Royal Rife with a banquet billed as "The End To All Diseases" at the Pasadena estate of Dr Milbank Johnson.

But by 1939, almost all of these distinguished doctors and scientists were denying that they had ever met Rife. This complete reversal was the result of pressure from the drug companies on them. 'Pressure' is a very nice way of saying it. On the eve of a press conference to announce the results of the 1934 study on Rife's cancer therapy, Dr Milbank Johnson, former president of the Southern California AMA, was fatally poisoned and his papers "lost". Also, after a failed attempt by Morris Fishbein to buy the rights to Rife's healing instrument for the medical drug industry, Rife's labs were destroyed by arson and sabotage. Dr. Nemes, who had duplicated some of the work of Rife, was killed in a mysterious fire which destroyed all his research papers. A similar fire also destroyed the Burnett Lab, which was validating Rife's work. Royal Rife himself was killed in 1971 by an "accidental" lethal dose of Valium and alcohol at Grossmont Hospital.

Dr. Rife spoke about some of his beliefs; "I hope I have helped humanity some. I am just an ordinary man, doing the best he can. We are all here to do our part. Each has a purpose as he lives it and thinks it. We need religion to balance scientific discovery, and the material and the spiritual must go side-by-side. Religion guides scientific discoveries. Religion is a stabilizer. I sincerely think and believe that our good Lord helps us in many ways to accomplish our desires. This has been proven in many cases where results obtained were from none other than our Almighty God. The most important thing I ever did was build a microscope. The things I've done have possibly helped humanity. I have tried to create and develop things for the good of the universe. I am grateful to God that he has allowed me to do the things I have done."
IN A NUTSHELL RIFE MACHINES HELP BY MATCHING THE FREQUENCIE TO THE PROBLEM
To view the latest frequency list look here
A Rife machine outputs either Singular or Sets of frequencies
these frequencies have come from many practitioners and over
50 years of reserch By doctors scientists and lay people
Eg Ed's Experience
THIS IS A PARTIAL LIST OF DISEASES THAT RIFE TECHNOLOGY HAS BEEN REPORTED EFFECTIVE, IN HELPING ALLEVIATE.
HIV
Infections Leukemia,
Heart Conditions
Herpes,
infections,
Leukemia ,
Multiple Sclerosis ,
Neuralgia
Prostate Cancer ,
Pneumonia ,
Sarcoma ,
Stroke Warts ,
Acne,
Allergies
Arthritis
Athlete's foot,
Bone spurs
Candida,
Colds (some),
Constipation ,
Cramps ,
Depression ,
Diabetes ,
Dysmenorrhea ,
Fever ,
Fibroid,
Tumors,
Flu (some strains) ,
Headaches,
Insomnia
Joint pain,
Kidney infection
Lupus
Pain
Staph & Strep
Ulcers
Abscesses
Adenoids
Alopecia
Asthma
Back pain
Bronchitis,
Carcinoma,
Cardiovascular,
Carpal Tunnel,
Chronic Fatigue Syndrome (CFS)
Dental infection,
Diarrhea

Does Rife Therapy have any side effects?
Rife therapy have no side effects, but may create a Healing Crisis, otherwise known as a Herxheimer reaction. Subjects may experience physical reactions during and after their first few Rife resonator sessions. These reactions can occur during a session, and up to 24 hours after a session. The reactions range from tingling, itchiness, dizziness, uncomfortable twinges and physical pain (rare). Lets explain why this may happen.
If a patient has an infection, in a tooth, for instance, millions upon millions of bacteria would inhabit that tooth and the surrounding area. If the Rife resonator is turned on, suddenly the bacteria all rupture.
This debris must be escorted out of the body through the skin, bowels, and urinary tract. In the case of severe infections, the initial detox can be pronounced. The good news is that the first reaction is always the worst, and there rarely is a second reaction.
Patients with cancer may notice a decrease in pain, as well as a change in the size of their tumor. Urine may also become darker and greasy after the first few sessions as toxins leave the body through the kidneys.
Some patients may have difficulty sleeping the night after the first session due to increased energy. Other patients may experience what they believe to be a full blown cold the next day. One way to distinguish a cold from a healing crisis is that during a healing crisis, the client still has energy. On rare occasions, a rash may appear. If this happens, it will disappear within 72 hours. Using medication on this rash will only force back in a poison the body is trying to expel.
As a final note, it is not unheard of to pass a dead worm into the toilet after receiving a parasite frequency. It is important to remind the patients that a healing crisis is always temporary, and that it is better to have the offending micro-organism dead and on its way out, rather than alive and on the inside.
The only other effect that most people experience with the Rife resonators is more calmness and energy. That is because the nerve points in the hands were stimulated (in the case of treatment with hand electrodes).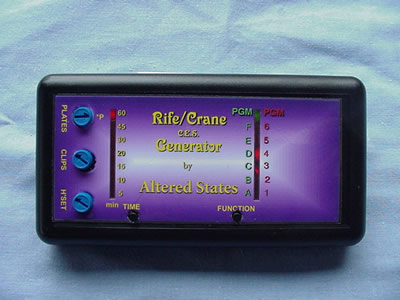 Our latetest Rife Unit click here