Pacemakers, microwave ovens, cell phones, radio interference and hidden surveillance "bugs";
ever wonder what's emitting radio waves?
The MicroAlertÔ radio/microwave alarm is the size of a small pager. This detector is ideal for anyone trying to find out exactly what's emitting radio or microwaves, including hidden sources. Just turn it on, select the sensitivity level you want, put it in your purse or pocket and forget about it for several years.
A clear, loud beep indicates radio waves stronger than the level you select. If you move closer to the radio source, the beep becomes more frequent, and will ultimately become a solid tone if you move closer still. Or, if you move away from the source, the beeping will stop. Minimum sensitivity is only .001 milliwatt per cm2, making it much more sensitive than the radio/microwave section of the TriField Meter.
At the highest sensitivity, it will detect a typical cellular phone tower 1/2 mile away, a typical analog cell phone 40 feet away, a digital phone 20 feet away, and a microwave oven (in use) 10-50 feet away. However, you will usually use a less sensitive setting. It's most sensitive from 100 MHz - 5 GHz, so ordinary cordless phones do not cause much interference (detectable at about 2 feet). However, a version with enhanced sensitivity below 100 MHz is also available for surveillance detection. The unit comes with 3 volt lithium coin battery, which has a typical life of 3 years (assuming it "beeps" with a typical 10% duty cycle for 10 minutes a day) or a 6-year life if it very rarely beeps. The replacement battery (Lithium type 2032) is available at most drug stores.
The switch on top lets you select standard sensitivity, high sensitivity or "off". In addition, a control on the side can raise or lower the overall sensitivity. The unit chirps once each time you turn it on to indicate that the battery is good. With the sensitivity on "high", you'll be surprised at the places (and times) you find radio/microwaves.
The MicroAlert comes with a one-year warranty, replaceable battery and a pocket clip. This unique device will fill you in on a lot of things you'd have never guessed (like strong radio waves on some wall outlets but not others in the same building). It's also great for restaurants when somebody at the next table uses a cell phone. If the MicroAlert is turned "on", it will, without you having to say a word, remind the caller that he is "violating" your air space.
Available in black, gray and off-white.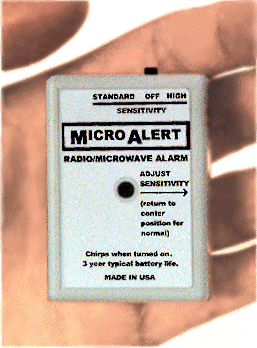 A standard monitor shows this picture slightly larger than real size.
Actual size is 2.25 inches high X 1.6 wide X .75 thick.
Instructions for the MicroAlert
Radio/Microwave Alarm
Try it first on HIGH sensitivity. It will chirp once when it is turned on, and every time thereafter until the battery (Lithium coin cell #2032) wears out in about three years. (If left OFF, the battery has a shelf life of 10 years).
The unit will chirp repeatedly when exposed to over 1 microwatt/cm2 on HIGH sensitivity, or 5 microwatts/cm2 on STANDARD. As you move closer to the source or turn the face of the MicroAlert toward the source, the chirps will become more frequent, and will become a solid tone above about 10 and 50 microwatts/cm2, respectively. Of course, if you instead turn away, or cover the front with your hand, the chirping will become less frequent or will stop altogether. Use the self-adhesive clip, if desired, on the non-printed face of the unit. For maximum sensitivity, keep the printed side toward you in your pocket.
The standard version is sensitive from 100MHz – 5000 MHz (5GHz), and it has somewhat less sensitivity in the 100 KHz – 100 MHz range. It is intended for cell phones, (and cell towers), microwave ovens, and police radar, as well as other radars.
On HIGH sensitivity, you will notice that it's sensitive to cell towers to a distance of up to ½ mile. That may be too sensitive, so you might want to try STANDARD. You can also adjust the sensitivity by using a small flat-blade screwdriver in the side. Return this ¾-turn control to its center position for normal operation. You can determine relative sensitivity by holding the non-printed surface near a flourescent light or video monitor. On HIGH, it should detect these. Sparks from static discharge also emit radio waves, and can occasionally cause a chirp.