"Never must the physician say, the disease is incurable. By that admission he denies God, our Creator; he doubts Nature with her profuseness of hidden powers and mysteries."
Quoted from the last page of the book "THE MEDICAL FOLLIES" printed
in 1925 and written by Morris Fishbein, M.D.
Editor of the Journal of the American Medical Association
RIFE THERAPY IS ONE OF THE VERY FEW
THERAPIES KNOWN TO BE FREE OF ANY SIDE EFFECT.
This is in contrast to any synthetic drug, whose unnatural chemistry eventually produces damaging side effects, such as impotence, high blood pressure, hair loss, and damage to heart, kidneys, & immune system...
Rife discovered that every virus, bacterium, parasite and other pathogen is particularly sensitive to a specific "frequency" of sound and can be destroyed by intensifying that frequency until it literally explodes - like an intense musical note that can shatter a wine glass! To "disintegrate" the microbes, Rife invented a Beam Ray machine (now known as a Rife machine)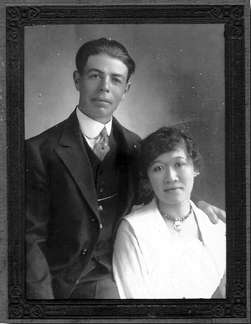 Every species of life has its own electromagnetic "signature", a pattern of oscillation based on its individual genetic blueprint. It's different for all. This instrument is based on Royal Raymond Rife's quest to study the unique electromagnetic "signature" of Viruses, Bacteria, Parasites, Fungi and Cancer; and experimenting with special frequencies to DESTROY them.

RIFE MACHINE
18 YEARS OF RIFE'S WORK
By Newell Jones

The following are articles published at the time that Royal Rife was working.

Discovery that disease organisms, including one occurring in dread cancer, can be killed by bombarding them with radio waves tuned to a particular length for each kind of organism, was claimed today by a San Diego scientist, Royal Raymond Rife, Pt. Loma. He added that he had isolated this cancer organism but is not positive yet that it is the direct cause of the disease.
The discovery promised fulfillment of man's age-old hope for a specific destroyer of all his infectious diseases, although Rife avoided any claim that he had established this yet.
He announced his work in the conservative manner of scientists, but his reports indicated the great promise in their telling of successful bombardment of thousands of cultures of organisms, including almost all kinds known to mankind. Organisms from tuberculosis, cancer, sarcoma, the tumor resembling cancer but not so mortal as it; streptococcus infection, typhoid fever, staphylococcus infection and two forms of leprosy were among many which the scientist reported are killed by the waves.
He said that his laboratory experiments indicated that the method could be used successfully and safely, in organisms at work in living tissues. "We do not wish at this time", Rife commented," to claim that we have 'cured' cancer, or any other disease, for that matter.
But we can say that these waves, or this 'ray,' as the frequencies might be called, have been shown to possess the power of de-vitalizing disease organisms, of 'killing' them, when tuned to an exact, particular wave length, or frequency, for each different organism. This applies to the organisms both in their free state and with certain exceptions, when they are in living tissues
RIFE THERAPY IS ONE OF THE VERY FEW THERAPIES
KNOWN TO BE FREE OF ANY SIDE EFFECT.

Disclaimer: To comply with FDA requirements we need to inform you the fact that a lot of people have had tremendous results does not guarantee that you will have the same results. Also, if you have a serious medical condition, this use of this technology should not replace any competent medical advice you are currently receiving. Our experiences have been that most people will use this technology while continuing to visit their usual/normal medical professionals.
Imagine, for a moment, that you have spent more than two decades in painfully laborious research-- that you have discovered an incredibly simple, electronic approach to curing literally every disease on the planet caused by viruses and bacteria . Indeed, it is a discovery that would end the pain and suffering of countless millions and change life on Earth forever. Certainly, the medical world would rush to embrace you with every imaginable accolade and financial reward imaginable.
You would think so, wouldnt you?
A little history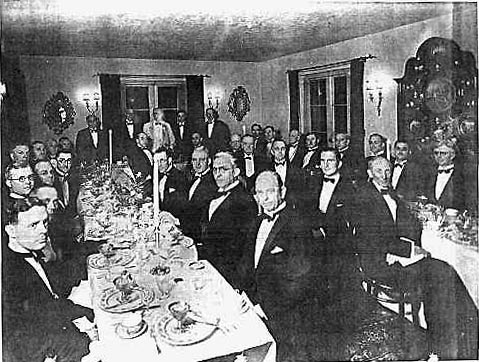 On November 20, 1931, forty-four of the nation's most respected medical authorities honored Royal Rife with a banquet billed as "The End To All Diseases" at the Pasadena estate of Dr Milbank Johnson.
Royal Raymond Rife and his engineer John Crane developed a new type of frequency therapy device, in the 50s, using electrodes placed on the body to administer the resonance waves. Just 10 years later, the AMA again struck to silence this form of therapy. In 1960 John Crane's laboratories were raided without a search warrant, years of work were either confiscated or smashed and Crane was taken to trial in spring 1961. Although there was a large amount of evidence supporting the effectivness of the Rife/Crane therapy, this evidence was not permitted to be used in the trial! John Crane was sentenced to 10 years in prison of which he served 3 years and 1 month.
After John Crane is released from prison. He begins the fight all over again. 1965 October: Crane submits an application to the Calif. Board of Public
Health for approval of the Frequency Instrument. "The application is made in the name of Rife Microscope Institute," John Crane, owner. The Health Department answers that Crane must first show the instrument to be effective.
Dr. Charles W. Bunner, Chiropractor, agrees to provide "proof of effectiveness." The Calif. Department of Health pays him a visit and forbids him to use the instrument, and present him with a court order to have it destroyed.
Dr. Les Drown, Chiropractor, provides a statement. An American Cancer Society representative subsequently forces him to "sign over" his Frequency Instrument or go to jail. (Rife's cancer discoveries are never patented.)
If the medical system continues to advance, one day Royal Rife will be acknowledged as one of histories greatest medical geniuses. In 1920 Royal Rife identified the human cancer virus using the worlds most powerful microscope (using a different design which he created), cultured the virus (on salted pork, the best growing medium), and injected it into rats. These injections caused cancer in every one of the rats (all 400 of them). Later he was able to find a frequency of electro-magnetic energy that would cause the cancer virus to self destruct when within that energy field. He created a device that emitted that energy field and was successful at destroying cancer viruses inside patients .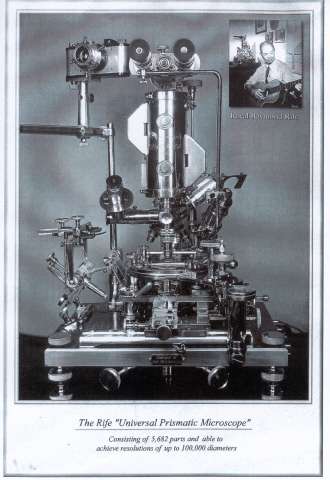 In 1934, the University of Southern California appointed a Special Medical Research Committee to bring 16 terminal cancer patients from Pasadena County Hospital to Rife's San Diego Laboratory and clinic for treatment. The team included doctors and pathologists assigned to examine the patients, if still alive, in 90 days. After the 3 months of treatment, the Committee concluded that 14 of the patients had been completely cured. The treatment was then adjusted and the remaining 2 also were cured within the next 4 weeks. On November 20, 1931, forty-four of the nation's most respected medical authorities honored Royal Rife with a banquet billed as "The End To All Diseases" at the Pasadena estate of Dr Milbank Johnson.
But by 1939, almost all of these distinguished doctors and scientists were denying that they had ever met Rife. This complete reversal was the result of pressure from the drug companies on them. 'Pressure' is a very nice way of saying it. On the eve of a press conference to announce the results of the 1934 study on Rife's cancer therapy, Dr Milbank Johnson, former president of the Southern California AMA, was fatally poisoned and his papers "lost". Also, after a failed attempt by Morris Fishbein to buy the rights to Rife's healing instrument for the medical drug industry, Rife's labs were destroyed by arson and sabotage. Dr. Nemes, who had duplicated some of the work of Rife, was killed in a mysterious fire which destroyed all his research papers. A similar fire also destroyed the Burnett Lab, which was validating Rife's work. Royal Rife himself was killed in 1971 by an "accidental" lethal dose of Valium and alcohol at Grossmont Hospital.

1970
Rife dies. He has been hospitalized for intoxication. Records show he is given an extra (overdose) of Valium. A mixture of Valium and alcohol is lethal. He is 84.

1980
" The AMA is found guilty by a U.S. Court of Appeals of 'conspiracy to restrain competition. . . New methods of health care have been discouraged, restricted and in some instances eliminated."
1985
The Sloan-Kettering Cancer Institute finds the Rife-Livingstone-etc. organism (virus) in all blood cultures of cancer patients. They conclude that the organism comes from outside contamination and bury the report.

The individual has always had to struggle to keep from being
overwhelmed by the tribe.
If you try it, you will be lonely often, and sometimes frightened.
But no price is too high to pay for the privilege of owning yourself.
Friedrich Nietzsche