NEW AGE MUSIC (part 1)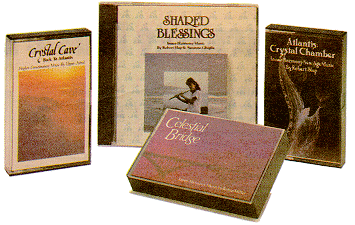 2 Kinds of New Age Music from Vally of the Sun
Available on Cassettes and Compact Discs

(CDs only available on some titles)
---
Valley of the Sun New Age Musicis labeled either Progressive or Inner-Harmony so those not familiar with the artists will understand better what they can expect, and choose music to fit their personal listening tastes.
Progressive Music: Mellow yet high energy music, usually combining acoustical and electronic instruments-a combination of relaxing jazz and synthesizer effects. Stimulating without being distracting, it usually has a central theme around which the music revolves.
Inner-Harmony Music: Gentle, flowing, sustained environmental music without tension or resolve that has been scientifically proven to produce dramatic changes in consciousness. It is ideal for altered-state-of-consciousness work.
---
ATLANTIS: HEALING TEMPLE
by Robert Slap.
A beautiful, inner-harmony musical exploration of healing with colored light and vibration an ancient healing technique used on Atlantis during the enlightened period. Includes "Atlantis: Healing Sanctum,"" The Healer," "Light of Love," ''Quiet Storm," "Return to Atlantis," "Indigo," and Equinox Temple March."
---
OPEN SECRET
by Denis Quinn
Touches our deepest, most secret yearnings as he explores the transcendent mystery of love. A poignant, haunting piano, soaring guitar, gentle rhythms and delightful orchestration blossom in the heart of the listener with tantalizing splendor. Produced with Anthony Phillips, this beautiful music stirs the emotions with a rare warmth and wonder.
---

CHAKRA DANGE
by Malcolm Stern.
A magnificent musical journey through the seven energy centers of the body. Guitars, keyboards, saxophone, bass, percussion, and vocals create a magical and inspiring listening experience with rhythms for improvised dance, and a powerful musical meditation/affirmation for refreshing and re-energizing body, mind and spirit.
---
FROM MY HEART
by Rebin Miller Is beautiful inner harmony music for lovers. Robin's evocative piano expresses the essence of love. Explore me transcendental state of bliss only love can bring. Song titles include "Stargazing ," "Inner Voice " "Night Dream," "In Love s Eyes," "From My Heart," "Moonlight on the Meadow " "Love of My Life," and "River's Edge."
---

SOULMATE SUITE
by Steven Cueper
Is a soothing inner harmony musical journey through the pure essence of love into the harmonious union of two perfectly balanced souls. This is the ideal music for lovers: blissful, inspiring music composed of synthesizers, ethereal voices, delicate bells and light strings. Relax and let the music carry you away on the wings of love.
---
ATLANTIS: CRYSTAL CHAMRER
by Robert Slap
Captures the essence of the lost continent at the height of its metaphysical mastery. A musical manifestation of a special environment by the sea, a magical place of healing for all who are guided here. Synthesizers and the sounds of the sea are combined with ethereal voices to relax and inspire.
---

TEMPLE IN THE FOREST
by David Naegele.
Inner-harmony music that captures the peaceful meditative environment of a beautiful forest. A temple bell sound is combined with an "OM" vibration and the sounds of forest birds and a gently flowing stream. Acoustic grand piano, synthesizer, electric piano and natural effects produce soothing environmental music.
---
MANY LIVES AG0
by Karl Schaffner.
Sitars, flute guitar and synthesizers are combined to create a state of inner balance and bliss. This is highly visual meditation music that generates a transcendental bridge between your conscious awareness and Higher Self. Close your eyes and imagine your Eastern lineage of past lives.
---

INNER VISTAS
by Gentle Wind & Rain
Is soothing Native American flute and synthesizer music that will bring peace to your soul. The compositions are titled "Shadows of Sedona," "Astral Dreams," "Indian Summer," and others. This is improvised inner-harmony music that is ideal for massage, meditations or as soothing background music for a relaxing environment.
---
KEY WEST AFTERNOON
by Steven Cooper
Drift away to the Florida Keys and experience a balmy afternoon by the turquoise water. Sense the breeze through the palm trees and visualize yourself on the veranda of an old conch house, watching the people stroll by. Visit the harbor and walk the seaside streets. Have a drink on a sailboat as the sun sinks into the sea.
---