Personal Energetic Trainer Model: Stress: Gray
NZ$207.29
Approx
USD$169.00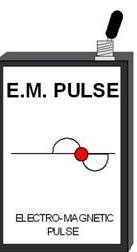 The E. M. Pulse will create a sub-carrier Electro-Magnetic Field (EMF) from the E. M. Pulse. This field can vary due to outside forces of EMF. The protective coverage range can vary from a 1/4 mile radius in the country to a 50 feet radius in the harsh city environment per unit. In the harshest settings, several units may be required to create a complete blanket coverage effect of the desired area.
The E. M. Pulse transmits a sub-carrier frequency that piggy backs onto the harmful EMF from our environment. This sub-carrier frequency tells the body to RESIST the harmful effect from these EMF exposures. Since it is impossible to block a EMF, we use a smart technology that can protect us and our families from such hazards as we are exposed to on a daily basis. Coverage includes the following items and more: cell phones, EMFs, power lines and sub-transformers, Ley lines, vortexes and other magnetic fields, computers, and AC devices.
The E. M. Pulse is an Intermittent Modulated Frequency (IMF) device. The E. M. Pulse is an old concept known by Europeans and North Americans but carried to a new idea.
Dowsers in Europe and North America use a device known as "Square G". This device is known to the quantum physic energies as a "Tuned Radiated Energy Deflector". It is fashioned into the shape of square "G" pattern measuring 5 x 5 x 5 x 3 x 3 inches. Geo-Magnetic paths called "Ley Line" can have the current of their magnetic flow changed when you place a Square G in its Geo-Magnetic path.>
For example: Think of a Ley Line as a laser that can cut through steel. You know that if you place a piece of paper in front of the laser that it will instantly burn though the paper, but if you place a De-Fracturing lens into the lasers path it would then cause the beam to be scattered and make it a weak and harmless beam pattern.
If our bodies lay, sit or work in Geo-Magnetic Ley Line paths, we are giving ourselves high levels of Geo-Magnetic Stress. Most Europeans are aware of Geo-Magnetic Ley Lines which they also call Geo-Magnetic Stress Zones. Areas in Europe where they have experienced many vehicle accidents have been clearly marked as Geo-Magnetic Stress Zones. These stress zones have a net frequency of 6.91-7.82 Hz (Hertz) or cycles per second.
European scientists have also found that when they placed one blood sample in the path of a Ley Line it turned cancerous in 48-72 hours. The sample placed outside of the Ley Line remained non-cancerous and still safe many hours after the experiment had been concluded.
If we subject our bodies to these subtle energy fields we will become very ill and death will finally come. By changing the frequency of the Ley Lines, your body will have less stress upon it and in turn you will be healthier and stronger.
Many scientists have found that by changing the operating frequencies of the Ley Lines you can prevent or reduce the BIO-hazardous effects caused by the earth's Geo-Magnetic Field.
The E. M. Pulse is an electronic expanded version of the "Square G". It is a tuned radiated energy device capable of re-tuning the Ley Line. The E. M. Pulse does this by creating an active subcarrier wave when placed on or near the Ley Line. When an active primary frequency is coupled with a second frequency the effect is called an Intermittence Modulated Frequency.
Made in the USA
---




Your IP Address is: 54.234.180.187