Accupuncture

Long before HMO's, family practice and medical malpractice insurance ever entered the stage, acupuncture was already an ancient art. It's been around for millennia, but unlike passing medical "fads", acupuncture is here to stay.
As a matter of fact, acupuncture – along with many other forms of alternative medicine – is back in full force. What was once a sacred study, centralized in Asian countries has now stormed across the entire planet, penetrating into even the most "traditional" Mid-Western communities.

Which Diseases can be helped by Acupuncture

Now Acupuncture is taught and practiced all over the world in many countries and each country uses their own individual style and technique. Germany has its own style and technique as does Japan, Korea, Australia, France, Russia and Italy. Besides these countries already mentioned, there are still many others that use their own acupuncture techniques. But it should be said that most of these different and varied styles of acupuncture were derived from the Traditional Chinese Medicine health care system and then modified to some degree.

Its this Symple

Acupuncture as a sole treatment method became very popular, especially during the early 1970's when then President Nixon opened the doors to China. Many of his representatives were in awe when they toured different Chinese hospitals and observed first hand the wondrous results of acupuncture and oriental medicine techniques. By the middle and late 1970's, acupuncture was being taught in oriental medicine universities in the United States and about the same time, different healing professions began teaching brief instruction courses on the subject.


So, what is acupuncture and how does it work? These are two of the paramount questions people ask. Of course, the other significant questions are, Can it help me? How long will it take? Since every case is different in terms of length of treatment, and the possibility of helping varies according to the extent of the condition, the only thing that might be answered generically is, "What is acupuncture?"

What about the acupuncture meridians themselves?
Bear in mind that most have never heard of such an unusual concept. We are basically knowledgeable about nerves, blood vessels, muscles, etc., as one can visualize and actually demonstrate hard evidence of their existence. Suddenly, we are presented with a concept of invisible meridians that carry invisible qi energy. May have never encountered anything so mystical regarding the human body; suddenly, we're are being asked to accept with blind faith a concept that goes beyond their general understanding of anatomy and physiology.

Here is another example: Sometimes a person comes with a series of conditions for which, as often as not, they've seen a series of specialists. Dry eyes take them to the ophthalmologist, constipation to the internist, and low back pain with achy knees to the rheumatologist. The acupuncturist listens to the whole list, asks questions, checks the pulse, reflex points, and the tongue, looking for the energetic clues that link these complaints together. A careful choice of acupoints, an individualized herbal combination, and within a short time the patient finds relief of all their symptoms, including some they may not have even mentioned. In short, the acupuncturist doesn't see the complaints as separate disorders, but as signs of the same underlying imbalance. That is why the simple intervention with needles , and possibly herbs or other helps, can adjust all the complaints at once. Acupuncture often pays huge dividends in improved health and wellbeing!
[Comments by Dr. Claire Cassidy, Ph.D., Dipl. Ac.]

NOW YOU CAN BE YOUR OWN PRACTITIONER

Offers FAST and EFFECTIVE RELIEF from Aches, Pains, Swelling, Inflammation, Tension and Stress-Related Symptoms! This Portable Battery-Operated unit is so HANDY, that you can use it anytime and anywhere . The electric frequency has been determined by the Japanese, Germans and Chinese to most closely resemble the effect of a needle in the body. This can be done on the body, foot, hand and auricular (ear) points

What Has Acupuncture Historicaly Treated?

The answer is simple; Most everything.

A wide variety of acute and chronic conditions exist for which acupuncture can be effective. According to the World Health Organization following is the list of indications for which acupuncture can be used




Respiratory Diseases
Acute sinusitis
Acute rhinitis
Common cold
Acute tonsillitis
Bronchopulmonary Diseases
Acute bronchitis
Bronchial asthma
Eye Disorders
Acute conjuctivitis
Cataract(without complications)
Myopia
Central retinitis
Disorders of the Mouth Cavity
Toothache
Pain after tooth extraction
Gingivitis
Pharyngitis

Orthopedic Disorders
Periarthritis humeroscapularis
Tennis elbow
Sciatica
Low back pain
Rheumatoid arthritis
Gastrointestinal Disorders
Spasm of the esophagus and cardia
Hiccups
Gastroptosis
Acute and chronic gastritis
Gastric hyperacidity
Chronic duodenal ulcer
Acute and chronic colitis
Acute bacterial dysentery
Constipation
Diarrhea
Paralytic ileus
Neurologic Disorders
Headache
Migraine
Trigeminal neuralgia
Facial paralysis
Paralysis after apoplectic fit
Peripheral neuropathy
Paralysis caused by poliomyelitis
Meniere's syndrome
Neurogenic bladder dysfunction
Nocturnal enuresis
Intercostal neuralgia

These models are professional model of acupuncture apparatus, having a very nice and modern design. They are used in homes, clinics and hospitals for detection anf treatment of acupuncture points, massage(TENS), acupuncture(electro-needle therapy) and magneto-therapy. These units are equipped with built-in timer and can perform 5 different kinds of waveform and each waveform is indicated by a symbol which lights up when selected.

The KWD-808 has proved itself to have remarkable curative effect on the body, motion system, nervous system, and nearly a 100 kinds of diseases. It is particularly suitable for pain killing and weight reduction of persons with calculi disease.

This device model KWD-808 has had more than 2 decades of excellent history

In recent years, the KWD-808 device has built an excellent reputation. It won Golden Prize in the International Medical Instrument Technical Fair . It again won a Golden Prize in the International Fair in Beijin. Particularly useful in the growing demand for natural non-invasive, no-drugs treatments, acupuncture, magnetic therapy, and traditional Chinese medicine accredited by many doctors. It is welcomed and prized in a wide range of countries: America, France, Singapore, Germany, Italy, Asia, South Africa. The KWD-808 Multi Purpose Health Device is capable of performing a number of therapies such as needless acupuncture, electro-needle acupuncture, pulse-electro-magnetic therapy, etc...

Adjustable Frequency and Intensity
Adjustable Sensitivity probe-Point Locator
Build-in Timer
Five Buttons Wave Form Selection
Frequency Indicator Green Led Light
Power Green Led Light
DC 9V (1.5x6) Size CR14 UM2 Battery

Provide electro-needle therapy
Alternative to Hand Massage
Musical timing switch for medical treatment
Operating Output Protection Device
Provide needless acupuncture-pulse electric therapy
Assisting to Detect Acupoints
Multi-Purpose Health Device
Acupuncture Stimulator - KWD808
The device is very safe, due to its low voltage output, low frequency and emission of frequency equal to that of the human body.
There are five types of pulse waves to be selected:


Continuous wave
Dense-disperse wave
Intermittent wave
Ripple wave
Respiration wave
Six kinds of wave combinations may be used at the same time or separately, and the output of each one may be regulated independently. In order to increase its effect, combine two or more outputs.

1. Continuous Wave:

Pulse duration r = (0.5 +/- 0.15)ms;
Repeated pulse frequency: f1=( 1+/- 0.5 ) Hz to
( 100 +/- 10) Hz. and FREQ1 can be regulated continuously,
Max Output pulse amplitude: 40V +/- 10V (Load 500 O.)
2. Dense-disperse Wave:

Dense and disperse waves display alternatively
Disperse frequency is f1, same with base wave;
Dense frequency is about 100Hz;
Pulse duration is 0.5ms;
FREQ2 regulates the frequency f2 of (10 +/- 3) cycles per min to (50 =/- 10) cycles per min
Max Output pulse amplitude: 40V +/- 10V (Load 500 O.)
3. Intermittent Wave:

Pulse shows at regular interval at the same frequency as above
4. Ripple Wave:

Its amplitude increases to maximum and drops to zero suddenly, repeating the process.
The frequency: (10 +/- 3) cycles /min to (50 +/- 10) Cycles/min.
The Max output plus amplitude range is over 5V to 30V
( load 500O )
5. Respiration Wave:

Its amplitude increases first, then drops quickly to zero, repeating the process.
At 1kO load Vp3 = 24V, other pulse data are same as above.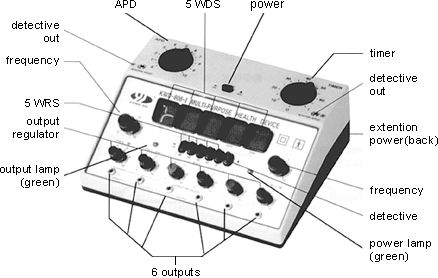 1. Turn on the device
Put 6 UM2 batter into the box or insert the plug of DC 9V into the external power socket back of the device, press the "power" to "ON" position, the power indicator lamp lights.
When detecting acupoint, "timer" is set to "OFF", and press "detective" at the same time. For Acupuncture and Massage Function, "timer " is set to "ON" select the different pulse wave according to the following guide line:
Analgesic: Continuous Wave (Dense wave), Dense-Disperse wave.
Improve Blood Circulation: Dense-Disperse wave.
Increase absorption of tissue fluid: Disperse and Respiration waves.
Excitement of muscle and nerve waves: Intermittent, Respiration, Ripple and
Disperse waves.
Stimulations of collagenous tissue: Disperse wave.

2. Acupoint Detection
When detecting acupoint, The "timer" should be set to "OFF" and press "detective" at the same time. Insert the penplug into " detective out" socket (A or B), then adjust the "APD" knob until hearing a sound cue. Then, slowly adjust counter-clockwise until a suitable setting is found. Now hold the pen in your hand and place the point on your body until both a signal and light appear which shows the exact location of acupoints.
When detecting acupoint, "APD" is set to any position, there is no indication that shows your skin is too wet. You should dry the skin before detecting. If you regulate the knob to over 7.5, the device will emit a sound cue. At this time, the skin is too dry - wet the skin in order to continue.
During the course of detecting, the correct method is to press the head on the acupoint with slight pressure in a point/touch way. It is also incorrect to touch and press the acupoint for a longer time, for this causes a false reflection point (as cautioned by an unclear sound cue).
Based on the fact that the resistance of certain body points is laser than others, and due to differing skin electrical resistances due to sex, age, health, and season, the electric current used must be adjusted slowly until comfortable.
Caution should be used while detecting. When detecting is complete, "APD" knob should be turned to the "0" position.

3. Galvano-acupuncture
It is considerably efficient for doctors to use this method in for rehabilitative effect. Clip the needle into the patient's acupoint. Select the wave form desired and properly regulate the output strength.
When using this function, the "POWER" is set to "ON" position - set the timer as desired (if more than one hour, timer is set to " ON" position). Press the knob of wave forms selected - a green light will indicate the device is functioning. Then, turn the output switch corresponding to output end
according to need.

4. Hand Massage
Affix the two electric conductible rubber pieces to the place to be massaged (or to the areas of girth). Then, connect the lead wires to the pads, while plugging the other end of the wire into any one of the output sockets in the lower part of the device. Set the "power" is set to "ON" position, the timer as desired (if more than one hour, timer is set to " on " position). Press the knob of wave forms selected - a green light will indicate the device is functioning. Then turn the output switch, corresponding to the output end, gradually from a lower level to a higher level until a tingling sensation is experienced. After a period of treatment, if you feel the current is weak, the output may be increased. If the output is strong yet the feeling remains weak, you may connect two outputs to increase the treatment effect. Several output ends may be used at the same time for enhancing the rehabilitation, such as for sportsmen recovering from fatigue.
5. When finished
the "timer" switch is set to "OFF" position automatically and the "power" switch
should be set to the "OFF" position also.
Accessories:


One acupoint detecting pen
4 output wires (with 3.5mm plug and clips)
2 lead wires for the adhesive pads
(with 3.5 mm plug)
4 pieces of self-stick electrode paper
A set of instruction manual with acupoint chart
Adaptor Feature:


Output: 9.0V 0.6A
Input: 100 / 220V, 50/60Hz, 0.2A Max
Material: PC
Unit dimensions: 3.6" x 2" x 1.6"
( 8cm x 5cm x 4cm)
Exposed DC cord length: 60" (150cm)
Acupuncture Stimulator Technical Description
Model name

KWD808

Same Features

Power voltage: DC 9V
Input Power = 4VA
Maximum Power Consumption: 5W
Measurement (mm):222 x 172 x 75
9V battery, type PP3,6F22 or its equivalent

Different Features
6 Output Stations
Perfect for the Medical Professional
2 Detection of Acupuncture Points
Audio Button
Shipping Weight: 2.20 kg

Shipping Dimension: 33.00 X 24.00 X 14.00 cm
Made in China

ELECTRONIC HOMEOPATHY
ABPA
LIKE HAVING A HOMEOPATH
BUILT INTO YOUR HOME OR OFFICE
Natural healing enthusiasts around the world using the scanning technology of the Advanced Bio-Photon Analyzer as an energy balancing strategy to help maintain a healthy state for themselves, their families, and pets.
One of the great advantages of the ABPA is that the person's physical presence is not necessary for treatment - a snippet of their hair is used to act as the link (witness) between patient and practitioner or grand mum and grand kids etc. The witness provides the focus of attunement between patient and practitioner during analysis and treatment. This link is based on the principles of Holography in which, from a vibration and energy viewpoint, a small portion removed from the whole (e.g. a hair sample removed from the body) reflects the total energy pattern of the whole,,,with the ABPA this is very simple as no previous Intrinsic knowledge is required,, the unit is fully automatic...More Here
Digital Media Interface
For the ABPA or the SE-5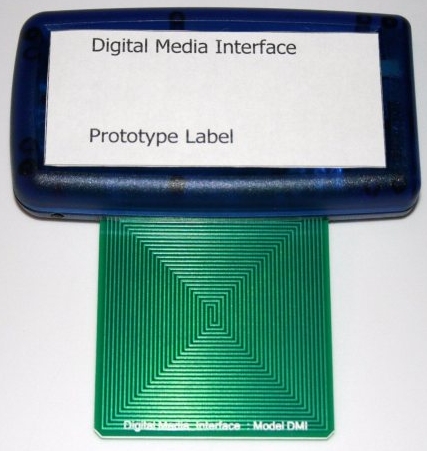 The newest product from the makers of the ABPA is the Digital Media Interface (DMI). A sad day has come when the Polaroid company has stopped making Polaroid 600 film that many of us has come to depend on for our work and results. Over the last 3 years IC has been working secretly on a new cutting edge product to replace the Polaroid 600 film. After many prototypes we finally arrived at the new DMI.More here