Its Been a tough year Recessions Swine flu, banks crashing,
stress stress and more induced stress,,
THERE NOTHING QUITE LIKE A HEAD AND SCALP MASSAGE

Go on spoil Yourself you deserve it
Benefits of scalp massage

It provides deep relaxation to the head and scalp which allows blood circulation to flow more easily to the hair roots.


Improved circulation, which results from scalp massage, provides hair roots with nourishment to help trigger hair growth. Why? When the scalp or head it constricted or tight due to stress and tension, it blocks adequate blood flow to the hair roots.


When scalp massage is repeated on a regular basis, it will help to actually strengthen the roots of the hair which will help hair growth.


When a good moisturizing oil like jojoba is used as the base, it can help add moisture and conditioning to the scalp and the hair enhancing natural textures and making it move vibrant.


Moisturized hair is less likely to split and break, which is a wonderful benefit of the oils used for scalp massage.


Scalp massage adds natural luster and shine to the hair.


In some cases, scalp massage can relieve itchy scalps, prevent flaking and help with chronic dandruff. Of course this is dependent on other factors but is a possible benefit.


Regular scalp massage can help protect hair from environmental toxins and other weather conditions by helping to strengthen the follicles.


It can help eliminate depression or other stressful or negative emotions.


Scalp massage can also help alleviate chronic insomnia and provide restful sleep.


In some cases, scalp massage can slow hair loss conditions.


It also helps to spread the natural scalp oils to the ends of the hair without the harmful effects of daily brushing.


The benefits of scalp massage also help provide a glow to the complexion of the face.


Scalp massage as well as body massage can also help to regulate the thyroid and can help to balance body temperatures.


It can help your eyes to relax, help to minimize chronic eye strain, and can be a general tonic for hypersensitivity or excessive nervousness. In some cases it may help to soothe ADD behaviors.


Scalp massage, can also help awaken creativity centers in your brain for more enlightened idea processing or long term meditation.


It can be combined with deep breathing for even deeper results.


In some cases, regular massage with appropriate essential oils can help to slow the onset of white or gray strands.


Regular scalp massage has proven to help in some cases of chronic headaches or migraines
Hair Growth The biggest benefit to Scalp massage is increased blood circulation at the surface of the skin. This benefit, and many others, is why many individuals suffering from premature hair loss or other hair problems turn to scalp massage for help.
A scalp massage can increase blood circulation to the hair follicles, increase relaxation, decrease stress, condition the scalp, and boost the strength of the hair roots. The massage applied by the Alexander HealthCare Head Massager warms the skin and opens up blood vessels to increase flow and boost circulation. Increased circulation means that the cells of the hair follicle will receive more of the nutrients necessary to optimal hair growth function. The Massage motion promotes relaxation and feels good, thus increasing the production of "feel good" chemicals that work to lower levels of stress hormone in the body. Lower stress levels allow your organs to function more efficiently, thus boosting your hair follicle's ability to grow hair.
..Alexander HealthCare Head Massager Wizard
New,,, Alleviate stress, tension and help soothe that migraine. The Alexander HealthCare Head Massage is like thousands of tiny fingers simultaneously massaging your scalp. Simply place the Alexander HealthCare Head Massage on your head and feel the tension miraculously leave your body. Suitable for any age, this massager stimulates blood circulation and helps to relieve stress. Use it at your Office. You can use it on your morning commuting in traffic. Use it while relaxing at home in front of the TV after a long day. Its rechargeable battery makes it totally portable and easy to use anytime and anywhere. It's like a Spa for your brain.
International leading technology.
Comfortable
Safe.
Relaxes anytime anywhere.
Innovative shape design
Convenient to use.
Size Adjustable
Measures: 10x 6.5x 7inch
Power by: 3xAAA batteries(not included) or plug(included)
Package include:
1 x Alexander HealthCare Head Massage
1 x power pack voltage to suit your address
1 x USB cable(190cm long)
Go on spoil Yourself you deserve it
Alexander HealthCare Head Massager Wizard

$NZ129.95 aprox $US69.95
plus shipping
Now Can you Imagine sitting there with your head being massaged "
and your feet in a warm bath of water,,, Detoxing,,,,AHH bliss
Here is our latest Amazing Dual Ionic foot spa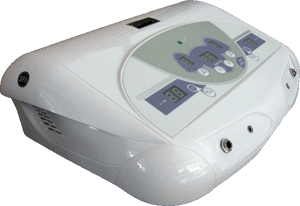 This advanced highly therapeutic aqua foot spa is a professional detoxification system which provides full body purification. Listen to soothing music with a built-in brand new Mp3 player while you detoxify and cleanse your body of toxins. Add your own relaxing Mp3s to the collection of therapeutic music already uploaded to the system using the USB chord (included). This new 2008 model is personalized – it is easy to use! It features two complete working systems - you can use two arrays to provide service for two people at the same time. Take advantage of this limited time offer!

The results of reducing unhealthy toxins within your body
Increased Energy and Reduced Stress
Cleansing of the Liver, Kidneys and Parasites
Purge Heavy Metals
Internal Cleansing with Full Body Purge
Significant Pain Relief
Improve Memory and Sleep
Liver Detoxification
Helps with Wrinkles, Acne & other Skin Problems
Enhances Immune System
Inactivates Viruses, Bacteria, Yeast or Fungus
Alleviates Constipation
Relief of Joint Pains (e.g. Arthritis)
Package Contents

Detox foot machine;
Two (2) arrays;
Two (2) wrist band;
Two (2) earphones;
Power cord; USB Cable;
Two (2) extra Fuses;
User's instruction sheet.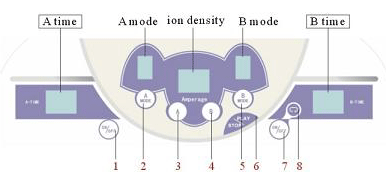 The machine can service 2 people at the same time - Two control sysytem - A system and B system
Great for home or clinics