Color can be thought of as a psychological and physiological response to light waves of a specific frequency or set of frequencies impinging upon the eye.
In the physical world, the light is major nutrient, which feeds the evolution of all life. Colors has a profound effect on us at all levels-physical, mental and emotional. So, warm colors are a pattern of stimulation. Cool colors are a pattern of relaxation. Exposure to warm colors can give increase respiratory movements and frequency of eye blinks. Cool colors are acting as a relaxant and tranquilizer for anxious individuals, lowering blood pressure, providing relief from tension and aid for insomnia.

Color therapy is an area of holistic healing which uses color in an attempt to affect our mood, emotions and possibly even our health. There are different ways to incorporate color therapy into your life. You can sit under a lamp which emits different colored light. You can point colored light at a specific part of your body using a Penlight Set. There are also lamps available which light up the whole room or are directed to your body. You can use color therapy oils or baths, wear certain colored clothes or paint walls a specific color. Probably the easiest and most popular way is to wear color therapy glasses where you can see the world through "rose colored glasses," if you will (or green colored or yellow colored or violet colored, etc). The color of the light entering your body is concentrated in one spectrum. The mood or emotions associated with that color are enhanced, which can cause a shift in that direction.
Did you know that RED could help with sleep?
A small clinical study showed that wearing red or magenta glasses after sundown increased secretion of melatonin by 70%.
If you are going to a movie or watching television after 9:00 P.M., wear magenta colored glasses to block out the green light.
Possible Medical Benefits of Color Therapy
It is generally not disputed that light affects us. Even conventional medical practice uses light to treat certain diseases. Phototherapy is used to direct ultraviolet light to the affected area in the treatment of psoriasis and acne. Blue light is used to treat hyperbiliruminemia, a liver condition in premature babies. Light is used to treat Seasonal Affective Disorder (SAD).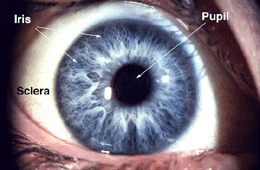 The Relationship Between Light and Melatonin
Sleep experts have known about the relationship between melatonin and light exposure for a long time. In fact, both melatonin and light are said to control the synchronization of the biological clock.
Melatonin, the chemical that is known to be important to sleep, can be controlled by light. In fact, light exposure suppresses melatonin production. This is why it's hard to sleep in a room that isn't dark

Color my World Healing with colour and there frequencies
Each color vibrates at a specific, individual frequency, as do the glands and organs of the body. Each color corresponds to a specific area of the body. Color vibrates true to frequency. It never deviates, but people deviate. The body is constantly being challenged in life, and is always working to maintain balance. When we are ill, the body is out of balance; the body is not functioning at its proper frequencies. A key to feeling better is to bring balance back to the area of the body that is the source of the illness.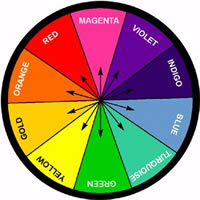 Color Entering the Eyes !
One method of using color is by having it enter a person's eyes. Color entering the eyes is directed to the hypothalamus gland, then to the pineal gland, which directs it to the pituitary gland, which governs and regulates hormone production. The brain processes this information, which causes cellular and hormonal changes to occur. The frequency of the color is transmitted to the area of the body that recognizes the frequency. The color's vibration tunes into the corresponding area bringing it into synchronization with the color. This brings the organ or gland back to its proper function. While using color the body is functioning properly. If used daily the body will relearn to function on it's own, much the way physical therapy works.
Each color corresponds to a specific area of the body.
Red is hot. It can stimulate and excite.
It connects to our physical self.
Red is associated with:

vitality
ambition
willpower
strength
vigor
courage
pioneering spirit
aggressiveness
sexuality
alertness

Benefits may be:

a feeling of security and safety
settled-ness
a sense of power
self confidence
overcoming negative thoughts
appetite stimulant


Too much red may result in:

irritation
impatience
hostility
increase aggressiveness
anger

Orange is warm and joyful. It connects to our emotional self.
Orange is associated with:
social confidence
happiness
success
sociability
resourcefulness
Benefits may be:
anti-depressant
cheering
optimism
inspiring
expanded interest and activities
help remove inhibitions
enjoyable relationships

Too much orange may result in:
slight frustration
irritability
increased appetite
Yellow is warm to hot. It connects to our mental self.
Yellow is associated with:

mental clarity
cheerfulness
optimism
self esteem
wisdom
inspiration

Benefits may be:


memory
concentration
stimulating curiosity and interest
easing of depression
empowerment
confidence
courage
energy
aids discernment and decision making

Too much yellow may result in:


superficiality
hyperactivity

Green is the master color. It is refreshing and cool.
It connects us to unconditional love.
Green is associated with:
peace
renewal
love
hope
balance
harmony
self control
growth
life

Benefits may be:
stress reduction
rest
calmness
sense of balance and normalcy
relaxation

Too much green may result in: laziness
Aqua (turquoise) is cooling. It connects us to our expression.
Aqua is associated with:
purity
soothing feeling
calmness
confidence
oratory
openness
Benefits may be:
relaxation
loving expressiveness
freedom of expression
help with sleep
sensitivity

Too much aqua may result in:
none known
Blue is cool and calm. It connects us to holistic thoughts.
Blue is associated with:
communication
creativity
personal expression
vitality
decisiveness
knowledge
health

Benefits may be:
mental relaxation
calmness
peace
help with insomnia
confidence in speaking
clear communication
help with hyperactivity in children

Too much blue may result in: insecurity
pessimism
feel tired
depressed
cold-natured

Indigo is Spiritual. It connects us to our unconscious self.
Indigo is associated with:
serenity
stillness
imagination
understanding

Benefits may be:
imagination
greater intuition and awareness
accurate perception
strong, deep sleep

Too much indigo may result in: depression
sense of separateness from others

Violet is cool. It also connects us to our spiritual self.
Violet is associated with:
inspiration
creativity
beauty

Benefits may be:
generosity
selflessness
enhanced artistic ability
strong, deep sleep
calm nerves
reduced excitement
reduced irritation
suppress appetite

Too much violet may result in: depression
insecurity
stagnate or suppress emotions (especially anger)

Magenta is balancing. It connects us to devotional love.
Magenta is associated with:
soothing
relaxing
gentle

Benefits may be:
balance of emotions for both the over and under emotional
peace
Too much magenta may result in:
can be too relaxing (not good for the introverted or chronically depressed)

Baker-Miller Pink is relaxing.
Baker-Miller pink is associated with:
relaxation
stress relief
calming aggression

Baker-Miller pink may be:
an appetite suppressant

Too much Baker-Miller pink may result in: There are no known results from an overdose of Baker-Miller pink