Do you suffer from migraines, double vision, or dry eyes?
Now you can manage sinus pressure, eye fatigue, headaches, and more with the uniquely engineered Friend Sinus & Eye Massager! Friend Sinus & Eye Massager helps eliminate eyestrain, baggy eyes, swollen eyes, blood shot eyes, dry eyes, focusing difficulty, blurred vision, double vision and headaches caused by extended computer use, and long periods of driving, studying or reading. Friend Sinus & Eye Massager is a massaging eye mask that stimulate and restore circulation around the eyes making you feel refreshed and revived. Friend Sinus & Eye Massager increases blood circulation to improve skin tone and elasticity and allows for restful nights by inducing a state of relaxation. Simply position Friend Sinus & Eye Massager around your head and attach velcro strap, adjust timer to 1 minute or 3 minutes, position massaging switch to low or high power, and wave good-bye to stress and migraines!

Massage is known to be beneficial in its effects upon all parts of the body. The nerves are stimulated, the blood stirred into greater and more active circulation, and the muscles and tissues generally stimulated into more vigorous life. It is now employed to advantage in many forms of disease.
The professional beauty knows these facts, and lays the greatest stress upon both facial and bodily massage, while athletic trainers rub and massage the bodies of their charges before and after any event of importance.
Why, then, should some form of modified massage not be of value in the treatment of the eyes? Of course, one can not very well massage the eyes in the same way one would a muscle, but they can certainly be strengthened and invigorated by manipulation which quickens the circulation of the blood and stimulates the nerves.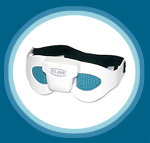 Easy to Use!
Benefit Great!
What an amazing Gift
Manage your sinus pressure, eye fatigue and headaches. WITH PINHOLE glaases
Just put it on, turn it on, and experience the wonderful sensations the
Eyes Friend Sinus & Eye Massager provides!
Manage your sinus pressure, eye fatigue and headaches. This product gently massages round your eyes and is very helpful for migrane relief also.
Feels great!
The following feedback has been posted on TradeMe.co.nz for the auction Eyes Friend Sinus & Eye Massager (#122215367) Feedback: Positive
Member: m1amie (729)
Comment: Wow! what a buzz. Relaxed me soooooo much that I fell asleep quite quickly for the first time in months. A+++++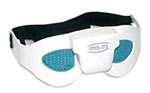 Good for those who spend long hours reading, typing on computers, driving or have difficulty sleeping, as it will help to relax tired eyes and allow you to fall asleep easily. Gentle vibration, plastic frame and screen for your vision, with a soft foam lining to soothe your tired nerves. Lightweight with an adjustable hook and loop on a rubber strap.
The Eyes Friend has two speeds.

Reduce tension and ease tired eye muscles


Improve circulation to the eyes


Reduce dark rings and wrinkles around the eyes


Induce a state of deep relaxation

Requires AA battery,
Eyes Friend Sinus & Eye Massager -
NZ $ 31.41 (aprox USA $ 21.12)
plus Shipping

The BMI Body Fat Analyzer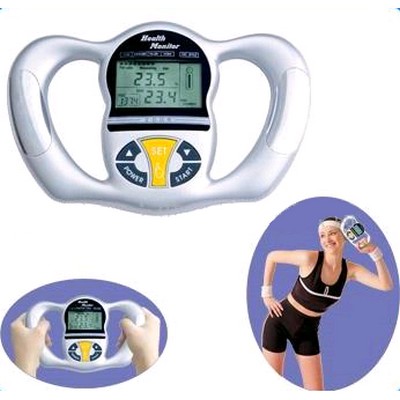 Carrying too much body fat can increase your risk of developing many serious health problems including heart disease, diabetes and high blood pressure etc. Losing weight does not automatically mean you are losing excess body fat. You could be losing muscle density that your body needs to function properly. Thus, the key to long-term exercise success is accurate body fat composition measurement.
What is Body Mass Index?
Body Mass Index (BMI) is a number calculated from a persons weight and height. BMI provides a reliable indicator of body fatness for most people and is used to screen for weight categories that may lead to health problems.
By holding the analyzer, this device sends a small electrical current through your body. The built in micro processor can accurately measure the ratio between your adipose tissue and muscle tissue in 6 seconds. The fat % result are displayed in the LCD monitor against your BMI index. Recommended daily calorie intake and a body type figure is also displayed real time.
In the past, similar products from European and Japanese suppliers can often retail for over $100.00 in pharmacy or medical equipment stores. In recent years, mass production have made them more available and more affordable in the consumer retail market.
The BMI Body Fat Analyzer can display five levels of body fat analysis result.
Specifications:
BMI value examination
Body fat analyzer
Heat exhaustion value (basal metabolism)
Control buttons: Power / Set / Up symbol / Down symbol / Start
5 level of body fat analyzing result display: emaciated, standard, hide corpulent, muscle corpulent and corpulent
Basal metabolism display
Storage of up to 9 group data profiles
Storage of height, weight, age and gender for each group
Measurement completed within 6 seconds
Wide LCD display for easy reading
Requires 2 x AAA battery (not included)
The BMI Body Fat Analyzer
$NZ49.95 aprox $US36.00
plus shipping

Our Very latest EMF Hunter
Cell Phone EMF Radiation Detector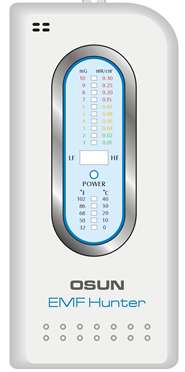 click picture for larger view

Introduction

Electric and magnetic fields (EMF) have different properties and different ways of causing harmful biological effects. Some people become ill from many types of EMF sources, such as alarm clocks too close to their bed, sitting too close to a TV or computer, or using a cell phone. Reported symptoms are headaches, arm and leg tingling, dizziness, difficulty in concentrating, and even nausea. Although not proven, more serious problems might be caused by prolonged exposure to EMF. Scientists agree that it may be wise to protect ourselves from biological effects that are known to exist.

Elevated temperature could be associated with radiation from high frequency sources. Osun's EMF Hunter is the first one on the market that adds temperature testing to the radiation strength. It is easy to use, and does not require a technical background.

The EMF Hunter can be used to detect both low and high frequency EMF produced by appliances such as cell phones, microwave ovens, power lines, TVs, computers, electrical fans, AC alarm clocks, hair dryers, vacuum cleaners, and washers and dryers. The list is extensive. It can also be used to research paranormal phenomena.

Is your Family at Risk
Are EMF's Electro magnetic fields Harmfull,,,Watch the latest findings
Click Here

Methods to reduce exposures to EMF

There are a number of ways to reduce harmful exposure to EMF. Some are as easy as standing back from an appliance when it is in use. Remember that the magnetic field radiated from an appliance drops off dramatically in strength with increased distance from the source.

If the measured radiation level of a cell phone is high, consider using shielded accessories. If the problem persists, you may want to switch to another cell phone or service company. Cell phone radiation levels vary from phone to phone and from company to company.

Other EMF reduction steps, such as correcting a household-wiring problem, are worth doing for safety reasons. The traditional way of grounding electrical devices is to connect them to water pipes. However, today's pipes are mostly plastic and do not provide good grounding. One suggestion is to find a pure metal pipe and redo the wiring.

Computer users may want to switch to flat panel display since these monitors usually emit less EMF than the conventional CRT type of display.
It is wise to reduce the time spent near known sources of strong EMF as much as possible. Turn off all appliances when you aren't using them.

Specifications

In addition to the numeric display, there is color code:

For cell phones, microwave ovens, and other high frequency appliances:
Green light (safe):
Yellow light (caution):
Red light (warning):

For power lines, TVs, computers, AC alarm clocks, and other low frequency appliances:
Green light (safe):.
Yellow light (caution):
Red light (warning):

Temperature: 32 – 102 oF. Warning at 99 oF.

Power: 9V battery (not included). Please do not use an old battery, and pay attention to the polarity of the battery when installing it.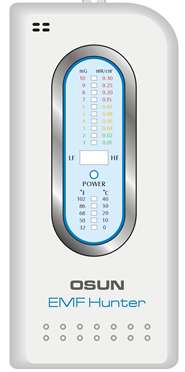 The Recomended retail price is $US89 and $US119
OUR PRICE
EMF Hunter
$NZ99.95 aprox $US72.00
plus shipping
With Temoperature Sensor $NZ109.95 aprox $US80.00

Warranty
One-year warranty.

THE LATEST UPDATE ON THE AQUA CHI IONIC FOOTBATH
The Aqua-Chi Ionic Foot Bath is a revolutionary hydro-therapy device that combines the life-giving properties of water with a specialized bio-electric charge, which enhances and amplifies the body's ability to heal itself. Hence, the name Aqua Chi. The bio-charge produced by the Aqua Chi Foot Bath (commonly called a detox foot bath) resonates throughout the water at a frequency specific to each individual taking a treatment. The negative ions created during a session are similar to those found in hot springs and other naturally charged water sources known to be beneficial to the body. The energized water helps to re-balance the body's energy meridians by permeating and realigning an individual's energy field. Many of the benefits of the foot spa can be attributed to the re-balancing of these energy meridians.