Can electromagnetic fields (EMF) from power lines, home wiring, airport and military radar, substations, transformers, computers and appliances cause brain tumors, leukemia, birth defects, miscarriages, chronic fatigue, headaches, cataracts, heart problems, stress. nausea, chest pain, forgetfulness, cancer and other health problems?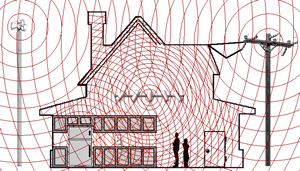 Many still do not realize that they're chronically exposed to something that can deteriorate their health, and, unless it's identified and remediated, can lead to premature death—an exposure that is completely invisible, tasteless, and odorless. The exposure I'm referring to is electromagnetic fields, or EMF.
In spite of the electrical industry's obvious bias , their scientists still have released study after study linking EMR and cancer. However, the industry has a remarkable ability to discredit their own research. Even though the best scientific methodology available is used public relations people have gone to work to cast doubt on the results.
Their job is to baffle and confuse the public by pointing out all the supposed flaws in their own studies until the public does not know what to think. They know that as long as the public does not have clear and accurate information on the hazards of EMR, we will not be able to make knowledgeable decisions as to what is safe.
There is another level of understanding this strategy of publishing damning evidence and then discrediting the study. It creates confusion and a quiet desperation in the public, while maintaining the illusion that the electrical industry is doing something, and they care about our health. Meanwhile, they are injecting a key element into their information control strategy; fear of the unknown and specifically fear of cancer.
Corporations spend millions of dollars studying human behavior and they know that fear is a powerful ingredient in controlling public behavior.
When people are fearful, they tend to feel powerless and give up responsibility for their own health and safety to those in authority; in this case to the very people who are harming them.
http://www.islandnet.com/~emf/health.html
DOUBT Is Their Product
Is $US39.95 to much to spend for reassurance,for freedom from their lies?
There is a growing concern over possible health hazards from low-frequency electromagnetic fields. When the story first broke, the fields of greatest concern were those given off by overhead power line transformers.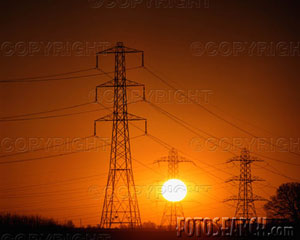 At the time, the reasoning was unless you worked in the electronics field or lived in close proximity to power lines, you could consider yourself unaffected and relatively safe. New evidence suggests that it really isn't the case. It appears that the ELF (extremely low-frequency) magnetic fields given off by many household appliances and computer monitors can be of sufficient strength to be considered potentially hazardous.
Dr. Nancy Wertheimer, who first published the epidemiological study showing a correlation between 60-Hz power lines and the increased incidence of childhood cancer in this country, has also performed similar research on users of electric blankets. She has found that there is a higher incidence of miscarriages among pregnant women who use electric blankets as compared to pregnant women who do not.
For those of us who dabble in electronics, or earn our livelihood in electronics or a related field, the concern becomes more prominent. That being the case you should be aware of what research has taken place and what's been reported thus far.
Why Worry Now? You might be wondering if ELF radiation is such a health hazard, why has it taken so long for anyone to mention its dangers? To answer that question, we must look at how scientists first sized up the potential harm of low-frequency magnetic fields.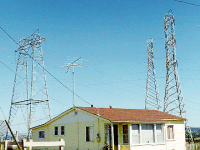 To begin with, it was originally believed that weak low-frequency fields could not have a significant impact on living systems. This belief was based on the amount of thermal energy the ELF fields could produce in biological tissue. The energy produced by ELF radiation is much smaller than the normal thermal energy internally generated by a cell's metabolic process. In addition, the quantum energy of the fields is far too low to break any chemical or nuclear bonds in the tissue. Therefore, scientists felt DNA would be safe from mutating. Finally the electric field of the body is much greater than the induced field from ELF radiation. Looking at all these factors, it's easy to understand why the scientific community quickly dismissed epidemological studies that indicated a statistically significant hazard associated with ELF radiation.
Dr. David Carpenter, Dean at the School of Public Health, State University of New York believes it is likely that up to 30% of all childhood cancers come from exposure to EMFs. The Environmental Protection Agency (EPA) warns "There is reason for concern" and advises prudent avoidance".
Martin Halper, the EPA's Director of Analysis and Support says "I have never seen a set of epidemiological studies that remotely approached the weight of evidence that we're seeing with EMFs. Clearly there is something here."
Concern over EMFs exploded after Paul Brodeur wrote a series of articles in the New Yorker Magazine in June 1989. Because of Paul Brodeur's reputation. his articles had a catalytic effect on scientists, reporters and concerned people throughout the world.
In November 1989, the Department of Energy reported that "It has now become generally accepted that there are, indeed, biological effects due to field exposure."
The EMF issue gained more publicity in 1990 when alarming reports appeared in Time, the Wall Street Journal, Business Week and popular computer publications. ABC's Ted Koppel and CBS's Dan Rather both aired special segments on EMFs.
EPA Says the Threat Is Real
By 1990, over one hundred studies had been conducted worldwide. Of these, at least two dozen epidemiological studies on humans indicated a link between EMFs and serious health problems. In response to public pressure, the Environmental Protection Agency IEPA) began reviewing and evaluating the available literature.
In a draft report issued in March 1990, the EPA recommended that EMFs be classified as a Class B carcinogen -- -a "probable human carcinogen and joined the ranks of formaldehyde, DDT, dioxins and PCBs.
After the EPA draft report was released, utility, military and computer lobbyists came down hard on the EPA. The EPA's final revision did NOT classify EMFs as a Class B carcinogen Rather, the following explanation was added:"
At this time such a characterization regarding the link between cancer and exposure to EMFs is not appropriate because the basic nature of the interaction between EMFs and biological processes leading to cancer is not understood." Source
As a result, the scientific community has of late been portrayed in the press as a bunch of hacks or bureaucratic puppets genuflecting for grants from government agencies and power companies. However, the reason for the quick dismissal was one of genuine disbelief, not a mass cover up. Although in truth, a few scientists have stepped over the line and maligned good researchers based upon the profit and loss statements of their employers. These scientists are few in number and the entire scientific community should be condemned based upon their isolated unethical endeavors.
"On the nature of electromagnetic fields interaction with biological systems" Prof Robert Liburdy, Lawrence Berkely Lab, University of California Berkeley, 1994, has investigated the action of power lines on melatonine. Fyi, melatonine is a natural tumor growth inhibitor. Prof Liburdy found out that at 2 mG (milli gauss), the action of melatonine is lowered by 30%, and at 12 mg it is TOTALLY suppressed. Just to give you an idea, you have 10+ mG close, ie at a distance lower than 8 inches, to any source of power (even a cell phone charger, or a bed side lamp). Studies show that the rate of leukemia increases by a factor of 2 at 2 mg, and FIVE at only 5mg.
The Real Deal. Although the mechanism by which ELF fields affect biological tissue is still not exactly known, it has been unequivocally shown that cells are affected. The best research to date shows that a cell's membrane, or receptor molecules in the membrane, are sensitive to extremely weak low-frequency magnetic fields.
"Deceiving the public is nothing new for Govt Health Orgs. They have a long history of ignoring our health concerns.
In some countries Govt Health Orgs refused for three decades to classify asbestos as carcinogenic, they shirked their responsibilities by not insisting that the Red Cross perform proper blood screening thus allowing thousands to be infected by HIV; and Hepatitis C; contaminated blood.
The nuclear weapons and power industry has lied about its safety for
years and Govt Health Orgs have done nothing. (One should not forget that the electrical industry and the nuclear industry are almost one and the same). It took decades of death and suffering before they implemented regulations on tobacco use...
Govt Health Orgs in many countries refuse to acknowledge the gulf war syndrome as a disease even though 2,000 Canadians, 2,400 British, and 30,000 Americans have been afflicted with the disease since the Gulf War.
Ironically, they may be the victims of electromagnetic biological weapons used by the military. Silicone breast implants, thalidomide, DDT, and dioxins all have caused immeasurable suffering and the list keeps growing. The lack of regulations to protect the public from these substances are not mistakes."
Powerlines Cell Phones and Wifi A Picture is Worth a Thousand Words Watch the videos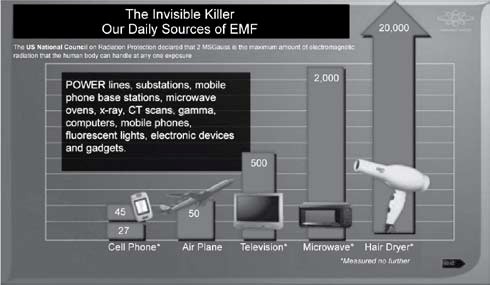 Some of the effects reported so far include changes in the flow of ionic compounds through cellular membranes. Also noted are changes in DNA synthesis, RNA transcription, and the response of cells to signaling molecules such as hormones and neurotransmitters. In addition, changes have been noted in the kinetics of some cellular biochemical reactions. John Iovine, From "Popular Electronics
Power Lines An enormous amount of electricity is created at power generating stations and sent across the country through wires that carry high voltages. Power companies know which power line configurations More

Home Wiring Many times a particular room will have a higher EMF reading. …Sometimes, the source of a high magnetic field is incorrect wiring More

Computers

are a complicated subject. Know this: EMFs radiate from all sides of the computer. Thus, you must not

More

Fluorescent lights produce much more EMFs than incandescent bulbs. A typical fluorescent lamp More

Electric clocks

have a very high magnetic field, as much as 5 to 10 mG up to three feet away. If you are using a bedside clock, you are probably sleeping in an EMF equivalent to that of a powerline

More

Telephones can emit surprisingly strong EMFs, especially from the handset.… … Answering machines, particular those with adapter plugs (mini-transformers), give off high levels of EMFs.More

Microwave ovens

and radar from military installations and airports emit two types of radiation -- microwave and ELF. Microwaves are measured in milliwatt per centimeter squared (mW/cm2) As of 1/1/93, the U.S. safety limit for microwave exposure is 1 mW/cm2, down from a previous 10 mW/cm2. The Russian safety limit is .01 mW/cm2. All microwave ovens leak and exceed the Russian safety limit. In addition

More

Electric Blankets and Waterbeds

Electric blankets create a magnetic field that penetrates about 6-7 inches into the body. Thus it is not surprising that an epidemiological study has linked electric blankets with miscarriages and childhood leukemia

More

Electric razors and hair dryers

emit EMFs as high as 200 to 400 mG. This seems alarming, but we don't know if this is worse (or better) than a chronic exposure to

More
According to a news report in New Scientist of January 10, 2002, Li's results caused a California Health Services department scientist, Raymond Neutra, to reexamine his 1991 study of 727 women. Originally, his group's study had measured average magnetic field exposures and with inconclusive results. However, when Neutra recently reanalyzed the data from his earlier study, he discovered the results were similar to Li's. Women exposed to peak magnetic field levels greater than 14 mg doubled their risk of miscarriage over those who had no such exposure.
The results of nine major studies on EMF are reversed in a major analysis, Most of these studies originally had failed to find a link between electromagnetic fields (EMF) and cancer. The new review concludes that, upon reanalysis, the data used in the earlier studies do identify an association between cancer and EMF. The authors of the new analysis are the same researchers who headed the earlier studies that had failed to find an association. (See also the appraisal of this study in the industry journal, Microwave News.) The authors now conclude, "The level of [statistical] significance that we see for the excess risk at high [EMF] exposure makes chance an unlikely explanation."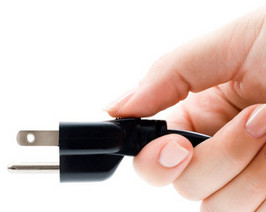 Danger Zones

EMF Levels From Common Sources in Milligauss (mG)*
Recommended Safety Levels: .5 mG to 2.5 mG with 1.0mG as preferred standard.
Adverse biological effects have been found at 2.0mG

Source

Up to 4 inches

At 3 feet

Blender

50 to 220

.3 to 3

Clothes Washer

8 to 200

.1 to 4

Coffee Maker

6 to 29

.1

Computer

4 to 20

2 to 5

Fluorescent Lamp

400 to 4,000

.1 to 5

Hair Dryer

60 to 20,000

.1 to 6

Microwave Oven

100 to 500

1.0 to 25

Television

5 to 100

.1 to 6

Vacuum Cleaner

230 to 1300

3 to 40

Airplane

50 mG average on 747

*Source: USA Environmental Protection Agency
RF Damages Spermatozoa There is growing evidence that EMFs from cell phones can impair male fertility. If the observed association between cell phone EMF exposure and reduced sperm counts proves to be causal, then the dramatic increase in mobile phone use—especially by young people--over the last two decades could be a serious concern.soutce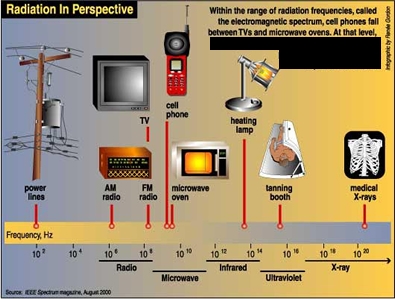 A major new study found that children whose birth address was within 200 meters of an overhead power line had a 70% increased risk of leukemia. Children living 200 to 600 meters away from power lines had a 20% increased risk. This indicates the danger from power lines is appreciably further from the lines than had been identified in previous studies. The study, which was partially funded by the power-line industry, mapped how far each child lived from a high voltage overhead power line. It compared the children who had cancer with a control group of 29,000 children without cancer, but who lived in comparable districts, Appearing in the June 2005 British Medical Journal, the study concludes there is a statistical link between EMF from power lines and leukemia. The study – a collaboration between the Childhood Cancer Research Group at the University of Oxford and National Grid owners, Transco – looked at cancer data or children aged up to 15 years old in England and Wales between 1962 and 1995. [Related Press Report]
Question: Why, given all the above evidence, is there still a perception that power lines are not dangerous.
Answer: Because rich corporations handsomely reward lobbyists and scientists for distorting the scientific evidence in order to advance corporations' economic interests, as discussed in this June 2005 article in the Scientific American
Measurements in milligrams (mG)

The sewing machine operator worked all day, took a 1-hour lunch break at 11:15 am, and took 10-minute breaks at 8:55 am and 2:55 pm.

The mechanic repaired a compressor at 9:45 am and 11:10 am

The electrician repaired a large air-conditioning motor at 9:10 am and 11:45 am.

The government worker was at the copy machine at 8:00 am, at the computer from 11:00 am to 1:00 pm and also from 2:30 pm to 4:30 pm.
A new UK study similarly finds a link between power line EMF and childhood leukemia. (Also reported by the BBC on October 30, 2004.) It is now asserted UK authorities supressed this information for 3 years.

The UK's National Radiological Protection Board may reduce its limits for EMF exposures. (October 20). New reports suggest that the NRPB will require homes to be at least 150 meters (about 450 feet) away from power lines (October 27).

When properly analyzed, scientific data convincingly and consistently show a link between magnetic fields greater than 2-4 mG and cancer. New analyses of older data have induced a wholesale revision in the views of high-level authorities, including the utilities themselves, who have dramatically revised their own statements on EMF
Symptoms of exposure to EMF frequencies
Neurological: headaches, dizziness, nausea, difficulty
concentrating, memory loss, irritability,
depression, anxiety, insomnia, fatigue, weakness,
tremors, muscle spasms, numbness, tingling, reflexes, muscle and joint paint,
EMF'S symptoms:
1.Breast cancer
2.Migraines
3.Birth defects
4.Depression
5.Parkinson's
6.Lou Gehrig's
7.Alzheimer's
8.Dizziness
9.Chronic pain
10.Insomnia
11.Fatigue
12.Nausea
13.Heart irregularities
14.Flushing
15.skin rashes.
Electro magnetic fields are Dangerous for our health,,,Now its not a case of when and how, but, Where are these malignant fields in our Enviroment,,at work or home,,in our favourite restaurant???
How Do I Measure EMFs?
A Gauss is a common unit of measurement of magnetic field strength. An EMF or Gauss meter is an instrument which measures the strength of magnetic fields. Inside an EMF meter there is a coil of thin wire, typically with hundreds of turns. As a magnetic field radiates through the coil, it induces a current, which is amplified by the circuitry.
While you can safely assume that you are being exposed to electric fields from lamps, appliances and wiring in your walls, magnetic fields is another matter. There is no way to know whether or not you have a magnetic field problem in your home, unless you test for it.
Again, magnetic fields can be generated from power lines nearby, whether overhead or beneath the ground, motors such as your refrigerator and power meters, as well as older types of metal plumbing.
If you wish to follows the EPA's advice and practice "prudent avoidance" then the following advice is offered:
Measure your home, work and school environments with a Gauss meter Measure EMFs both inside and outside your home. Don't let your children play near power lines, transformers, radar domes and microwave towers. Avoid areas where the field is above 2 mG. Measure the EMFs from appliances both when they are operating and when they are turned off. Some appliances (like TVs) are still drawing current even when they are off. Don't sleep under an electric blanket or on a waterbed. If you insist on using these, unplug them before going to bed (don't just turn it off). Even though there is no magnetic field when they are turned off, there may still be a high electric field More
It is impossible to live our lives without exposure to some form of EMF frequency. There are very few places to hide .Be that as it may, we can still maintain control over the amount and frequent exposure; by deciding what proximity our homes are to power lines; by controlling where electronics are placed in the home to minimize our daily onslaught of EMF ; By measuring the areas you live and work in; and by simply being and staying informed about the hazards and consequences of technology as it continues to advance.
Trifield ® Meter 100XE

The Trifield ® Meter is a gaussmeter, electric field meter, radio field strength meter in a single until. When measuring electromagnetic fields (EMF's), the primary concern is usually magnetic fields, which can be tricky to measure.