Diabetes has become so prevalent that some concerned health care providers and officials have labeled it, along with obesity, as one of the "plagues" of the 21st century. According to the American Diabetes Association (ADA), the number of Americans with diabetes tripled between 1960 and 1990, then doubled again between 1990 and 2000.
Although there are several types of diabetes, the most common form is type 2, which results when the body either does not produce enough insulin (a hormone that allows glucose to enter cells) or fails to utilize insulin properly. Approximately 90 percent of all people with diabetes have type 2 diabetes. Left untreated, it can case a wide range of related health problems, including heart disease; blindness; kidney failure; nerve damage; and poor blood circulation.
U.S. newspapers continuously report the increase in the number of individuals among all age groups who suffer from diabetes.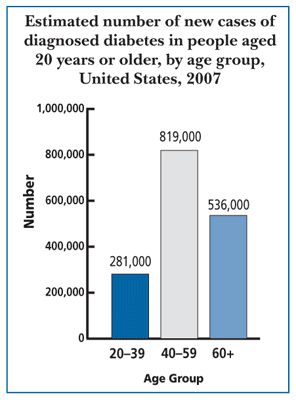 How can acupuncture help diabetic patients?
Diabetes is caused primarily by dysfunction of the pancreas. Scientific studies and clinical tests in international research centers in the past 10 years* have shown that acupuncture can help diabetic patients in the following ways: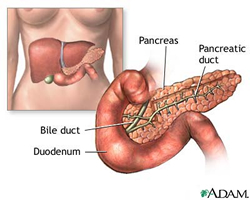 lower blood glucose content;


lower the release of pancreatic glucagons;


attenuate symptoms of polyphagia (the urge to eat too much), polydipsia (excessive thirst) and polyuria (excessive passage of urine);


prevent slowing of motor nerve conduction;


improve microcirculation and myocardial contractility;


enhance blood outflow and regulate vascular peripheral resistance;


exert anti atherogenic, antioxidant and immunomodulating effects;


obliterate antheroscelerosis of the legs;


induce secretion of endogenous beta-endorphin;


elevate a lowered pain threshold; and


increase cell proliferation and neuropeptide Y levels.

Would you please put the link for this Newsletter on your facebook
Or send it to a friend or relation .
Please Help to Spread these Newsletters
TREATMENT OF DIABETES WITH
CHINESE HERBS AND ACUPUNCTURE
Lowering Blood Sugar
Subhuti Dharmananda, Ph.D., Director, Institute for Traditional Medicine, Portland, Oregon
BRIEF HISTORY OF CHINESE MEDICINE AND DIABETES
Chinese medicine owes its current stature to the long history of its practice, dating back more than 2,000 years in a form similar to that utilized today. Chinese physicians appear to have had a reasonably good understanding of diabetes since ancient times. In one of the oldest books about Chinese medical theory, the Huangdi Neijing , compiled around 100 B.C., the condition known as xiaoke is mentioned. This is translated today as diabetes or diabetic exhaustion. The literal translation of the term is emaciation-thirst, referring to the disease manifestation when it has gone untreated: namely, one loses body weight despite eating normally, and thirst is persistent. According to this ancient text, the syndrome arises from consuming too much fatty, sweet, or rich food. It is said that it typically occurs among wealthy people: "you ask them to refrain from a rich diet, advice which they may resist." The description fits that of non-insulin-dependent diabetes mellitus.


More than 220 million people worldwide have diabetes.


In 2005, an estimated 1.1 million people died from diabetes.1


Almost 80% of diabetes deaths occur in low- and middle-income countries.


Almost half of diabetes deaths occur in people under the age of 70 years; 55% of diabetes deaths are in women.


WHO projects that diabetes deaths will double between 2005 and 2030.


Healthy diet, regular physical activity, maintaining a normal body weight and avoiding tobacco use can prevent or delay the onset of diabetes.
WHO (World health organization)
Diabetes is a major health problem worldwide, but particularly in America. It is estimated that about 2.1% of the world's population has diabetes, but the disease is out of control in America. In the U.S., current estimates are that over 6% of the adult population has the disease, 99% of them with the type 2 diabetes mellitus (late onset or non-insulin-dependent: NIDDM). Type 2 diabetes usually appears around the age of 50 or later, though it can occur during teen years in some cases of obesity. The incidence rate becomes quite high among elderly Americans (20% for those over the age of 65) and in groups with genetic or other predispositions including blacks (14%), Hispanics (15%), and Native Americans (19%). Furthermore, the overall incidence of diabetes is growing, apparently because of increased rates of obesity.


CDC data on prevalence of diabetes across the United States in 1994 (left) and in 2000 (right). The rise in diabetes rates is striking. In the year 2000, no states had less than 4% of the population with diabetes, and only 10 states had under 5%.
Despite the major medical advances in rapid and easy monitoring of blood sugar and treatment with drugs, diabetes remains a serious problem. Blood sugar regulation that can be attained by standard methods, particularly when patients are not fully compliant with all medical recommendations, is often not adequate to avoid common secondary effects of diabetes, including cardiovascular diseases, degenerative eye conditions, limb numbness and pain, skin ulceration, and kidney failure. Thus, investigating other avenues for aiding the treatment of diabetes and its secondary consequences is an important undertaking.

Acupuncture can stabilize blood sugar, correct insulin imbalances and aid in the treatment of Type II Diabetes or its earlier stages of Metabolic Syndrome
Dubai Wellbeing Center conducted a small study of diabetes in the United Arab Emirates and found that acupuncture was a successful treatment for the disease
Among the 22 participants who took usual Diabetes-prescribed drugs, there were 12 cases rated as effectively treated and 8 cases as markedly effective. However 20 of them showed serious side effects such as kidney malfunction. On the acupuncture group 27 patients were treated successful and 11 needed more treatment. However none of the 38 patients showed any side effect.
ACUPUNCTURE FOR DIABETES
Acupuncture therapy is a common approach to treating diabetes in China. Many Americans assume that acupuncture is only suitable for treating pain, perhaps because the initial introduction of acupuncture was mainly for this application. Indeed, the general opinion here appears to be that acupuncture ought to be used mainly for treating chronic back pain. Therefore, relatively few people have turned to acupuncture for treating the disease. Increasingly, people with pain and other health problems for which acupuncture is selected also have diabetes.
Acupuncturists have identified about 20 points on the body that appear to be effective in lowering blood sugar; typically, a dozen of these points are selected for treatment at one time. Western cultures as a result of the increasing acceptance of Chinese medicine during the past three decades.
A report in the 1994 Journal of Traditional Chinese Medicine (37) serves as a model of Chinese research on acupuncture. The researchers recruited 60 patients with diabetes and divided them randomly into two groups: the acupuncture group (38 patients) and the control group (22 patients); the two groups were found to be well matched for symptoms and laboratory results (blood and urine tests). Both groups followed a regulated diet during the study, but one group received acupuncture.
To evaluate the effects of treatment, three levels of responses were defined. Patients who experienced markedly effective results were those who had their initial symptoms essentially disappear by the end of the one month treatment and their fasting blood-sugar levels had dropped below 130 (or the blood sugar two hours after a meal would be below 150). Further, the 24-hour, urine-sugar content was reduced by 30% or more at the end of treatment compared to beginning of treatment.
What are common consequences of diabetes?
Over time, diabetes can damage the heart, blood vessels, eyes, kidneys, and nerves.

Diabetes increases the risk of heart disease and stroke. 50% of people with diabetes die of cardiovascular disease (primarily heart disease and stroke).


Combined with reduced blood flow, neuropathy in the feet increases the chance of foot ulcers and eventual limb amputation.


Diabetic retinopathy is an important cause of blindness, and occurs as a result of long-term accumulated damage to the small blood vessels in the retina. After 15 years of diabetes, approximately 2% of people become blind, and about 10% develop severe visual impairment.


Diabetes is among the leading causes of kidney failure. 10-20% of people with diabetes die of kidney failure.


Diabetic neuropathy is damage to the nerves as a result of diabetes, and affects up to 50% of people with diabetes. Although many different problems can occur as a result of diabetic neuropathy, common symptoms are tingling, pain, numbness, or weakness in the feet and hands.


The overall risk of dying among people with diabetes is at least double the risk of their peers without diabetes.
For the 38 participants in the acupuncture group, there were 25 cases rated markedly effective and 10 cases rated effective: nearly 2/3 of the patients treated showed marked improvement and only three patients failed to respond. Further, it was reported that the patients receiving acupuncture experienced a statistically significant decline in cholesterol, triglycerides, and beta-lipoproteins. The drop in triglycerides was most substantial, with a decline from an average value of 151 at the start to 117 one month later (a decline of more than 20%). There were significant improvements in "nail-fold microcirculation," which is a measurement of blood circulation through capillary beds (poor circulation through these beds is one reason persons with diabetes suffer from skin ulceration), which has also been observed in other diabetes studies (11, 12). Among those who were using insulin, the amount needed after the 30 days of acupuncture declined in six of the eight individuals; in two of those cases, the insulin could be stopped altogether.
In the U.S., it is uncommon for people to receive acupuncture therapy every day, as is the method used in the clinical studies reported in the Chinese medical journals. Instead, one may undertake a course of therapy with acupuncture once or twice per week. Needless to say, the impact of the intermittent treatment is not as great as with daily acupuncture.
You can now
No Needles
Introducing the DJT-4T
Diabetes Treatment Instrument
Now available in the west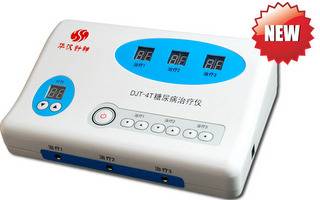 DJT-4T Diabetes Treatment Instrument is one of the latest products using a series of low frequencies . In combination with traditional Chinese acupuncture, channels & meridians, and modern electronic acupuncture holographic reflex theory. The equipment is listed as safe and durable, with no piercing of the skin, no side effect, and totally overall natural therapy.

The Low Frequency Diabetes Treatment Instrument provides holographic reflex therapy through the accupoints, readjusting the function of the pancreas and the endocrine system by strengthening the cells biological vitality, as a result normalizing the synthesis and secretion of insulin, so as to make blood sugar and urine sugar adjust back to normal levels. Different from the temporary treatment of western medicine, Huahan low frequency accupoint stimulator is aimed at being a permanent solution dedicated to restoring the balanced of the pancreas.

Type-1 diabetes: Reported to help prevent and control complications;


Type-2 diabetes: Not only Reported to help prevent and control complications, more importantly, could reduce the dosage of medication or insulin injection, in china, if glucose level is between 6-7.5mmol/l, some patient using DJT-4T three times daily. have reported a decrease in their blood glucose to a normal value,
More than 20 years history, the No.1 brand of Chinese electro acupuncture

How it works The DJT-4T emits three different audio pulse waves as sparse and dense,continuous and intermediate,which work alternatively to stimulate the acupoints in ear, hand, foot and body, which could be transmitted to the corresponding organs,thus activating the vitality of the cells , increasing the blood circulation,improving the immune system, adjusting the endocrine system, strengthening the metabolism, keeping your body in a balanced state.

Use DJT-4T Usage: 30-40 mins per time, 2-3 times daily .

Symmetrical and dissymmetrical impulse waves as sparse & dense, spiccato and continuous forms

Take medicine and insulin together with DJT-4T, both symptom and cause solution, you'll find very interesting treatment results.

Diabetes Treatment Instrument


Physical therapy medical equipment


This medical instrument has three functions: Diabetes Treatment, Health care, Facial Rejuvenation


For multiple users on home basis


Ear, hand palm, foot ,body, SPA Therapy
Accessories
Main Instrument 1 Set
Diagnosis and treatment 6 Pieces
1.Auricular Mould 2 Sets (XL, L, M, S)
2.Clamp
3.Ear Acupoints model 1 Piece
4.Self-adhesive electrode pad 6 Pairs
5.Electrode insole 3 Pairs
6.Hand palm electrode 6 Pieces
..Operation manual 1 Copy
..Warranty card 1 Copy

Clinical Trial Report on DJT-4T
Diabetes Treatment Instrument
The instrument under clinical trial is DJT-4T, one of product series of HUA HAN ZHEN SHEN® diagnosis and treatment instruments, which is in accordance with YZB/Shaan0110-2008 Registered Product Standards, and has won the latest self-testing report issued by its subordinate production enterprise as well as the qualified registration inspection reports issued by Tianjin Product Quality Inspection centre and Guangdong Medical Devices Quality Surveillance and Test Institute.
Comparative analysis
61 cases adopted from 62 planned cases sourced from endocrinology division of First Affiliated Hospital of Tianjin University of TCM and Second Affiliated Hospital of Tianjin University of TCM. And all patients have finished the period of treatment as requested in trial program.
The First Affiliated Hospital of Tianjin University of TCM Clinical Trial Organization ( Seal ) Date: May19th, 2009
Conclusions
HUA HAN ZHEN SHEN® diabetes treatment instrument DJT-4T helps to decrease fasting blood glucose and glycosylated hemoglobin of diabetics, with no side-effects happening in the process of the trial.

more
No experience in acupuncture or TCM is required to use this amazing new machine
By adopting and implementing the international quality management system EN ISO9001:2000, ISO13485:2003 and CE certificate, Huahan always pursues the best quality product and services for their clients
DJT-4T Diabetes System

RRP $NZ1445.00 aprox $995.00

SPECIAL
plus Shipping
REFERENCES
1.Maoshing Ni, The Yellow Emperor's Classic of Medicine: A New Translation of the Neijing Suwen with Commentary, 1995 Shambhala, Boston, MA.
2.Hong-Yen Hsu and Su-Yen Wang (translators), Chin Kuei You Lueh, 1983 Oriental Healing Arts Institute, Long Beach, CA.
3.Hong-Yen Hsu and Peacher WG, Chen's History of Chinese Medical Science, 1978 Oriental Healing Arts Institute, Long Beach, CA.
4.Xie Zhufan and Huang Xiokai (eds.), Dictionary of Traditional Chinese Medicine, 1984 Commercial Press, Hong Kong.
5.Hong-Yen Hsu and Chau-Shin Hsu, Commonly Used Chinese Herb Formulas with Illustrations, 1980 rev. ed., Oriental Healing Arts Institute, Long Beach, CA.
6.Hong-Yen Hsu, Chinese herb therapy for diabetes mellitus, Bulletin of the Oriental Healing Arts Institute 1978; 3(1): 12-17.
7.Chen DC, et al., Clinical and experimental studies in treating diabetes mellitus by acupuncture, 1994 Journal of Traditional Chinese Medicine; 14(3): 163-166.
8.Clayman CB (ed.), AMA Encyclopedia of Medicine, 1989 Random House, New York.
9.Werbach, MR, Nutritional Influences on Illness, 1993 Third Line Press, Tarzana, CA.
10.Lu He, Chinese System of Food Cures, 1986 Sterling Publishing Co. Inc., New York.
11.Guo SS, et al., Changes in tongue color and whole blood viscosity in diabetics treated with Yiqi Yangyin Huoxue Fang, Journal of traditional Chinese Medicine 1989; 30(2): 97-98.
12.Han DW and Xu RL, Progress in the research of blood activation and hemostasis removal, Abstracts of Chinese Medicine 1988; 2(4): 466-483.
13.Hson-Mou Chang and Paul Pui-Hay But (eds.), Pharmacology and Applications of Chinese Materia Medica, (2 vols.), 1986 World Scientific, Singapore.
14.Zhu KY, Guo SS, Liang XC, Diabetes mellitus treated by traditional Chinese medicine, Journal of the American College of Traditional Chinese Medicine 1983; 1: 24-30.
15.Li Yucai, et al., Treatment of 33 cases of diabetic ketonuria with Jiang Tong Tang, New Journal of Traditional Chinese Medicine 1989; 21(2): 20-22.
16.Huang RL, et al., Studies on the antihyperglycemic actions of Chinese herbs, 1980-1984 The Annual Reports of the National Research Institute of Chinese Medicine, Taipei Hsien, Taiwan.
17.Wang Qi and Dong Zhi Lin, Modern Clinical Necessities for Traditional Chinese Medicine, 1990 China Ocean Press, Beijing.
18.Gao JZ, Treatment of diabetes with Shen Qi Tao Hong Tang, Journal of Zhejiang Traditional Chinese Medical College 1989; 13(1): 15-16. 19.Shang Xianmin, et al., Practical Traditional Chinese Medicine and Pharmacology: Clinical Experiences, 1990 New World Press, Beijing. 20.Dong Zhi Lin and Jiang Jing Xian, 100 Famous and Effective Prescriptions of Ancient and Modern Times, 1990 China Ocean Press, Beijing.
21.Zhang Junwen, et al., Integrating Chinese and Western Medicine: A Handbook for Practitioners, 1993 Foreign Languages Press, Beijing. 22.Chen Song Yu and Li Fei, A Clinical Guide to Chinese Herbs and Formulae, 1993 Churchill Livingstone, London.
23.Ni YX, et al., Clinical and experimental studies on the treatment of diabetes mellitus with berberine, Journal of Integrated Traditional and Western Medicine 1988; 8(12): 711-713.
24.Kimura M and Suzuki J, The pharmacological role of ginseng in the blend effect of traditional Chinese medicines in hyperglycemia, 1985 Advances of Chinese Medicinal Materials Research, World Scientific, Singapore.
25.Chen KJ and Zhang WP, Advances on antiageing herbal medicines in China, Abstracts of Chinese Medicine 1987; 1(2): 309-330.
26.An GY, et al., Treatment of 102 cases of non-insulin dependent diabetes mellitus with Gan Lu Xiao Ke capsule, Journal of Traditional Chinese Medicine 1985; 26(6): 431-432.
27.Yao QG, Integrated Chinese and Western treatment of 53 cases of diabetes, Chinese Journal of Integrated Traditional and Western Medicine 1987; 7(6): 363-364.
28.Li ZZ and Du BR, Treatment of 17 cases of diabetic retinopathy by qi benefiting, yin nourishing, stasis eliminating, and nodule dissolving method, Liaoning Journal of Traditional Chinese Medicine 1991; 18(8): 19-21.
29.Lin L, et al., A clinical study on treatment of vascular complications of diabetes with the sugar-reducing and pulse-invigorating capsule, Journal of Traditional Chinese Medicine (English) 1994; 14(1): 3-9.
30.Dong Zhi Lin and Yu Shu Fang, Modern Study and Application of Materia Medica, 1990 China Ocean Press, Beijing.
31.Zhang JQ and Zhou YP, Research into the use of Chinese herbs which inhibit the mechanism responsible for diabetic ophthalmopathy, International Journal of Oriental Medicine 1992; 17(3): 160-164.
32.Hu Y, Recent advances on diabetes mellitus in acupuncture and Chinese medicine, Oriental Healing Arts International Bulletin 1988; 13(2): 154-162.
33.Fegn JH, et al., 103 cases of diabetes mellitus treated by Jiang Tang Le, Journal of the Shangdong College of Traditional Chinese Medicine 1994; 18(6): 376-377.
34.Andallu B, et al., Effect of mulberry therapy on plasma and erythrocyte membrane lipids in patients with type 2 diabetes, Journal of Clinical Chemistry 2001; 314(1-2): 47-53.
35.Zhang H and Teng Y, Effect of liren (litchi seed) anti-diabetes pills in 45 cases of diabetes mellitus, Journal of Traditional Chinese Medicine 1986; 6(4): 277-278.
36.Chen QM and Xie MZ, Studies on the hypoglycemic effect of Coptis chinensis and berberine, Herb Studies Journal 1986; 21(6): 401-406. 37.Chen DC, Gong, DQ, and Zhai Y, Clinical and experimental studies in treating diabetes mellitus with acupuncture, Journal of Traditional Chinese Medicine 1994; 14(3): 163-166.
38.Hou AL, Blood sugar response of diabetes to acupuncture of sanyinjiao, International Journal of Clinical Acupuncture, 1993; 4(4): 361-364 39.Liu ZC and Sun FM, Acupuncture treatment of non-insulin-dependent diabetes mellitus: a clinical study, International Journal of Clinical Acupuncture, 1994; 5(3): 249-259.
40.Hu H, A review of treatment of diabetes by acupuncture during the past forty years, Journal of Traditional Chinese Medicine, 1995; 15(2): 145-154.
41.Lu Renhe, Treatment of diabetes in the elderly-an analysis of 885 cases, Journal of Traditional Chinese Medicine, 1993; 13(2): 83-91.
42.Sarif AP and Joglekar VK, Study of the effect of Karnim in patients with non-insulin dependent diabetes mellitus, Ancient Science of Life 1993 9(4): 221-223