"Decades ago, physicians used the Violet Ray device for every imaginable health problem. Today, the FDA approves the Violet Ray's use specifically for various skin and scalp conditions, such as reducing wrinkles, eliminating acne, fighting gray hair, eradicating dandruff, and treating baldness.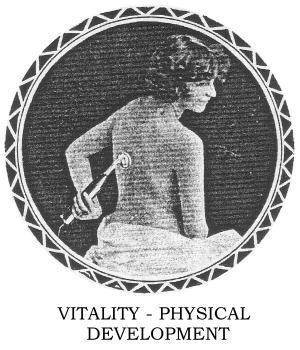 The Violet Ray was originally developed by the famous scientist Nikola Tesla. Tesla was successfully experimenting on disease and rejuvenation with ozone in the late 1800s and early 1900s in clinics.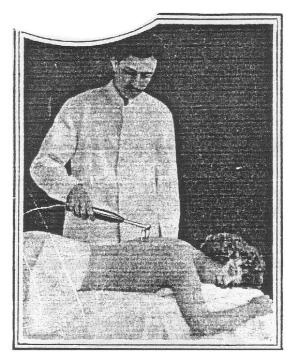 Beginning in the second half of the 20th century, pharmaceutical companies disparaged all electro-therapies as drug-oriented medicine was taking off. Electro-therapies became unpopular in the United States. Since then, the use of the Violet Ray has declined as a medical tool, just as all non-drug therapies have. It remains FDA-certified for treating signs of aging and skin conditions as well as hair loss. In a time when drug therapies are king and older remedies disparaged, that continuing FDA approval stands as an important recognition of this significant tool's real value.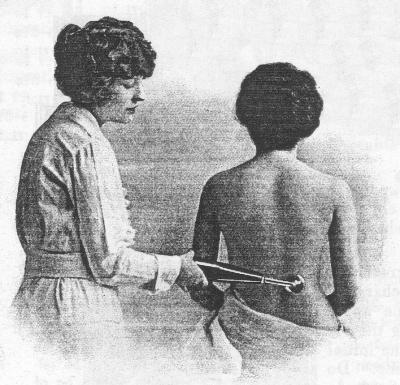 Edgar Cayce readings
The violet ray was recommended in the readings for a host of disorders-- poor circulation, nervous disorders, arthritis and rheumatism, hair and skin disorders, problems with digestion and elimination, female reproductive disorders, prostate disease, cataracts-even possession and schizophrenia. One of the most frequent recommendations concerned problems related to poor circulation. When the violet ray is applied, the resultant surge of blood to oxygen-starved tissues stimulates lymphatic and capillary circulation, clearing cellular toxins and strengthening body organs. Duration of treatment ranges from one to thirty minutes.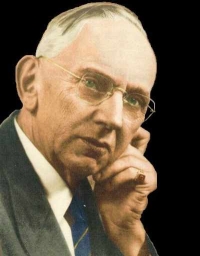 An Edgar Cayce reading for a man with poor circulation recommended that he use the violet ray over the lower limbs every evening: "In five to six weeks, we will find the body more active mentally and physically and better fitted for physical activities." (137-1)
When recommended for someone with arthritis, it was said to relax the body, energize the nerves, and supply additional oxygen to cells and tissues. Generally the individual was advised to apply the bulb over the area where arthritic pain was felt, and along the spine.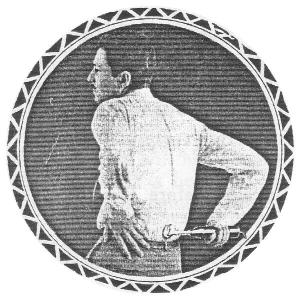 The Violet Ray was recommended as a tonic for exhaustion and lethargy: This will give the 'pick up' or the stimulation that is needed for what might be called the recharging of the centers along the cerebrospinal system…" (1196-17) "To do this will prevent the central nervous system as to make for better coordination between the sympathetic and cerebrospinal nervous system." This would strengthen and revitalize the entire body, giving "incentives to the nerve centers to become rejuvenated again …" (269-1)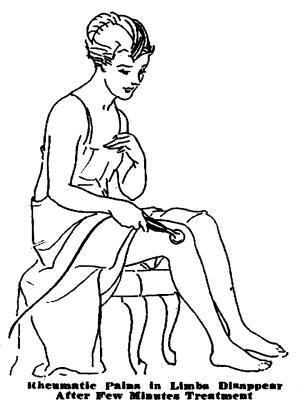 According to Dr. McGarey, the violet ray was very common in the early 19OOs--and easily obtained from electrical and drug-supply houses nationwide - but today, since the rise in pharmaceutical medicine, it is far less common.
Dr. McGarey says, "it was once a favorite among osteopathic physicians to control infection without the use of antibiotics. Interestingly enough, scientists are only now beginning to recognize the profound power of light introduced into tissues to dissipate infection."
In fact, the medical science has confirmed what Cayce said: that the human body is a composite of electromagnetic vibrations. The characteristics of this electromagnetic flow within the body-today measured by sophisticated laboratory instruments-were foretold in great detail by Cayce, long before such technology existed.
This vibration might be visualized as an electromagnetic cloak that shields us from head to toe. Disturbances in this force field signal the beginnings of physical weakness and disease. Cayce noted in one reading that when the electrical force in an organ becomes weak in its ability to reproduce the balance necessary for the support of the physical body, that portion becomes deficient.
Nikola Tesla's Violet Ray: How Does it Work?
When Nikola Tesla first developed this high frequency device, he used argon gas. Argon emits a violet color. Customers expect to see a violet color in working electrodes. But neon gas, which glows orange-red, seems to last longer than the violet-argon version. So the manufacturer began using neon gas whenever commercially available.
The fundamental difference between diseased and normal cells is this
Healthy cells have an army of protective enzymes to protect themselves from the oxygen by forming a self-protective antioxidant coating. Strict anaerobes, just as diseased cells, lack these protective enzymes and are killed by oxygen. Anaerobic microorganisms cannot live in a presence of active forms of oxygen. Viruses, fungus and other human pathogens are drawn out to bind with reactive oxygen. They will be burnt—neutralized by oxygen. Oxygen is your most aggressive free radical scavenger.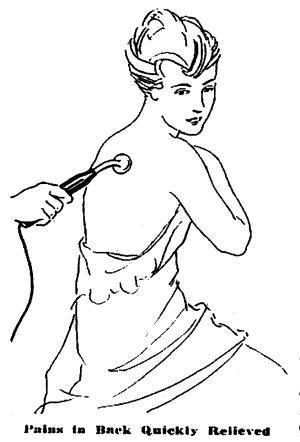 The Violet Ray actually charges your body's battery by causing cells to open up more than usual, allowing them to flush out toxins more easily. Nutrients then return to the cells and the detoxification routine increases lymph flow. .
By opening up the blood cells and encouraging their natural ability to regenerate, new tissue replaces damaged, diseased cells, flushing them out of the system with other toxins. This "cellular massage" expands individual cells instead of individual muscles. The stimulation at the cellular level by high-frequency current is why the Violet Ray treatment generates such marked improvements in health. Cellular massage penetrates much more deeply than a mechanical vibration massage, which concentrates only on muscles.
This device intensifies fresh blood circulation. The extra flow of blood equalizes the circulation in crowded areas, helping heal bruised and damaged tissue.
Inflamed tissues are swollen. They hold more water, giving you that puffy look. The Violet Ray charges sick cells with energy. Current drops off for healthy tissues because they have a higher resistance than swollen and infected tissues. In this way, the Violet Ray charges the sick body with energy as the rays penetrates the skin.
You'll find the Violet Ray an excellent tool for diminishing wrinkles, warts and moles. It also decreases hair loss and promotes new growth. The ray improves circulation in congested parts, restoring bruised, inflamed and diseased tissues to normal. It's great for reducing wrinkles, warts and moles, and for promoting new hair growth.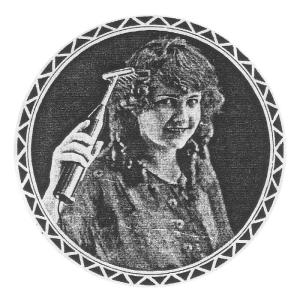 Despite the FDA's refusal to certify the Violet Ray for anything except skin care and hair loss, many people find it beneficial for a wide range of problems. Many users find that the penetrating electrical currents can relieve pain, stimulating cells and organs by enhancing blood flow in the treated area. While electrical currents infuse your body's cells and tissues, they stimulate and strengthen your vital organs, steady your nerves, and help rebuild your sense of vitality and well being.
Energize your vital organs by moving the electrode along the meridians, producing an effect similar to reflexology. The Violet Ray offers a unique ability to balance "chi" in a manner similar to meditation.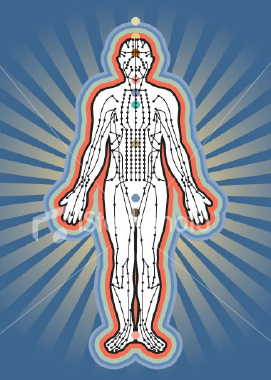 Pain is often caused by a build-up of hydrogen in the affected area—a build-up which the Violet Ray replaces with oxygen. Pain is an accumulation of positive ions, which replace the beneficial negative ions. Applying a Violet Ray electrode generates an electro-therapy that oxygenates the effected areas. The high frequency of the Violet Ray's electrical currents transmits active oxygen to the blood, purifying it. This action helps neutralize infected areas containing bacteria, viruses, and fungus wherever the electrode is used. The blood receives ozone when you apply the electrode to your skin's surface.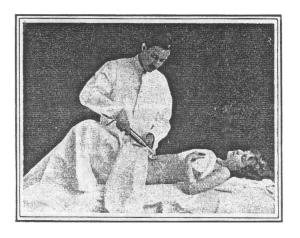 Contemporary electro-therapy…
1. promotes circulation to help relieve swelling, pain and inflammation
2. reduces wrinkles and puffiness
3. tightens facial muscles, including under the chin, and stimulates reproduction of
facial cell tissues.
4. promotes hair growth by stimulating circulation to the scalp
5. oxygenates the sinus cavities, helping relieve allergies
6. metabolises fat where applied
7. reduces stress, regenerating a sense of well-being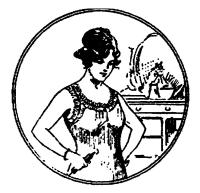 The Violet Ray diffuses the healing power of electricity throughout the body—without pain. The healing rays are dispersed through glass applicators, called electrodes, in the violet colored stream—hence the name Violet Ray. (Not "ultraviolet" or UV rays, mind you—a different part of the spectrum, outside the visible range.) The substantial voltage is applied to the point of contact . Use it in any area where you have discomfort of one sort or another. There is no place on the body that cannot be helped by a suffusion of fresh, oxygenated blood.

1930'S Pictures
You'll find it easy to use your Violet Ray: 5-10 minutes each time, just once or twice a day, will give you all the benefit without inconvenience or fuss. Your Violet Ray will require no maintenance.
Use your Violet Ray sensibly. Used well, used a little each day, it will bring you real benefit. Naturally, however, it's not a cure-all. By no means is this device a substitute for raw food nutrition, exercise, or proper health professional attention."
Nikola Tesla's Violet Ray: How Does it Work?
VIOLET RAY

Attachment for your MWO

5 x Tubes as shown

1 x Handset as shown