Do Governments Really Believe, There Are No Dangerous Bioeffects From EMF Exposure?
"The man who never looks into a newspaper is better informed than he who reads them, inasmuch as he who knows nothing is nearer the truth than he whose mind is filled with falsehood and error."
- Thomas Jefferson
Danger Zones

EMF Levels From Common Sources in Milligauss (mG)*
Recommended Safety Levels: .5 mG to 2.5 mG with 1.0mG as preferred standard.
Adverse biological effects have been found at 2.5mG

Source

Up to 4 inches
At 3 feet

Blender

50 to 220
.3 to 3

Clothes Washer

8 to 200
.1 to 4

Coffee Maker

6 to 29
.1

Computer

4 to 20
2 to 5

Fluorescent Lamp

400 to 4,000
.1 to 5

Hair Dryer

60 to 20,000
.1 to 6

Microwave Oven

100 to 500
1.0 to 25

Television

5 to 100
.1 to 6

Vacuum Cleaner

230 to 1300
3 to 40

Airplane

50 mG average on 747

*Source: USA Environmental Protection Agency

All along, Industry and the Federal Government have insisted that either:
not enough research has been done on EMF Bioeffects to determine the potential risk, or
plenty of research has been done to determine that there is no risk.
That these two positions seem to be mutually exclusive appears to have eluded those in charge of public relations ... what is the source of this ambiguity? Is it accidental? Is it intentional, and if so, why?

--------------------------------------------------------------------------------
The Ambiguity
The terms risk and safe, which are essential to a meaningful dialog on this issue, have in this context, undiscussed controversial definitions, that is, they have been craftily re-defined to mean something other than their intended, (dictionay) definition. Safe and risk, as defined in the dictionary, are absolutes. You are either safe, or you are not safe. You are either at risk, or you are not at risk.
A good example of disagreement is the NCRP pre-release leak of "recommendations." This is a group of people working on THE SAME REPORT, who completely disagreed on what the conclusions should be. Imagine people in different agencies with mutually-exclusive interests, or people in Industry, with jobs, and the future of whole technologies at stake? (Here I am assuming the leak originated with someone inside who thought the final recommendations would not be consistant with the data.)
The people who make up the Federal Government do not agree on EMR Bioeffects, so how can the Federal Government appear to be consistent? Here are some contradictory positions taken by various US Government agencies, or agents.
National Academy of Sciences - National Research Council, report, or press release, -- no danger,
National Council on Radiation Protection, -- danger -- or maybe not,
National EMF Advisory Committee, calls for Continued Research on Electric and Magnetic Field Health Effects, -- danger, "We take this action because, after perusal of the pre-publication NAS/NRC report released October 31, 1996, we conclude that neither the press release nor the Executive Summary of the report adequately reflects the conclusions to be found in the body of the report. ... Contrary to reports in the popular press. the NAS/NRC report does not state that extremely low magnetic fields are safe. Rather, the report concludes that there is an unexplained, but statistically reliable and robust association between power transmission and distribution systems and childhood cancer and that continued research is necessary."
Power Lines and Property Values:
The Good, the Bad, and the Ugly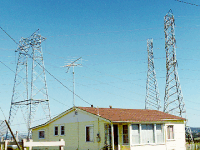 Each of us spends about one third of our lives in one small area--the bedroom--where we sleep, where we sometime work and where we often have our sacred space for meditation or relaxation. It is most important that this area be kept as a healthy space. Since each person's long-term sensitivity to electrical and magnetic fields may vary, depending on genetic, immune system, stress, environmental and dietary factors, these are just guidelines. In general, to date, there seems to be tendencies for sensitivities to develop quicker in persons who have weak immune systems from chronic illnesses, allergies or multiple chemical sensitivities (MCS).
Surround yourself with Friendly frequencies
Sacred harmony generator
Your workplace
EMF Exposure Plots of Workers
Measurements in milligrams (mG)
The sewing machine operator worked all day, took a 1-hour lunch break at 11:15 am, and took 10-minute breaks at 8:55 am and 2:55 pm.
The mechanic repaired a compressor at 9:45 am and 11:10 am
The electrician repaired a large air-conditioning motor at 9:10 am and 11:45 am.
The government worker was at the copy machine at 8:00 am, at the computer from 11:00 am to 1:00 pm and also from 2:30 pm to 4:30 pm.
Repetitious transients and surges (pulse spikes) occur on power lines , but the more influencing transients are created by factors in home and business wiring, water piping (poor grounding/balancing), appliances and equipment. This repetitious long-term exposure may provide a kind of irritation or suppression factor, posing potential hazards to our health. EMF effects have been discovered, at night, reducing brain pineal melatonin hormone production, which affects immune system efficiency, especially in older persons. These effects appear to be caused by the sharp rise and fall of the pulse spikes created by motors and switches (perhaps the electric blanket thermostat switch, for example) turning on and off. That's the reason for 'prudent avoidance' of operating electric blankets and water bed heaters by children and pregnant women. Dr's Wilson and Reiter made these discoveries during the several years ago at Pacific Northwest Laboratory and University of Texas Health Science Center, respectively. This points to a probable irritating or suppressing type of influence which would create symptoms in a variety of confusing ways, due to personal health and immune system factors]. Persons at risk appear to be those having poor health factors and who may be exposed for years in constant proximity to power line components (transformers, sub-stations), appliances (electric blankets, hair dryers), power tools, TV's and computer monitors, and other sources of potentially rapid switching) EMFs.
MEASURE YOUR ENVIROMENT
Your home
There is screed,s of information out there, for and against the ideas in this newsletter, one has to wonder seriously if there are dangers in magnetic fields, personally we measure our environment and try and stay in the researched safe zone, one can never be to careful, and trusting big business and Governments to tell the whole truth,well.
that's another story,,,