RADIONICS
Advanced Bio-Photon Integrator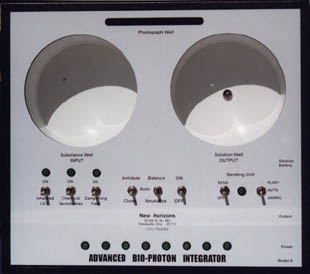 The first totally automated Radionics Instrument in the world!

When I spoke at the national conference of the USPA, our booth was overrun with people buying and asking questions about them. We had a few on hand but we were not prepared for the response we received. Many wanted them to use immediately. Several told me that just seeing this latest advancement in instrumentation made the whole conference worthwhile.
The quality and abilities of this instrument are truly amazing. If you have ever owned an SE-5 or other type of Radionic instrument, seen an SE-5 or other instrument or wished you had one, you will want an Advanced Bio-Photon Integrator. In the world of instruments, it is truly unique! Let's look at the high points and see why!
" Totally automated.
" No dials to turn or buttons to push.
" No Stick Plate, Pendulum work or Dowsing needed.
" No classes needed to understand how to use the instrument.
" No operator interaction needed. Set a couple of switches and the ABPI does the rest.
" No analyzing needed to safely run the ABPI.
" The ABPI automatically analyzes the subject every 40 seconds. This enables the instrument to keep up with the changes that occur in the subject's Auric Fields during the balancing process.
" Safety codes allows the ABPI to determine the safest and best way to balance.
" The ABPI tunes into and locks onto the Energetic Mineral Base of the subject automatically. If there is sufficient mineral available, the instrument determines the best way to balance. If there is a lack of minerals available, the ABPI will change the type of information it is broadcasting to the subject. It will continue to monitor the subject on a minute by minute basis. When the system has stabilized, the ABPI will resume its original program. This prevents the over-balancing or over-stimulation that occurs at times with other instruments.
" A built in Sending Unit broadcasts the energetic patterns generated directly to the subject of research. Perfect for agriculture and long distance applications.
" Advanced Homeopathic (Isopathic) Remedies can be created without knowing the exact potencies needed.
" Automatic Autophasing (in-phase and/or out-of-phase) of all Advanced Homeopathic Remedies created.
" Clone Homeopathic substances and cut supplement costs dramatically.
" Veterinarians use this type of equipment all the time. (One Vet I know says he saves over $100,000.00 per year using this type of equipment.)
" Balance the energetic properties of every supplement for family, farm or animals.
" Customize the energy of all supplements, food, water, additives, fertilizer for the subjects' specific energetic needs.
" Neutralize the negative energetic properties of all supplements.
" Potentize available supplements. (This approach is utilized by my family to save on our supplement costs. We have found we can take less of the supplement with the same physical results.)
" Balance all of the food and water consumed. Our Environmentally Sensitive customers are doing this with profound results. They have found, through their research, that they can eat and drink substances that used to give them an allergic reaction. Now they use the ABPI to have more choices during their hard climb back to better health. The ABPI has become an integral tool in their hands. (It's astonishing some of the stories we hear. I am, sorry to say, unable to reproduce them due to the current laws and regulations.)
" Use the ABPI to balance the energetic residential environment.
" Chemical Sensitive people are using the ABPI very successfully. Many are ordering a second ABPI for their family members. (We have one customer that has just ordered 12 more to make more than 18 for him. He is utilizing them in his business to balance everything from land to family members to employees.)
" Large Input and Output wells. (4.25" in diameter)
" Self Contained in an attractive box - 3.5" deep X 10.5" X 11.5"
" Lightweight. Only 5 lb. without the case. Only 10 lb. with the case.
" Very sturdy and durable. (The ABPI survived a 15' drop from a second story porch to the ground without missing a beat.)
" Battery Powered. (9 volt battery included). No covers or screws to deal with when changing the battery as it is mounted on the outside of the ABPI in a sturdy, easy to use holder.
" Transformer for plugging into 110 volt outlets. (Included)
" Photograph/witness well for Polaroid photographs.
" Extremely powerful. 10 to 12 times more powerful than the Clinical Bio-Photon.
Watch the video click here
Read the manual Click here
/radionic/news.htm
| | |
| --- | --- |
| Please send this page to a friend | |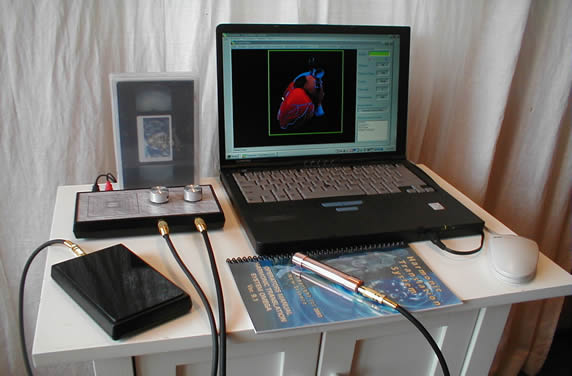 TURNS YOUR COMPUTER INTO AN ELECTRONIC HEALING INSTRUMENT
The HT System represents a major advance in the field of
electronic medicine, going far beyond radionics / psychotronics.
Harmonic Translation refers to the translation of biologically
active information into synthesized sound, color and
electromagnetic signals.
The Harmonic Translation System is not simply a machine that
performs a number of healing activities, it is a true synthesizer of
electronic medicine. An instrument that is adaptable, and that can
function equally well in any complimentary modality.
Harmonic Translation System functions include the following...
DIAGNOSTIC FUNCTIONS
Measure energy values for all organs, organ systems and
metabolic functions.
Find and measure energetic pathologies and toxicity anywhere in
the body.
Test all known modalities to find the right approach for each
person.
Test foods, supplements, and medicines.
Run any test for people or animals with direct electronic hookup
to the body or from a small hair sample.
Create your own diagnostic programs quickly and easily.
Print out diagnostic reports or store them in client files.
TREATMENT FUNCTIONS
Over 1700 medicinal items in the electronic pharmacy. You can
quickly scan new medicinal items into your pharmacy.
Compose electronic treatments by selecting medicines from the
electronic pharmacy.
Combine sound and color in treatment for greater effect.
Output electronic medicine you have composed as shifting
frequencies of sound, color and animated fractal images.
Create homeopathic, flower, and gem elixir remedies as needed.
Deliver the electronic medicine as sound on a audio cassette,
sound and color with animated fractal images on a video cassette,
or as a standard homeopathic in water or sugar tabs.
RESEARCH FUNCTIONS
Accelerate research protocols with fast electronic kinesiology for
analysis.
Test new medicines and treatments before they are actually used.
Experimentally create new electronic medicinal items, edit and
test them for effect without the need for putting even animals at
risk.
ELECTRONIC MEDICINE FOR THE HOME
It has long been the dream of many that one day technology would
enable them to be there own healer in regard to caring for themselves
and there families. While the H T System does not make anyone a
doctor, and does not replace professional medical care, it is a powerful
tool for the care and healing of family, friends and self.
Extensive knowledge of medicine or other healing practices is not
necessary to use the HT System. Most people have the ability to help
and heal themselves and others. The HT Systems intuitive interface is
driven by this inherent ability as well as providing powerful, easy to use
tools.
Over eighty years ago, a breakthrough in medicine was achieved by a
researcher by the name of Dr. Albert Abrams. A brilliant doctor and
researcher, he was at that time, head of the Dept. of Pathology at the
University of California School of Medicine. His new technique and
technology was called the Electronic Reactions of Abrams or ERA. It
was in essence, a technology that could electronically diagnose and treat
most major diseases and was hailed as the future of modern medicine. It
took the medical establishment of the day a decade to realize that the
results of ERA treatments could not be explained by the science of the
day. The promising new technology was sidelined and eventually
forgotten. Now, eight decades later, the work of Dr. Abrams is back in
the form of the ultra modern Harmonic Translation System for
Electronic Medicine.
The Harmonic Translation System
The H T System was designed around three basic functions. Analysis and
diagnosis, treatment and electronic remedy making, and research and
development of new healing techniques and medicines. The advent of the
modern PC computer has made it possible to combine all of the effective
electronic healing techniques of the last century into a single instrument.
Healing technologies that are most strongly expressed in the H T design
include Homeopathy, ERA, EAV, Rife frequency generation, color
therapy, sound therapy, radionics and biofeedback. With its modern
graphic interface, the H T System seamlessly integrates these diverse
functions while remaining easy to use.
Use of the Harmonic Translation System is divided into three levels.
Level one, the most basic user level, can be immediately achieved by
anyone who can turn his or her computer on. At this level, the user
selects a pre compiled treatment from a menu based on symptoms one
wishes to alleviate or a known condition one wishes to treat. If an
inappropriate treatment is selected, no harm is done.
Level two is where most users operate once they are familiar with
operating the program. Here one uses the electronic kinesiological
interface to analyze the problems and compose individualized
treatments. Medicinal items are selected from the electronic pharmacy,
loaded into energetic envelopes made of sound and light, and delivered
to the client as a homeopathic remedy that the system produces. This
same remedy may also be delivered as sounds and or colored fractal
images. Research involving the testing of medicines, herbs, energies and
existing modalities is done at this level.
Level three is where a creative user synthesizes totally new and unique
medicinal items based on individual needs. These level three electronic
medicines fit the client's problems like a key fits a lock. The creation of
these healing patterns and frequencies is not difficult, but does require
creative insight. Level three competency tends to organically develop
out of ones work at level two. Research into totally new electronic
medicines and therapies is done at this level.
Many of the people who read this article are trying to decide whether to tell someone they know, who has cancer, about this web site. It is a far easier decision than you think. Don't make their decisions for them!!!! Tell them about this web site and let them decide what to do about it!

I know you love the person and want what is best for them. That is good, but a person with cancer has a right to know their options and to make their own decisions. It is their life at stake, let them make the hard decisions. It is the person with cancer who needs to know their options

| | |
| --- | --- |
| Please send this page to a friend | |
.
LAKHOVSKY MULTIPLE WAVE OSCILATOR
Or the MWO


What Lakhovsky discovered was simply mind boggling: He postulated that all living cells (plants, people, bacteria, parasites, etc.) possess attributes which normally are associated with electronic circuits. These cellular attributes include resistance, capacitance, and inductance. These 3 electrical properties, when properly configured, will cause the recurrent generation or oscillation of high frequency sine waves when sustained by a small, steady supply of outside energy of the right frequency. This effect is known as resonance. It's easiest to compare it with a child swinging on a playground swing. As long as the parent pushes the swing a little at the right moment (the correct 'frequency'), the child will continue to swing high and continuously. In electronics, circuits which generate these recurrent sine waves can be called electromagnetic resonators, but more commonly they are referred to as oscillators. Lakhovsky tells us that not only do all living cells produce and radiate oscillations of very high frequencies, but they also receive and respond to oscillations imposed upon them from outside sources. This outside source of radiation or oscillations are due to cosmic rays which bombard the earth continuously. This stupendous realization, achieved during the golden years of radio, not only led to a new method of healing by the application of high frequency waves, but broadened appreciation for the newly emerging field of hidden science known as Radionics or Radiathesia.
When these outside sources of oscillations are in sympathy, that is they are exactly the same frequency as that produced by the cell, the strength and vigor of that cell will be reinforced and become stronger. If, on the other hand, these outside frequencies are of a slightly different frequency, rather than reinforce the cell's native oscillations, they might dampen or weaken them, resulting in a loss of vigor and vitality for that cell. The cells of disease causing organisms within an infected person, produce different frequencies than that of normal, healthy cells. For people or plants suffering from disease conditions, Lakhovsky found that if he could increase the amplitude (but not the frequency) of the oscillations of healthy cells, this increase would overwhelm and dampen the oscillations produced by the disease causing cells, thus bringing about the demise of the disease causing cells trying to set up shop in the body. If he pumped up the amplitude of the disease causing cells, their oscillations would gain the upper hand and cause the person or plant to become weaker and more ill. Lakhovsky viewed the progression of disease as essentially a battle between the resonant oscillations of host cells versus the oscillations emanating from pathogenic organisms.
He initially proved his theory using plants. In December, 1924, he inoculated 10 germanium plants with a plant cancer that produced tumors. After 30 days, tumors had developed in all of the plants. He took one of the 10 infected plants and simply fashioned a heavy copper wire in a one loop, open-ended coil about 30 cm (12") in diameter around the center of the plant. and held it in place with an ebonite stake . The copper coil acted as an antennae or a tuning coil, collecting and concentrating oscillation energy from extremely high frequency cosmic rays. The diameter of the cooper loop determined which range of frequencies would be captured. He found that the 30 cm loop captured frequencies that fell within the resonant frequency range of the plant's cells. This captured energy reinforced the resonant oscillations naturally produced by the nucleus of the germanium's cells. This allowed the plant to overwhelm the oscillations of the cancer cells and destroy the cancer. The tumors fell off in less than 3 weeks and by 2 months, the plant was thriving. All of the other cancer-inoculated plants-without the antennae coil- died within 30 days. In his book, Lakhovsky shows pictures of the recovered plant after 2 months, 6 months, and 1 year. Three years later, with the original coil left in place, the plant grew into a very robust specimen.
Taking his cue from the germanium experiments, Lakhovsky then fashioned loops of copper wire that could be worn around the waist, neck, elbows, wrists, knees, or ankles of people (or animals) and found that (given enough time) much relief of painful symptoms were obtained. These simple coils, worn continuously around certain parts of the body, would invigorate the the strength of the human cells and increased the immune response which in turn took care of the offending pathogens. At the time, when news spread of the success achieved with these "Lakhovsky Coils", many Europeans were clamoring to get their own and often had to wait for months due to the backlog (If you're interested, you can make your own Lakhovsky Coils or obtain them ready made from Educate-Yourself ). One of the main reasons why so many people find copper wrist bracelets effective and beneficial is because the bracelet is functioning as a Lakhovsky Coil (it's also providing minute trace amounts of copper to the body, which helps too). To achieve the Lakhovsky effect, it's important that the coil (or bracelet) is "open" and made of copper. Closed rings simply don't work.
Is there a cure for cancer click here
/lmwo/lmwo.htm
ZAPPERS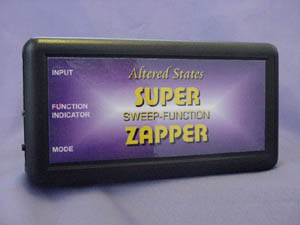 DR HULDA R. CLARK AMAZING DISCOVERIES !

" Electricity can now be used to kill bacteria, viruses and parasites in minutes, not days or weeks as antibiotics require".

" Any positively offset frequency kills all bacteria, viruses and parasites simultaneously, given sufficient voltage (5 to 10 volts), duration (7 minutes) and frequency (anything from 10 Hz to 500 000 Hz)".
Hulda Regher Clark, Ph.D., N.D.
"The Cure for All Diseases"
CLICK HERE TO SEE THE WORLD MOST ADVANCED ZAPPERS


Ozone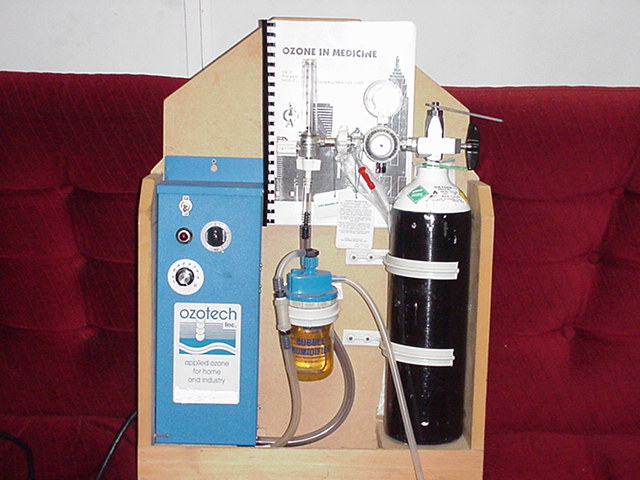 Ozone is an unstable, but highly beneficial molecule. It's the tri-atomic form of oxygen: Instead of the normal arrangment of 2 atoms of oxygen (O2), ozone is comprised of 3 atoms of oxygen (O3). Ozone, however, doesn't want to stay in that tri-atomic state very long and unless held in check or bound by other molecular couplings, ozone will usually break down from O3 to O2 + O1 within 20 minutes of so (at atmospheric pressure at least). O1 is called a singlet oxygen atom and it's HIGHLY REACTIVE with just about any substance that should NOT be in the human body including all pathogens (virus, bateria, etc.) and synthetic compounds or their metabolites such as drugs and their metabolite residues.
ozone generators more info click here

Amazing tools for wellness and relaxation

Please