A malfunctioning immune system can cause allergies
or arthritis and can fail to stop the growth of cancer cells.
The immune system is important to cancer patients in many ways
The cancer can weaken the immune system
Cancer treatment can weaken the immune system
The immune system may help to fight your bodies cancer
The cancer can weaken the immune system by invading the bone marrow where the cells that help fight infection are made. This happens most often in leukaemia or lymphoma. But it can happen with other cancers too.
Chemotherapy and radiotherapy can weaken immunity by causing a drop in the number of white blood cells made in the bone marrow. Apart from bone marrow or stem cell transplants, this effect on the bone marrow is temporary.
Some cells of the immune system can recognise cancer cells as abnormal and kill them. Unfortunately, this is not enough to get rid of a cancer altogether.

Some NATURAL treatments aim to use the immune system to fight cancer.
The individual has always had to struggle to keep from being overwhelmed by the tribe.
If you try it, you will be lonely often, and sometimes frightened.
But no price is too high to pay for the privilege of owning yourself.
Friedrich Nietzsche
The University of Southern California preformed clinical trials in 1934 with Rife machine technology on 16 terminally ill cancer patients and all 16 were cured within the trial period of 3 to 4 months. It is claimed that the treatment was painless, did not have side effects, did not harm healthy cells and did not include pharmaceutical treatment for the cancers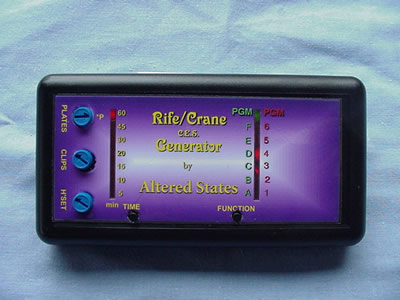 In the Fall of 1990, two researchers, Drs. William Lyman and Steven Kaali, working at Albert Einstein Medical College in New York City made an important discovery. They found that they could inactivate the HIV virus by applying a low voltage current to HIV infected blood in a test tube. They applied a direct current to the electrodes and found that a current flow in the range of 50-100 microamperes (uA) produced the most effective results. Practically all of the HIV viral particles were adversely affected while normal blood cells remained unharmed. The viral particles were not directly destroyed by the electric current, but rather the outer protein coating of the virus was affected in such a way as to prevent the virus from producing reverse transcriptase, a necessary enzyme needed by the virus to invade human cells.

Portable Rife/crane system here.
For those that have purchased our Rife/crane Ces unit there are now new
frequency lists, and an FAQ on our web page
RIFE FORUM
RIFE/CRANE,,,,ALPHA-THETA STIM FORUM
We now have our own private users MSN group
here
For sharing ideas and info
DOWNLOAD FREQUENCY LISTS FOR YOUR SYSTEM
Download program or /download/rgen.exe
Pre programed frequencies for your Desk top or Portable Rife
/barry/rifepresetfreq/index.htm

Amazing tools for wellness and relaxation

if you cant see a large menu click here

Georges Lakhovsky
In 1925, Georges Lakhovsky published a paper with the explicit title of "Curing
Cancer with Ultra Radio Frequencies" in Radio News.
His expressed philosophy was
that "the amplitude of cell oscillations must reach a certain value, in order that the
organism be strong enough to repulse the destructive vibrations from certain microbes." He goes on to say, "The remedy in my opinion, is not to kill the microbes in contact with the healthy cells but to reinforce the oscillations of the cell either directly by reinforcing the radio activity of the blood or in producing on the cells a direct action by means of the proper rays." Lakhovsky's Radio-Cellulo-Oscillator (RCO) produced low frequency ELF all the way through gigahertz radiowaves with lots of "extremely short harmonics." He
favored such a wide bandwidth device so that, "The cells with very weak vibrations, when placed in the field of multiple vibrations, finds its own frequency and starts again to oscillate normally through the phenomenon of resonance." As a result, Lakhovsky's RCO is now more often called MWO (multiple wave oscillator) for these reasons. The MWO uses a Tesla coil and special antenna with concentric rings that induce multiple sparks between them

Multiple Wave Oscillator
click here to view

All truth goes through three stages: first it is ridiculed:
then it is violently opposed: finally it is accepted as self evident.
- Schopenhauer

if you cant see a large menu click here
Please