When your goals are realistic and match your desires, you will be motivated. When you're motivated and work hard towards your goals, you will succeed. When you succeed, your motivation will grow, you will set new goals, and continue to achieve.
Know yourself, know your circumstances, set realistic goals, and start to succeed now!
Successful performance at just about anything requires that you be able to keep yourself motivated. Discouragement and lack of motivation hits everyone at some time or another. The more techniques and tools we have to help us restart our engine or to keep it going when things get tough or boring, the more successful we will be.
Does it seem like you're always
going 2 steps forward, 1 step back?
Take heart! You're simply in step with the natural rhythm of progress! Progress toward your goals is never going to be a straight line. There are always bumps in the road to send you off course. The trick is to avoid getting discouraged and get back on track. How?
Follow these links
Create within you, permanently high levels of self-motivation.
Create in you, an automatic resistance to procrastination.
Overcome quitting and failure -once and for all!
Eliminate even the thought or fear of failure.
Draw abundance and prosperity into any area of your life
Make yourself into a quick, powerful problem-solver.
Overcome that one mysterious brain-caused shortcoming that has always kept you from reaching your ultimate goals.
Eliminate procrastination and be effortlessly driven to achieve
Quickly develop a brain-habit to ALWAYS complete every task you start!
Eliminate self-limiting beliefs held in your nonconscious brain for years through no fault (or knowledge) of your own!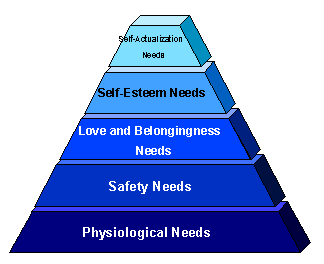 Levels of Motivation
Maslow is the classic model here. Abraham H Maslow (1908-1970)

Quotes...
Enthusiasm is one of the most powerful engines of success. When you do a thing, do it with all your might. Put your whole soul into it. stamp it with your personality. Be active, be energetic, be enthusiastic and faithful, and you will accomplish your object. Nothing great was ever achieved without enthusiasm."
Ralph Waldo Emerson (1803-1882), American writer and philosopher of transcendentalism.

" If you think you can do a thing or think you can't do a thing, you're right."
Henry Ford (1863-1947), American industrialist and manufacturing innovator.

" To fall into habit is to begin to cease to be."
Miguel de Unamuno (1864-1936), Spanish poet.

" I don't wait for moods. You accomplish nothing if you do that. Your mind must know it has got to get down to work."
Pearl S. Buck (1892-1973), American writer, whose novels include The Good Earth. She won the 1938 Nobel Prize for Literature.

" If you want to change your art, change your habits."
Clement Greenberg (1909-1994), American art critic, in a conversation with Anthony Caro (1924-), British sculptor.

" Let it be lost on no one that one of the most important jobs in this country is teaching. Teachers can influence and motivate an entire generation."
Abigail Van Buren (pen name of Pauline Esther Friedman Phillips, 1918-), American syndicated advice-columnist.

" The desire to do something is the proof of our potential to do it."
Eric Butterworth, contemporary writer, author of several self-help books.

" Motivation is not only important because it is a necessary causal factor of learning, but because it mediates learning and is a consequence of learning as well."
R. J. Wlodkowski, Enhancing adult motivation to learn, 1985. San Francisco: Jossey-Bass, p. 4.

" Many instructors consider the motivation level of learners the most important factor in successful instruction."
W. Dick & L. Carey, The systematic design of instruction , 4th ed., 1996. New York: Longman, p. 92.

thanks to
Tom G. Stevens PhD

Amazing tools for wellness and relaxation

Please