Diabetic ulcers and poor circulation

Have You suffered a foot or leg injury and it has taken a long time for the wound to heal. Or it doesn't heal at all... the wound just gets bigger and deeper. An infection makes it worse.
This scenario will sound familiar to diabetics. Sometimes, however, this also seems to happen to people who don't have diabetes. Or do they??
A lot of people have diabetes without even realizing it. There must be at least as many people who don't know they have diabetes as there are people who do know they have diabetes! This is why it's essential that diabetes is detected as soon as possible and that people who have diabetes are properly treated. They need to keep their blood sugar level under control. Their feet need to be inspected regularly. If not, this happens...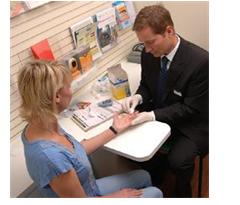 When you suffer a foot or leg injury, it takes a long time to heal.
Or it won't heal at all; the wound just gets bigger and deeper. An infection makes it worse.
Why wounds don't heal properly

In the long term, a diabetic's bodily functions start deteriorating. For instance, the blood circulation is affected, as too are the nerves, resulting in little or no feeling in the feet. Diabetic patients typically develop ulcers in the extremities of their body due to poor circulation and insensitivity? and that's when the trouble starts.

Thin skin?
Your skin is less saturated with blood and becomes thinner. If you wear the same (wrong) shoes for a long time, stub your toe, tread on a sharp object? you are more likely to get a cut or blister compared with a person with healthy skin.
| | |
| --- | --- |
| | Currently, about 250,000 people with diabetes in the United States undergo leg amputation each year as the end result of chronic leg ulcers that did not heal from conventional or lack of wound care |
And you don't feel it?
You have no feeling in your feet, which means you don't feel any pain and you don't notice the injury.
It won't heal?
The bad blood circulation has another negative effect. Normally, blood transports different chemicals and cells to the injury site; chemicals that make the tissue grow together again and cells that fill the gap in the wound; cells that neutralize all harmful bacteria.
| | | |
| --- | --- | --- |
| | Diabetic foot ulcers are sores on the feet that occur in 15% of diabetic patients some time during their lifetime. The risk of lower-extremity amputation is increased 8-fold in these patients once an ulcer develops. | |
Fracture healing is a process of restoring the structural and biological properties of injured bone. It has been well documented that diabetes mellitus (DM), a systemic disease affecting 17 million Americans, causes increased healing time with a concomitant increase in delayed unions and nonunions.
Sheldon S. Lin, MD
A vicious circle?
If you don't realize you have a cut or a scratch, the wound will get bigger. Healthy tissue dies off. The wound gets deeper and affects underlying tissue, such as muscles and tendons, and healing becomes increasingly difficult. The wound becomes an easy 'gateway' for infections. The rest of your foot or leg may also be affected, resulting in this tissue dying off too. This is known as gangrene and may ultimately result in the amputation of your toe, foot or (lower) leg
Diabetes (purulent wounds)
This study involving 72 diabetics with purulent wounds found that magnetic fields aided healing significantly.\
R.A. Kuliev & R.F. Babaev, "A Magnetic Field in the Combined Treatment of Suppurative Wounds in Diabetes Mellitus,
" Vestn Khir Im I I Grek, 148(1),January 1992, . 33-36.
Frequency medicine: The FDA knows it all
If you had to convince the FDA that pulsed electric or magnetic field can kill pathogens, you would have a hard time, especially if you were a member of the Alternative Medicine community.
But, luckily you do not have to. The FDA already knows!
You can find all about disinfection with pulsed electric fields right here, with a large number of scientific references here
DO PULSED ELECTRO-MAGNETIC FIELDS WORK ON
DIABETIC ULCERS ???
Warning these graphic pictures may disturb some people