In a few more years, we'll either know for sure that cell phones can cause cancer, or we'll know they can't. I just hope we don't find out the hard way--through subpoenaed documents from cell phone makers and carriers who've been trying to minimize their damages and maximize their profits for more than a decade
By Molly Wood, senior editor, CNET.com
Tuesday, March 8, 2005
Long-Term Cell Phone Use Spurs Tumor Growth

If you have used your mobile phone for more than 10 years, you might have increased your risk of developing acoustic neuroma, a benign tumor on the auditory nerve.
Interestingly enough, studies found that the risk was confined to the side of the head that was used most often while talking on the phone. As a matter of fact, the risk of acoustic neuroma was nearly four times greater on the side of the head that the phone was most frequently held compared to the other side, which appeared normal.
A study revealed that the number of years of phone usage seemed to play a factor in the development of the tumor, as those using their phone 10 years or more were shown to nearly double their risk of acoustic neuroma. On the other hand, those who used their phone for less than 10 years didn't show any signs of increases risk.
Participants of the study included 150 people with acoustic neuroma and 600 healthy people.
Since the only types of phones used during the study were analog mobile phones, researchers questioned whether or not the same results would apply to long-term use of the digital phones, which have since replaced the bulkier and less advanced analog phones.
In response to the study results, the mobile phone industry claimed there wasn't any scientific evidence to supporting findings showing that using mobile phones causes negative health effects.
USA Today October 14, 2004

Cellular Phones Linked to Cellular DNA Damage


Over 1.5 billion people around the world use a cellular phone; however, chances are most of these users are unaware of the damage they may be doing to their bodies.
According to a four-year research project focused on studying the effect of radiation on human and animal cells, researchers found that the radio waves emitted from a cellular phone may harm body cells and damage DNA in laboratory conditions. Although the study did not prove that mobile phones are a risk to one's health, it did indicate that cells exposed to electromagnetic fields, similar to those of mobile phones, showed a significant increase in single and double-strand DNA breaks.
This damage could be permanent, not to mention that remaining damage could set the stage for future degeneration of cells.
Additional research could take another four or five years. In the meantime, researchers recommend against using a mobile phone when a fixed line phone is available, as well as using a headset connected to a cell phone whenever possible.
USA Today December 21, 2004

Cell phone radiation levels Comparison charts by manufacturer
Cell Phones May Harm Blood Cells

A study has shown that radiation from mobile phones may cause a substantial increase in the forces that living cells exert on each other. Experts said this research could be critical to providing answers to the question of whether radiation from mobile phones is linked to cancer and other health problems. Although several researchers believe this to be the case, they have been unable to come up with ways that radiation could produce this affect and harm biological tissue.
The conventional theory states the only way radio waves could harm a cell would be if they were powerful enough to break chemical bonds or heat the tissue, like microwaves. However, it was discovered the radiation given off by the handsets on mobile phones was too weak to result in either of these effects.
Research has shown that water molecules have poles of positive and negative electric charges referred to as van der Waals forces, which are known to produce attractive forces between cells. In a study using a very simplified mathematical model of two red blood cells, the effect of electromagnetic fields with different frequencies of radiation was calculated.
This study determined that the water molecules within the cells tried to reposition their negative and positive poles by altering the field created by the radiation.
The results of this study didn't prove negative effects from mobile phone radiation, however if the effect could be proven based on experimentation, it could provide the basis of an explanation for tissue damage.
Future studies will be conducted to check the dielectric properties of various types of biological tissue during exposure to radiation across the range of frequencies normally used by mobile phones.
New Scientist April 6, 2004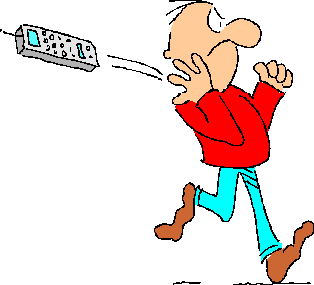 Cell Phones and Brain Tumors

Scientists have found the first evidence linking brain cancer with mobile phone use.
It was found that users who spend more than an hour a day talking on a mobile phone have a close to one-third higher risk of developing a rare form of brain tumor. Most frequently, the cancers were found on the side of the head that the user held the phone up to.
The association was found with digital mobile phones, old-style analogue mobile phones and digital enhanced cordless phones.
Although radiation from mobile phones has been shown to alter the brain and affect memory, past studies have found no evidence of a link between brain cancer and mobile phone use.