Immune System Support. Colloidal silver is a catalyst, disabling the particular enzyme that all one celled bacteria, funguses and viruses, use for their oxygen metabolism – they suffocate. Resistant strains fail to develop, and the body does not develop a tolerance. Yet it is of no harm to human enzymes or any part of the human body chemistry
Patients should ask their doctor whether any medication he gives them will actually help their cold or flu. Doctors should resist the temptation to give an antibiotic for colds and flu by explaining its uselessness for any viral infections. Dr. Mercola
Transfer Factor
Supports Immune System Response * 12.5 mg
Wellness Transfer Factor is a technologically advanced approach to immune system integrity. Wellness Transfer Factor is a highly purified constituent of bovine colostrum. Transfer factors are chemical messengers that enhance immune system response. This ability to respond can be transferred from one organism to another, and from one species to another. CLICK HERE
Old-time remedies still work: Vitamin C
Since 1971, 21 placebo-controlled studies evaluating the effect of 1-4 gm./day of vitamin C on the common cold have demonstrated that vitamin C supplementation reduces the duration and severitv of colds by 23% - once the person gets a cold. Consuming 6 gm./day has prevented a significant decrease in vitamin C concentration in leukocytes as the cold progresses.click here
Multivitamin/mineral supplements
Dr. Ranjit Chandra evaluated the effect of a multivitamin/mineral supplement containing extra vitamin E and beta-carotene on 100 middle class Canadians over 65. The supplemented group had half the number of colds. flus and other infections as the non- supplemented group, and recovered in half the time when they did get sick.
When you want the BEST Click here
Wellness Formula
Wellness Formula is the #1-selling vitamin and herbal winter supplement. Wellness is uniquely effective because it goes deep to the root cause of body system imbalances. This Bio-Aligned Formula supports interlocking components of the immune system-mucous membranes, cell-mediated immunity and humoral immunity-and also addresses antioxidant defense, stress response, and the respiratory system. A megapotency of vitamin C, plus echinacea, goldenseal, astragalus, propolis and garlic, have made Wellness Formula a welcome companion in the cold-weather battle.

CLICK HERE
Colloidal silver-the amazing "micro-bullet"

New evidence on the effectiveness of an old remedy has surfaced over the past couple of years. Long forgotten since the 1930s when pharmceutical antibiotics first took the stage as rapidly effective, more economical wonder drugs, colloidal silver has again emerged as a star player in natural health care.
There are almost no disease-causing organisms that can live in the presence of even minute traces of the chemical element silver. In contrast to a modern antibiotic drug which may kill perhaps half a dozen pathogenic organisms, silver - one of the most universal antibiotic substances known - can kill over 650 different disease organisms, with the exception of spore-forming bacteria.(7 8 9)
Colloidal silver, a suspension of like-charged microscopic particles in deionized water, has demonstrated remarkable ability to destroy not onlv bacteria, but viruses and fungi as well.(5,6,7) These organisms cannot develop resistance to silver - a bonus advantage over pharmaceutical antibiotics. In addition, colloidal silver products containing only 3-5 parts per million are non-toxic.
How to use colloidal silver
At the onset of colds and flu, 1 to 3 teaspoons taken 3-4 times per day orally will hasten the illness to its completion. Colloidal silver can be mixed in a little water or absorbed sublingually (under the tongue) directly into the bloodstream. The product has very little effect on beneficial intestinal bacteria. However, a high-potency acidophilus supplement is recommended to insure that desirable levels are maintained during colloidal silver therapy. Consistent daily use could significantly reduce the incidence of infection.
Colloidal silver may also be applied directlv to cuts, scrapes, open sores, shingles, warts or used as a rinse for acne, eczema and other skin irritations. It may be gargled, dropped into the eyes or ears, used vaginally, anally, atomized or inhaled into the nose or lungs. No known adverse side effects and no drug interactions have ever been recorded with the use of properly prepared colloidal silver.(7) Beware of heavily concentrated forms (more than 5 parts per million) which can cause a permanent graying of the skin called argyria.
Look for quality products
The best colloidal silver products have been manufactured using the electrocolloidal process and have ultra-fine particles within the range of 0.005-0.015 microns in diameter. A tiny electrical charge placed on the silver particles keeps them in suspension and eliminates the need for stabilizers, chemicals, proteins or artificial additives in a "true" colloid of silver. A superior quality product will have a natural golden yellow color and a pH of approximately 6.5 (almost neutral).
MAKE YOUR OWN And be sure of your Quality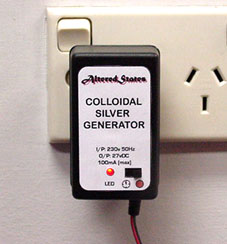 Plug in systems are available for USA wall outlets
and plud adapters for the continant
are readily available
Make your own colloidal silver
Battery and Plug in systems