How to Recognize the Signs of Arthritis
| | |
| --- | --- |
| Arthritis is an inflammation of the joint. The most common forms of arthritis are osteoarthritis, a non-inflammatory degeneration of the joint, followed by rheumatoid arthritis, an auto immune disease in which joins become inflamed. Both usually occur after the age of 40, and symptoms usually appear gradually over several years. | |
Steps:
1. Notice whether exercise causes an intensified ache in your joints. This is the first telltale sign of arthritis.
2. Take note if you experience stiffness in one or more joints in the morning that typically subsides after 15 to 30 minutes of movement. This may be an early sign.
3. Evaluate your afflicted joint for range of motion. Does the joint creak or cause you pain when you bend it to its normal limits? This may be a sign of arthritis.
4. Is your skin pulled taut over a joint due to swelling? Is the taut skin shiny? These symptoms are indicative of joint swelling due to either osteoarthritis or rheumatoid arthritis (though they can also be signs of gout or an infection).
5. Test your afflicted joint for temperature. For instance, test your right knee joint by placing one hand on your right knee and one on your left knee, and feel for a temperature difference between the two. Hot joints can be a sign of rheumatoid arthritis, gout or joint infection. Cold, bone-hard joints are apt to be a sign of osteoarthritis.
6. Notice whether the joint pain is associated with fever or noticeable swelling. These are signs of rheumatoid arthritis or joint infection.
7. Pay attention if your joints have a gritty sensation, such that they seem to crackle and make noise when moving. In osteoarthritis, irritated cartilage and bones rub together, making a grating sound.
8. Check the location of the painful joints—are they located symmetrically? For instance, if you have joint inflammation in some of the fingers of your right hand, do you feel joint pain in the corresponding fingers of your left hand? This is characteristic of rheumatoid arthritis.

Common Types of Arthritis
Of more than 100 different kinds of arthritis, these are the most common:
Osteoarthritis
Also called degenerative arthritis. Occurs when the cushioning cartilage in a joint breaks down. Commonly affects feet, knees, hips, and fingers. Affects 16 million Americans, mostly 45 and older. About half of those 65 and older have this form.
Osteoarthritis
Osteoarthritis: In osteoarthritis, cartilage breaks down and the bones rub together. The joint then loses shape and alignment. Bone ends thicken, forming spurs (bony growths). Bits of cartilage or bone float in the joint space.
Osteoarthritis (OA) is the most common form, estimated to affect at least 21 million Americans.3 Laypeople sometimes refer to OA as "everyday" or "wear and tear" arthritis. A slippery material called cartilage covers the end of each bone and acts as a shock-absorbing cushion. In OA, cartilage starts to break down. Loss of that rubbery cushion in a joint - where bone meets bone - leads to symptoms of pain, stiffness, and swelling in the knee, hip, spine, feet, thumb, or fingers.

Current research contradicts accepted wisdom that OA "is a natural part of aging." There is evidence that obesity is a significant risk factor in the development and progression of OA. Even modest weight loss can reduce the risk of developing OA. Once OA symptoms have begun, weight-bearing activities can help improve function. Physical activity and specific strengthening exercises strengthen the muscles around joints, which stabilize them, and enhance proprioception, which is a sense of joint position that the body uses to maintain balance. Moving joints through their full range of motion can reduce stiffness and pain. In addition, losing excess weight may retard the damage caused to weight-bearing joints (like knees) by obesity and may also reduce symptoms.
REPORTED FREQUENCIES FOR HELPING Osteoarthritis
Rheumatoid Arthritis
Rheumatoid Arthritis: In rheumatoid arthritis, inflammation accompanies thickening of the synovial membrane or joint lining, causing the whole joint to look swollen due to swelling in the joint capsule. The inflamed joint lining enters and damages bone and cartilage, and inflammatory cells release an enzyme that gradually digests bone and cartilage. Space between joints diminishes, and the joint loses shape and alignment.

Immune system attacks the lining, or synovial membrane, of the joints. Joint damage can become severe and deforming. Involves the whole body, and may also cause fatigue, weight loss and anemia, and affect the lungs, heart and eyes. Affects about 2.1 million Americans, three times more women than men.
Rheumatoid arthritis result from changes in the body's immune system. For reasons not fully understood, the body's immune system attacks its own organs, in this case the tissues of the joints.
This auto-immune reaction causes inflammation of the joints, particularly of the synovial membrane that lines them. This causes an over-production of synovial (joint) fluid which, combined with the inflammation, causes the joints to become swollen and painful. If the process continues, damage to the cartilage and other soft tissue can cause joint deformities.
REPORTED FREQUENCIES FOR HELPING Rheumatoid Arthritis

Acute Rheumatoid Arthritis
Rheumatoid arthritis does not only involve the joints - it has other features, often described as "flu-like" symptoms. These are called systemic features which are:

tiredness,
lack of energy,
loss of appetite,
inability to sleep,
perhaps some weight loss and
a low fever.

Chronic Rheumatoid Arthritis
Gout
Causes sudden, severe attacks, usually in the big toe, but any joint can be affected. A metabolic disorder in which uric acid builds up in the blood and crystals form in joints and other places. Drugs and attention to diet can control gout. Affects about 1 million Americans (70 to 80 percent men), with first attack starting between 40 and 50 years of age. (See "Getting to Know Gout," FDA Consumer, March 1995.)
REPORTED FREQUENCIES FOR HELPING GOUT
Ankylosing Spondylitis
A chronic inflammatory disease of the spine that can result in fused vertebrae and rigid spine. Often milder and harder to diagnose in women. Most people with the disease also have a genetic marker known as HLA-B27. Affects about 318,000 Americans, usually men between the ages of 16 and 35.
REPORTED FREQUENCIES FOR HELPING Ankylosing
Spondylitis
Psoriatic Arthritis
Bone and other joint tissues become inflamed, and, like rheumatoid arthritis, it can affect the whole body. Affects about 5 percent of people with psoriasis, a chronic skin disease. Likely to affect fingers or spine. Symptoms are mild in most people but can be quite severe.
REPORTED FREQUENCIES FOR HELPING Psoriatic
Arthritis
Systemic Lupus Erythematosus
Involves skin, joints, muscles, and sometimes internal organs. Symptoms usually appear in women of childbearing age but can occur in anyone at any age. Also called lupus or SLE, it can be mild or life threatening. Affects at least 131,000 Americans, nine to ten times as many women as men.
FREQUENCIES FOR HELPING Lupus
Juvenile Arthritis
The most common form is juvenile rheumatoid arthritis. Arthritis diagnosis, treatment, and disease characteristics are different in children and adults. Some children recover completely; others remain affected throughout their lives.

Fibromyalgia
Fibromyalgia affects muscles and is characterized by diffuse pain, fatigue, memory difficulties, disturbed sleep, and specific tender points. It occurs more often in women.

Exercise is a key component of fibromyalgia treatment. Aerobic exercise has been shown to improve muscle fitness, reduce pain, and improve sleep; low impact activities, like walking, bicycling, or swimming, are recommended. Even for people who have been completely inactive and can only exercise a minute or two at the beginning, the goal is to slowly work towards aerobic fitness. Other treatments include medications to reduce pain and improve sleep, stretches to improve muscle tone, relaxation techniques, and pain management strategies.
REPORTED FREQUENCIES FOR HELPING Fibromyalgia
Other forms
Arthritis can develop as a result of an infection. For example, bacteria that cause gonorrhea or Lyme disease can cause arthritis. Infectious arthritis can cause serious damage, but usually clears up completely with antibiotics. Scleroderma is a systemic disease that involves the skin, but may include problems with blood vessels, joints, and internal organs. Fibromyalgia syndrome is a soft-tissue rheumatism that doesn't lead to joint deformity, but affects an estimated 5 million Americans, mostly women.
The approximate number of cases in the United States of some common forms of arthritis.
REPORTED FREQUENCIES FOR HELPING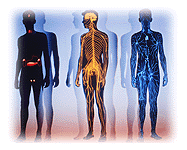 The immune system and autoimmunity
The immune system includes two types of white blood cell, B and T cells, which recognise the difference between "self" molecules belonging to the body and "non-self" molecules from bacteria and viruses. B cells make antibodies which should only attach to non-self molecules. Each B cell makes antibodies to one type of non-self molecule. However, it can only do so if given "help" by T cells recognising parts of the same non-self molecule. T cells are, therefore, seen as directing antibody production.
Because T cells direct normal immunity, it has been thought that autoimmunity starts with T cells mistaking self for non-self. These T cells would then direct the production of autoantibodies by helping B cells which recognise self molecules. This sort of autoimmunity can be created in animals if the animal is immunised with self molecules, but usually dies down after a few weeks. This is quite different from autoimmunity in people and we think that human autoimmunity works in a different way.