A Brief Introduction to Light and Sound

The study of "brainwaves" has played a vital role in the understanding of how the brain and mind function. Discovered in the 1920s by German researcher Hans Berger, these tiny electrical signals mirror the shifting patterns of mental activity. They are measured by attaching special sensors, called electrodes, to the scalp; these pick up brainwave activity which is then measured by an instrument called an electroencephalograph, or EEG. Brainwave activity tends to fall into four groups: beta, alpha, theta and delta. These categories are associated with the rapidity of oscillation (frequency) of brainwaves. As it turns out, certain patterns of brainwave activity are also associated with specific mental states.
Beta is associated with normal, waking consciousness; attention directed towards the external environment. You are most likely in the "beta state" as you read this. Beta waves oscillate between approximately 13 and 30 times per second (Hz).
Alpha is relaxed, not thinking about anything in particular, sometimes a pleasurable feeling of "floating". Often dominant in certain kinds of meditation, alpha waves have for the past twenty years been associated with calm, lucid mental states (the "alpha state"). They are also often detected during dream sleep. Alpha waves oscillate between 8 and 12 times per second.
Theta Found in states of deep relaxation, theta activity is also associated with bursts of creative insight, twilight ("sleep") learning and vivid mental imagery. It is also found in more advanced meditators. Theta waves oscillate between 4 and 8 times per second.
Delta This slowest of brainwave activity, is found during deep dreamless sleep and sometimes in very experienced meditators. They oscillate between 1 and 4 Hz.
Your brainwave activity is constantly shifting and changing during the day and night. Virtually every form of mental and physical activity will cause changes in this activity. Abrupt, unexpected noises or other events will quickly alter your brainwave patterns. Even watching TV can dramatically alter brainwave activity in an undirected manner.
Over the years many techniques have been developed to allow you to enter these states, particularly alpha and theta, at will. Most methods, such as meditation, require years of regular practice to master. Alpha wave biofeedback, quite popular in the 70s, requires the sometimes awkward placement of electrodes as well as considerable practice.
The Frequency-Following Effect
In the 1940s researcher Gray Walter discovered that brainwave activity tends to mirror flickering light, particularly in the alpha and theta frequencies. This effect has become known as the "frequency-following effect." A familiar example is the tendency to slip into a relaxed or dream-like state while gazing into a fire the flicker rate of which happens to average in the alpha/theta range!
More recently, sound has been shown to produce similar results, particularly pulsed sound and binaural beats. This last effect, binaural, results when one ear hears a pure tone of a slightly differing pitch than the other ear. The brain then actually synthesizes the difference between the two. The portions of the brain associated with hearing tend to fall into step with this pleasant, gently pulsing rhythm. The combination of pulsed light and binaural beat frequencies can be a particularly effective tool for relaxation and preparation for meditation. Pulsed sound in the form of musical rhythms has been entraining people for thousands of years.
Creativity and Hemispheric Balancing
Research conducted at the Monroe Institute and elsewhere suggests that both binaural beats and flickering light stimulation can synchronize the activity of the left and right hemispheres of your brain. It is thought that this synchronization can increase the flow of information between the two hemispheres, thereby accelerating learning and increasing creativity.
Here's how Michael Hutchison describes the experience of using mind machines in Megabrain:

You sit down comfortably, don the headgear, flip a switch, close your eyes and sink into a state of what seems like deep relaxation. A half hour later, as you turn off the machine, you feel extremely alert and lucid.

Your brain is now functioning more effectively than it was before. Your memory both your ability to memorize new information and to recall information you have already learned has increased dramatically. Your ability to think creatively, to solve problems, has expanded. The speed with which your brain cells pass messages among themselves has increased. In fact, many of your brain cells have actually grown a microscopic examination would show that the brain cells have developed more dendrites, the branching filaments that carry messages from one cell to another, and more synapses, the junctures between the brain cells across which impulses are transmitted. You are more intelligent than you were a half hour before.

Such devices now exist and are being used by increasing numbers of people.

So begins Michael Hutchison's book Megabrain ("Mega" derived from the Greek word for great or powerful).

Altering your mood
Another benefit of light/sound technology lies in its ability to interrupt negative emotional response loops. Examples of such "loops" include moderate levels of anger, worry, sadness, irritability and depression. Let's say that you've had a tough day at the office. On your way home a driver cuts sharply in front of you without signaling, nearly causing an accident. You arrive at home with a "short fuse", growling at your children or spouse. You realize that you are experiencing an undesirable mental state, but don't know quite how to change it. All too often, the solution may be to have a few drinks or switch on the TV. A nap can be effective, but you don't want to take the time. What are the alternatives?
| | |
| --- | --- |
| Please send this page to a friend | |
Before showing you how to reduce this sort of emotional response, let's examine what happens when an event has a negative emotional impact. When the event first occurs, you respond directly. So when your boss snarls at you, you respond internally, even if you cannot voice your response directly. The problem lies in what can happen next: you mentally "act out" the exchange a number of times, and respond emotionally to each of these imaginary events. This is what we call a negative emotional response loop, because you are repeating (looping) your emotional response in a series of make-believe events that can stretch out over hours or days. Often times you may not even be aware that this process is taking place. If your boss is a real jerk, then after a number of unpleasant encounters you may become upset just by being near him or her.
An awareness of your mental process is an important step in changing your emotional response. Another step is to interrupt the feedback loop. Sleep is an effective way to do this, which is why you often wake up feeling refreshed and renewed. Nobel Prize winner Sir Francis Crick hypothesizes that dreaming serves a necessary function by clearing away the various loops and impressions of the day on a synaptic level.
A much faster technique is to run a session with a "good" light and sound machine. One of the Relax or Energize sessions should do, especially in the 10-30 minute range. The trick is to run a session that is long enough to divert and refresh you, but not long enough to put you to sleep. Why is this effective? Because the pulsing light and sound saturates your senses and constantly directs and diverts your attention towards the rhythms and patterns of the experience. Try it! Chances are that after a few weeks of regular use, you will generally feel calmer and more centered.
"The treatment of ADHD with photic stimulation has been developed extensively by Harold Russell and his associates, using frequencies of 18 Hz and 10 Hz alternating for two minute periods, with demonstrable improvements in IQ scores and behavior (Russell and Carter, 1993). Many clinicians appear to be using photic stimulation informally for ADHD and the other slow brainwave disorders, with anecdotal reports of successful treatment but with very few published results.
Treatment of Slow Brainwave Disorders with Neurofeedback
Many neurofeedback (EEG biofeedback) practitioners report successful treatment of some or all of these slow brainwave disorders. For example, the Lubar's have for many years worked with children with ADHD, training them with beta frequency biofeedback, with excellent results (Lubar 1991 and 1989); the Othmer's have a long history of success with beta frequency biofeedback with patients with all of the disorders in this group (Othmer 1994); and there are many other practitioners using this approach. Generally the feedback protocol involves positive reinforcement of beta frequencies and negative reinforcement of theta frequencies, though various other protocols are also used successfully.
The Brainwave Frequency Hypothesis
A reasonable explanation that is commonly proposed for the above experimental and clinical results is that the key to treating these disorders (all characterized by excessive slow brainwave activity) is to speed up the brainwave frequency. It is proposed that this can be accomplished either by training the patients to speed up their own brainwaves (beta-training neurofeedback) or by entraining the patients' brainwaves with a photic stimulation device flashing at beta frequencies.
| | |
| --- | --- |
| | |

The Mind Electric
We have "electric-powered" brains: all our thoughts and perceptions consist of complex networks of electrical currents and electromagnetic fields that sweep across the brain. So it makes sense that electrical stimulation of the brain can alter your mental state.
The most popular technique for electrically boosting brain power is called cranial electrotherapy stimulation (CES). Tiny battery-powered consoles generate a minute electrical current that flows through pads placed on the earlobes. Studies have indicated that such electrical currents stimulate the release of a variety of performance-boosting neurochemicals, including beta-endorphin, the body's natural pleasure chemical. Scientists speculate that electrical flows may optimize brain function by "tuning up" the electrical activity of brain cells.
CES units have long been prescribed by doctors for therapeutic reasons, including the treatment of anxiety, depression, insomnia, and chemical dependency. Many users have reported that CES can help them learn to enter a relaxed but alert state conducive to high level mental performance that may include increased memory, concentration and IQ. As a result, increasing numbers of healthy people are turning to CES machines for quick, non-drug relaxation, and as tools for "supercharging" the brain.

The most ADVANCED CES ever
THE ALPHA-THETA STIM
Great thinkers
Ludwig van Beethoven Alexander Graham Bell Giordano Bruno Charles Darwin W. E. B. Dubois Thomas Edison Albert Einstein Elizabeth I Galileo GalileiÉ variste Galois Thomas Jefferson Genghis Khan Martin Luther King, Jr. Isaac Newton William Shakespeare Mark Twain Fanny Wright Konrad Zuse
The right hemisphere of the brain is linked to creativity, while the left hemisphere of the brain is paired with analytical thinking.

Ganzfeld Meditation Goggles
The Ganzfeld Effect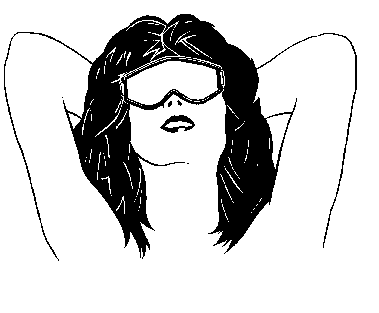 Anyone who is trying to learn how to meditate or is interested in experiencing an altered state should try The Ganzfeld Effect.
Historically, Arctic explorers were the first people to describe the effect. After they gazed into a frosty field of snowy white, they reported experiencing a form of snowblindness.
Upon further research in the 1930's, it was discovered that when people gazed into a featureless field of vision (a Ganzfeld), they quickly and consistently entered a profoundly altered state.
When Ganzfelds have been tried by experienced meditators, they have described the effect as instant meditation. This is not surprising, since most forms of meditation require you to focus your attention on a spot, flower, mantra, etc.
While traditional meditation can take many years of practice, a Ganzfeld works for most people in a matter of minutes. (Researchers have also tested the effects of Ganzfelds on psychic abilities, and have found a statistically significant increase in test scores. See Other Sites of Interest below)
The Effect Described
When someone is exposed to a Ganzfeld, they often experience a progression of effects that can be described as follows:
All color drains from your field of vision
The size of your field of vision oscillates
You "see" a swirling Kaleidoscope of colors and with practice
You completely ignore your vision as you us your mind in an extremely focused way
People have reported using Ganzfelds in the following ways:
Instant Meditation
Self Hypnosis
Astral Journeys
Past Lives Regressions
Psychic Abilities
Guided Imagery
Creativity
Relaxation
Self Healing & Improvement
THE DAVID PARADISE XL SYSTEMS HAVE THE GANZFIELD EFFECT

DOES SILVER WORK AGAINST CANCER ?
The mutation of healthy cells into cancer cells occur continuously, even in healthy bodies. But such cancer cells are destroyed by the body's natural immune system at a rate about the same as they occur, and when the body condition is stable, there is nothing manifest that a healthy person would experience as cancer. Some types of Cancer are reported to be caused by a virus. Like with any virus, upon invading a body tissue cell it will take over the cells reproductive chemical factory thereby forcing the cell to replicate the virus instead, the cell will revert to the primitive state thus enabling the Colloidal Silver to be effective and kill the cancerous cell. A higher concentration of Colloidal Silver means more immediate contact with any virus or other pathogen.
OTHER ESTABLISHED USES OF COLLOIDAL SILVER
Standard CS Generators
Heavy Duty CS generators
DID YOU KNOW … that according to the Author,s research there's a simple formula that has been *scientifically proven* to prevent and CURE virtually all diseases? Find out why this one-minute therapy is being suppressed in the U.S. while more than 15,000 European doctors have been using it to heal millions of patients – and how you can use it, too...