You can now Send this newsletter to a friend.

Building a Happier you
Why is it so hard to be happy? Some experts say that it is because we are burdened by negative, self-destructive, unconscious "scripts" which are "programmed" into us early in life. We start out as innocent, expressive, asking-for-what-we-want, loving, trusting little babies. How did we get to the point where we are fearful, distrusting, stressed, self-destructive adults? Our parents,, siblings, teachers, ministers, other children, and other adults managed to scare, punish, degrade, embarrass, humiliate, and confuse us, not to mention acting as bad role models. They say one thing and do another; who can you trust? All of these experiences affect the brain, causing it to develop an identity that is badly skewed toward poor self-worth and distrustful of anything good. ("It won't last" or "I don't deserve it; I'm bad".)
The concept of "Little". These negative scripts are mostly based on that damaged early-childhood subpersonality that has been called "Little". It is the brain's version of when we were young. Interestingly, the split-brain research of the 70s showed that the logical, semantic capability of the right or nondominant cortical hemisphere in adults remains that of a four to seven year-old child throughout life. Could this be the seat of what has come to be known as our "inner child?" A flood of contemporary psychotherapy books focus on the "freeing" of this innocent, loving core of our personality called the inner child.
In the late 80s Drs. Peniston and Kulkowski showed that the relapse rate in a group of alcoholics was significantly reduced by means of training the participants to carry into a twilight (theta) state visualized images of goals specific to their problem. Earlier, Rita Sullivan in Oregon completed a Ph.D. dissertation in which alcoholics heard an anti-addiction subliminal tape which was presented automatically by a "Twilight Learning" biofeedback machine. This technique also was successful in decreasing relapse rates compared to the control group.

People who learn to control inner experience will be able to determine
the quality of their lives, which is as close as any of us can come to
being happy. (Csikszentmihalyi, 1990, p.2)
What these two studies have in common are the way change information is processing while the client maintains a theta state. Studies have documented the special properties of the theta state. It is characterized by the unguarded acceptance of incoming information. The unconscious then processes the information and attempts to implement the directions suggested.
To "Build a Happier You" you need a combination of audio messaging and audio/visual stimulation which we believe closely approximates the technique used in the studies just described. The light/sound session creates the proper brain state and the cassette tape/CDs of your choice guides you into the imagery of your own personal agenda.
Thomas H. Budzynski, Ph.D.
Please Send this newsletter to a friend.

A Light and Sound machine uses light and sound pulses at specified frequencies to alter the brain wave activity of the user. This is done in order to reach a variety of interesting and beneficial states of consciousness. These powerful tools can help you relax quickly, reach trance and shamanic states, aid in lucid dreaming, and bring your meditation practices to a whole new level! Behind your closed eyelids you will see a complex kaleidoscope of color, multidimensional layers of fractals, and a variety of dream-like imagery.

Light and sound machines combine strobe light with strobe sound to more fully entrain brainwave states. Pre-set programs allow you to explore: focus, alert, learning, peak performance, dreams, visualization, sleep or meditation. But most importantly these inexpensive light and sound systems allow one to
Access the deep theta states and play the tape/ CD of your choise to enable deeper change,


David Paradise XL+ session library
Stress management and high performance:
When executives are too high-strung to attempt any kind of meditation, too busy to learn self-hypnosis or yoga, and too exhausted to exercise, they place themselves at medical risk, susceptible to burnout. Overstressed executives may cause mismanagement and, as centers of corporate influence, contaminate the work environment with their dysfunctional thinking and demanding behavior. Related disturbances in marital and family relations can further compound this systemic breakdown. In such cases, it is often easier to alleviate the immediate symptom by passively responding to the predictable rhythms of a light and sound machine...
Typically, a relaxation session begins in the beta zone (30-14 Hz) to match the frazzled state of the user's mind at the point man and machine begin their interplay. Within varying periods of time, but usually within the first ten minutes, the pulsation rate has drops into the alpha zone (13-9 Hz). An associated audiotape might play soft wave-like music, focus on relaxing muscles, or invoke imagery that recalls pleasant scenes. There are often perhaps affirmations for mastery of the relaxation response. If time or inclination permit, the session may stay longer in alpha to allow for further relaxation or go into the theta zone (8-4 Hz). Typically, the sessions are about 20 minutes long because users rarely have more time available in their lives to train in stress release. Some stress management programs return the user to a high alpha or low beta state (12-14 Hz) before finishing, to provide a period of readjustment to the active pace of the outside world. Sessions devoted to sleep induction tend to ramp progressively down to theta and even go as far as ending in the delta zone (3-1 Hz).
In addition to stress management, there are several other wellness applications, when the mind state is prepared with slower states of deep relaxation, the curtains of the unconscious can be drawn back so that old fears can be faced, old resentments and griefs processed, and new patterns for healing can be implanted as guides for further recovery and personal development
Play these amazing titles with your cd or tape player, through your light and sound system.
Just select a theta program sit back and experience the unlimited possibilities of your
unlimited mind...


Insomnia and other sleep disorders:
In chronic stress situations or post traumatic stress disorders, a person's sleep patterns are often quite disturbed. This further compounds the stress so the person becomes even more vulnerable to confusion, attention lapses, anxiety, mood swings, and depression..
Insomnia and other sleep disorders: In chronic stress situations or post traumatic stress disorders, a person's sleep patterns are often quite disturbed. This further compounds the stress so the person becomes even more vulnerable to confusion, attention lapses, anxiety, mood swings, and depression.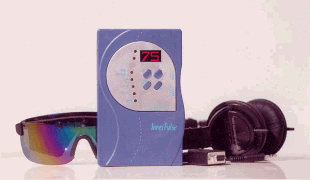 In some cases, training with light and sound has promoted awareness of the consciousness continuum and been used to induce lucid dreams and control nightmares.
Light and Sound tools are very useful in promoting near sleep states in which goals of restful sleep and pleasant dreams can be incubated. Such theta and delta states are ideal for treating sleep onset insomnia. Audio tapes used in conjunction with Light and Sound can extend the length and depth of the sleep.
Learning
Right after the learning session, the mind needs a period of several minutes to one hour to allow the previous learning to set or gel in long-term memory. This process requires protein synthesis in the brain. Light and Sound-induced relaxation allows the central processing unit of our computing mind to be relieved of new input. Following this computer analogy, it stores data from its existing "random access memory", which is highly volatile, onto hard disk memory (protein cells) for long term memory and cross-referencing synthesis. Existing research indicates that if this phase is enhanced properly, the memory improves in volume, detail, richness, complexity, and breadth of application. It is even better a day later than on the day the material was studied. This is the well-known superlearning effect for which light and sound devices becarne famous.
27 questions to measure how close you are to having an ideal mindset
Beyond superlearning, light and sound devices promote learning by assisting in the breaking of rigid thinking and cognitive sets. Fluid mind state management enhances set-breaking and cognitive flexibility so important in the paradigm shifts that are the essential ingredient of creative thinking. Furthermore, light and sound devices are highly effective instruments to assist in the incubation of theta reverie states and dreams, the source of creative images. Even more exciting is their untapped potential for incubating the lucid dream...
Both Hutchison (1986, 1993) and Budzynski (1992), among others, have recounted empirical studies showing the beneficial effects of various mind entrainment devices and protocols in enhancing learning.
The mind needs to prepare for learning by being clear of distraction. Light and Sound devuices opperate in a manner similar to sensory deprivation tanks by blocking out external stimulation. While tanks block by subtracting or lessening stimulation, Light and Sound devuices accomplish the same end by masking external sounds and vision with the repetitive stimulation that provides no meaningful information. Learning occurs best when the mind is open, receptive and curiously involved with the material, enriching it through associations and connections involving the whole brain. The mind also needs to be focused on the task at hand, understanding and learning the material being studied. It is noteworthy for those with Attention Deficit Disorder, there seems to be a paradoxical effect. More intense stimulation in the high alpha and beta zones appears to satisfy a natural stimulation deficit in these brainwaves, and thus allows for a greater ability to sustain focus and concentration on a task or topic.
LIGHT and SOUND TOOLS are within YOUR REACH !!!


Nova Pro 100
Innerpulse
Proteus

Built in Sessions
The repatterning ability of the built in sessions help people make positive changes in their lives by overcoming obstacles posed by fear, anger, Phobias, Anxiety and Panic Disorders and limiting beliefs. Growth and transformation are possible, often with the use of guided imagery to access abilities and raise self-steem.
There appear to be optimal mind states for different types of tasks. The optimal mind state for metaphorical, literary, analogical or spatial learning is likely the alpha state; for intensely logical or computational problems, the beta state. For learning material that is quite foreign to the person's previous experience, or material reflecting points of view that differ widely from the person's basic beliefs, the theta state is recommended.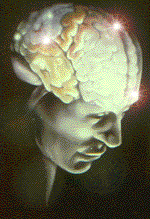 What are brainwaves?


Essentially, our brain is a neurochemical information processor that gives off electrical signals as electrochemical circuits close and open a million each second. If this is so, why can't we detect these signals? Primarily because our skulls are too thick and the signals too weak for them to resonate outside our heads. With the exception of perhaps the most clairvoyant and telepathic among us, brain wave patterns are impossible to detect without the aid of a special amplifier called an electroencephalograph or EEG, which detects and records the changes in the voltage emanating from the brain. These electrical patterns tend to be similar in their general rhythm or rate of pulsation, and can be placed along the consciousness continuum.
The first pattern is described as beta waves, of short amplitude and very rapid pulsations of 30-14 cycles per second (Hertz or Hz). This pattern is optimal for intense mental activities such as calculations, linear logical analyses, and other highly structured functions.



The second pattern is described as alpha waves, characterized by a slightly larger amplitude of 13-9 Hz. This pattern typically occurs in daydreaming, relaxed awareness, guided or focused imagery and smoothly rhythmic athletic activity. There is often a euphoric, effortless feeling of "flow" as the doer is absorbed in activity, and subject and object are felt to be united.



The third pattern is described as theta waves, pulsations that are more ragged and irregular, in the 8-4 Hz range. While this range is rather small, a difference of 1 or 2 Hz in this zone is very noticeable, as it is proportionately much larger than it would be in the beta or alpha range. This pattern is associated with deep unconscious imagery, and thus creativity, as the person drops into a state of drowsiness and near-sleep.



The last main pattern is that of delta waves, pulsations that range between 3-1 Hz. In this range of profound relaxation, images and dreams have largely subsided, as the person slides into a state of slow wave restorative sleep. Meditators who remain aware during this state of near unconsciousness report tranquillity and peace.
Obviously, being able to control a mind state (the subjective mental state that typically accompanies a brainwave pattern) would be helpful in optimizing human functioning in contexts that required specific kinds of concentration and relaxation. While there have always been brainwaves, only recently have we become aware of them and been able to effect their change. This accessibility with demonstrable, rapid results has great potential for the relief of suffering and the evolution of the social mind of our society.

Few people are willing to invest in consciousness training using neurotechnology. However, for those few that do, almost nothing is more fun and exciting than the pursuit of higher consciousness. This is a thrilling and wondrous world of images, metaphors, symbols, stories, spirituality, and oneness with the universe. There are narratives of a vast future and a resourceful past in spirits that transcend time, space, mortality, and the limits of boundaries.
LIGHT and SOUND TOOLS are within YOUR REACH !!!


Nova Pro 100
Innerpulse
Proteus

Psychophysiological disorders: I have successfully treated disorders such as ulcers, skin conditions, migraine headaches, chronic pain, fibromyalgia, and several immune-deficient conditions with fairly holistic methods including extensive use of light and sound-assisted imagery sessions. The results for headaches, bruxism, and temporal mandibular joint pain have been very encouraging and have been replicated by other clinicians and researchers in dental and chronic pain settings (Boersma, 1987). In my clinical practice, there was only one unsuccessful case: a client with phantom-limb pain. We agreed to stop trying after six sessions of minimal and inconsistent results (perhaps too soon, in retrospect). However, virtually all other clients noticed a definite feeling of well-being and endorphin-like suppression of pain and remission of symptoms. These glimpses of well-being became more and more prominent in their lives until they were able to function with total absence of their disorder, or in the case of fibromyalgia, a substantial lessening of symptoms. This seems like a promising area for further investigation.
Frank Young Ph.D
Please Send this newsletter to a friend.

The aging brain

As the brain ages it may lose some of its neural circuitry. Specifically, we experience a shrinkage and reduction in the number of dendrites, the filament-like extensions of the axons or main nerve fibers. In normal circumstances the dendrites of a given axon connect with the dendrites of many other axons, thus fostering full communication of information. As these connections shrivel with age, the communicating ability decreases. We find ourselves forgetting names of people, and then names of things and facts. Short-term memory begins to fail, e.g., going into the next room to get something and then forgetting what you are there for. We find it more difficult to follow instructions or to memorize material. These symptoms can start in our 40s.
That's discouraging news; the good news, however, is that the more we can stimulate our brains, the more we can slow down this process and even reverse it.
Dr. Diamond's amazing old rats
At UCLA Dr. Marion Diamond examined the maze learning ability of aged rats and found the usual deficits in keeping with their advanced age. However, when she took half the rats and increased the stimulation in their environment, their learning ability and other aspects of their functioning improved significantly. When the brains of both groups were later examined, Dr. Diamond was amazed to find that the brains of the stimulated group actually weighed more and had more dendrites than the control group who received no more than the usual stimulation. Dr. Diamond concluded that the unusual stimulation promoted the dendritic growth that contributed to the extra density and weight of these brains.
Does this happen in humans?
Large scale studies have not yet been done in this area of interest; however, Dr. Harold Russell, a Texas researcher and clinician, has completed a number of individual case studies on brain injured and aged individuals. Dr. Russell and his colleagues Drs. Carter and Ochs are exploring the use of audio/visual stimulation with such clients. Although their results are anecdotal (not part of a controlled study), preliminary indications are still impressive: in almost all of the case studies of stroke or other brain damaged victims, whose conditions had "plateaued" a number of years earlier, significant progress was made after using the stimulation daily over a period of months. Again, this research is still preliminary and firm conclusions cannot be rendered at this time.
It is noteworthy that Diamond and her former graduate student Allison McKenzie, Ph.D., found that brain damaged rats (stimulated strokes) recovered more quickly and more fully if stimulated regularly than the control group which received no special stimulation. Finally, Dr. Diamond also discovered that the stimulated rats developed a stronger immune response than those not stimulated.
The power of visualization
In regard to the immune system, almost everyone has heard that it can be strengthened by any number of alternative medicine procedures, most of which involve visualization. If even half of what we have heard is true, then something remarkable is happening. Why should certain images we hold in our minds affect how strongly our immune system reacts to antigens?
Experts still argue about whether or not this effect actually exists and if it does, why. However, a number of these experts believe that visualized images are processed primarily in the nondominant (usually the right) hemisphere. This hemisphere does have a stronger link to lower subcortical emotional centers than does the dominant (left) hemisphere. The final link between the emotions and the immune system has already been established, i.e., negative, hopeless, despondent types of feelings seem to weaken immune functioning. Conversely, does it make sense that if we feed in positive, affirming thoughts and images we can activate or strengthen the immune system?
Thomas H. Budzynski, Ph.D.
LIGHT and SOUND TOOLS are within YOUR REACH !!!


Nova Pro 100
Innerpulse
Proteus

Bibliography
Csikszentmihalyi, M. (1990). Flow: The Psychology of Optimal Experience. New York: Harper & Row.
Budzynski, T. H. (1991). The Science of Light and Sound. Fall City, WA: ThetaTech Publications.Hutchison, M. (1986). Megabrain: New Tools and Techniques for Brain Growth and Mind Expansion. New York: Ballantine Books.
Hutchison, M. (1990). A Short History of Light/Sound Technology. Megabrain Report. 1. Summary available from Megabrain Report, or ThetaTech Publications, Fall City WA.
Hutchison, M. (1992). Beyond Entertainment: How to Use Mind Machines for Peak Performance and Self-Transformation. Megabrain Report. 1. pp. 2-28.
Hutchison, M. (1993). Megabrain Power: How to Use Mind Machines and Smart Drugs to Change Your Life. New York: Hyperion Press. (Available Winter 1993.)
Hutchison, M. (1984). The Book of Floating. New York: Morrow/Quill. Ritterman, M. (1983). Using Hypnosis in Family Therapy. San Francisco: Jossey-Bass
Walter, W. G. (1957). The Living Brain. London: Gerald Duckworth & Co. Ltd
Wise A. 1992). Brainwave Patterns and the Mind Mirror. First Annual Neurotechnology Forum. Synetic Systems, Seattle WA.

Please read the DISCLAIMER. Altered States products are sold for learning, self-improvement and simple relaxation. No statement contained in this catalogue, and no information provided by any Altered States employee, should be construed as a claim or representation that these products are intended for use in the diagnosis, cure, mitigation, treatment or prevention of disease or any other medical condition. The information contained in this catalogue is deemed to be based on reliable and authoritative report. However, certain persons considered experts may disagree with one or more of the statements contained here. Altered States assumes no liability or risk involved in the use of the products described here. We make no warranty, expressed or implied, other than that the material conforms to applicable standard specifications.
-----------LET PEACE AND PEACE AND PEACE BE EVERYWHERE.............

The publisher does not accept any responsibility for the accuracy of the information or the consequences arising from the application, use, or misuse of any of the information contained herein, including any injury and/or damage to any person or property as a matter of product liability, negligence, or otherwise. No warranty, expressed or implied, is made in regard to the contents of this material. No claims or endorsements are made for any drugs or compounds currently marketed or in investigative use. This material is not intended as a guide to self-medication. The reader is advised to discuss the information provided here with a doctor, pharmacist, nurse, or other authorized healthcare practitioner and to check product information (including package inserts) regarding dosage, precautions, warnings, interactions, and contraindications before administering any drug, herb,radionics tool,or supplement discussed herein.